Affin Bank has officially launched the Affin Duo, a Visa-Mastercard pair of credit cards that offer cashback and rewards points respectively on 28 August 2020
This thread will mainly discuss about these 2 cards (Affin Visa Cash Back Card) & (Affin Mastercard Rewards Card).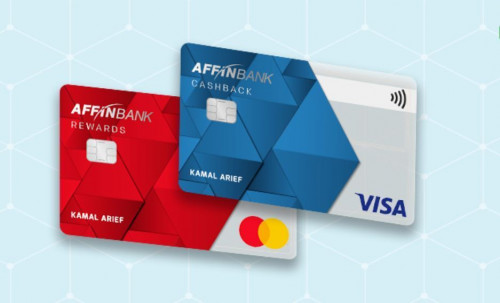 Website:
Affin Duo Official Website
Benefits:
3% Cash Back with AFFIN Visa Cash Back:
-e-Commerce / Online Transactions
-eWallet Reloads / Transactions
-Auto-Billing: AIA, Allianz, Tokio Marine, Great Eastern, Prudential, Hong Leong Assurance..
* Cash Back is limited to RM80 per month (equivalent to RM960 a year), excluding government services and charity transactions.
3X AFFIN Rewards Points with AFFIN Mastercard Rewards:
-Dining
-Groceries
-Petrol
Card Fees:
3 years annual fee waiver.
Annual fee for the subsequent year will be waived with minimum 12 times spend on retail
transactions in a year.
3% cash back will be rewarded on eWallets transaction/reload for the following eWallets:
• BigPay
• KiplePay / KiplePark
• ShopeePay
• Boost
• Lazada Wallet
• TaPay
• Fasspay
• Mcash
• Touch 'n Go Prepaid Card
• Gkash eWallet
• Mpay- Not valid start from 15 November 2020
• Touch 'n Go eWallet
• GrabPay
• Presto Pay
• WeChat Pay
• Instapay eWallet
• Razer Gold/Pay
• Whalet- Not valid start from 15 November 2020
• Instapay Card
• Sarawak Pay- Not valid start from 15 November 2020
• Setel
FAQ
Q1. Can I activate CASHBACK card only but not activate REWARDS card?
Yes. SST will be impose to the activated card only
Q2. Any SST waiver?
SST waiver will given to REWARDS card. The waiver is automatically once the REWARDS card has activated
Q3. Is insurance auto debit entitle for the cash back?
Yes
Q4. Why I received "FAILED TO RETRIEVED RECORD (.B01)" at the moment click the Request TAC for Affin Online First Time Login?
For the first time online user, you are required to fill up "Retails Internet Transaction Services" form at any Affin branch for the registeration, thumb print is required.
Q5. Why I couldn't see my cards info from my Affin Online after the registration?
Cards information will appear in the Online account 24-48 hours after the registration.
This post has been edited by alandhw: Nov 17 2020, 01:56 PM