WELCOME TO v15
************************************************************************************************************************************************************
Old Thread
Chubby Hamsters V11
Chubby Hamster V12
Chubby Hamster V13
Chubby Hamster V14
A hamster is a rodent belonging to the subfamily Cricetinae. There are 5 types of hamsters, mainly the Syrian, Winter white dwarf, Russian campbell dwarf, Chinese hamsters and Roborovski hamsters.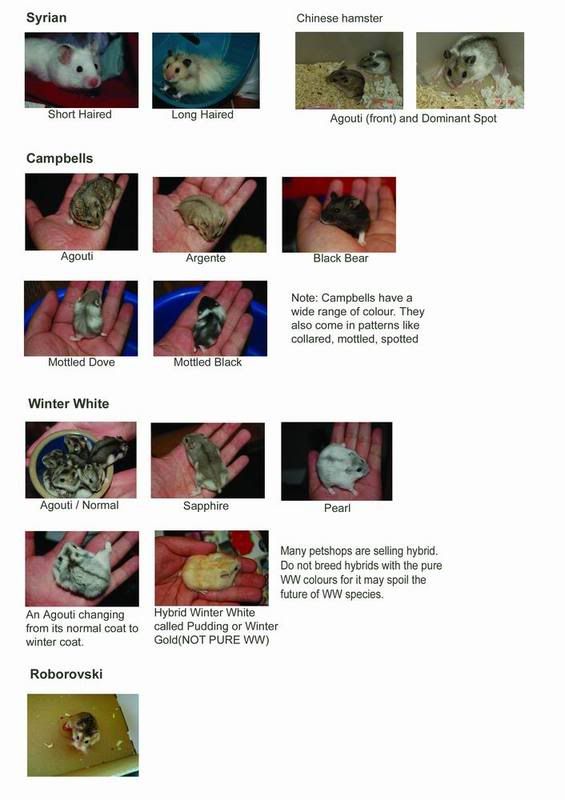 SPECIES:
Syrians
(Mesocricetus auratus)
They are the best known species in the pet industry. Syrians are also known as Golden Hamsters because the first domestic hamster was a wild agouti colour, which is called Golden. They have also been called Teddy Bears because does have the fuzziness and roundness of a teddy bear. Syrians are known as fancy hamsters of all the hamster species since they come in many colour varieties and also coat varieties... some can have long fur and some short fur, which we normally call Long Hairs and Short Hairs... also there are fur types like Rex and Satin.
The most important rule about Syrians is that they are
SOLITARY
... never house 2 together. If breeding, there is a way where you must put the female into the male's cage only when the female is on heat. It is very risky and dangerous to house 2 syrians together at any time since they are very well known to fight till death. So if you treasure the life of your hamster, never put 2 syrians together.
Syrians are large and comfortable to hold. They make suitable hamsters for the beginner keeper. Syrians that are handled properly would rarely or never bite, and can be tame to respond well to touch and voice.
Campbell's Hamster
(Phodopus campbelli)
Campbells are probably the most popular of all dwarf hamsters since they come in many colour varieties that makes them attractive. The look similar to Winter White hamsters but they are actually different subspecies. So never mixbreed them.
Campbells are dwarfs... well, small hamsters. Please do not be fooled by petshops telling you they are mini hamsters and giving you a weird price and denying that they are Campbells. Anyway, they come in different colour and patterns but to breed, one must understand that hamsters that have any white spots or markings must never be bred together coz it can produce eyeless or teethless hamsters that die later... so if you were to breed, please read up.
These dwarfs may not be suitable for young children due to some dwarfs are bitey... and because of their small size, it would be harder for children to handle. Campbells are not aggressive biters, it is just that sometimes they will bite when you make them angry or startle them from their sleep.
Campbells are good in a pair or a small colony but always make sure your cage or tank has the space and enough hides and wheels to house a colony. These social hamsters are territorial and would fight off intruders that do not belong to their colony. Campbells are ok when they are introduced at a young age but letting an older hamster be kept with a younger one, most likely a fight would start.
Winter White Hamster
(Phodopus sungorus)
WW are hamsters that can change their coat colour when we minimise their daylight. Their coats will change from their normal colours to a white coat but with their dorsal stripe and side arches visible. WW come in 3 colours, which are Agouti, Sapphire and Pearl. The Pearl do not change their coat colour at all, they remain in their white coat colour for life.
WW are different from Campbells, their eyes are bigger, fur is thicker, body is more bullet shape and their ears are less conspicious. It is easy to see the difference if a Campbell and WW were side by side.
WWs are nicer to handle for they have better temperments than Campbells. WW rarely change into their winter coats in captivity, so do not force your hamster to starve and stay in a cold room... this depends on the hamster whether it wants to change or not.
WW are almost similar with Campbells when it comes to pairs and colonies. Always remember, it doesn't necessary mean we should keep them in breeding pairs or male and female colonies. A single sex group is good enough for dwarf hamsters.
WW are known to fight among themselves out of the blue. Many do not understand that WW are territorial dwarfs, they can tolerate siblings or with other WW when introduced at a young age but there would always be a day where they would start fighting. Have spare cages at hand to separate fighting hamsters if you have a pair or a small colony. The best is keeping one. Do not worry, hamsters do not die from loneliness.
Roborovski Hamster
(Phodopus roborovskii)
Robos are the smallest species of hamster. Adult Robos are only 2 inches in lenght. Unlike the other dwarfs, Robos do not have a dorsal stripe and they have slightly longer legs. Easy to identify from the size and also its sandy colour and white belly.
Yes, the smallest and also the fastest, this species is very well known for being very fast and active. So they are not very handle friendly since they are likely to jump or run off your palm. Many are really attracted by the facial markings, they appear to have "eyebrows".
Robos enjoy sand baths and a wheel. Due to their small size, one would need to purchase a glass/plastic tank to house them or purchase cages with small bars like the Habitrail Mini...
Robos do very well in little groups. They are the most sociable of all dwarf species and it is very entertaining to watch a small group of robos playing and eating in a tank.
Robos are not a hamster that is suitable for the beginner keeper as it could either be frustrating to have hamsters that run very fast or just unable to handle properly.
Chinese Hamster
(Cricetulus griseus)
The Chinese hamster is known for their mousy looks. Yes, they were discovered in China long ago. Many people would say Chinese hamsters are hard to breed in captivity and are difficult to raise. Fighting problems occur so it is best to house them seperately. The Chinese hamster is also referred to as a "mouse-like" hamster because of its short nose, thin body, stocky legs and longer tail.
They do make great pets if they are bred by a proper breeder and have been handled often when young.
This species of hamster in Malaysia is very rare. The last known shop to have sold them were Pets Wonderland at Mid Valley years ago.
=============================================================================
VERY IMPORTANT!!!!
- Most hamsters do very well alone. Roborovski hamsters can be kept in small groups and best if single sexed but Syrians, Campbells, Winter Whites and Chinese hamsters are best kept on their own. They are always happier that way.
- Never breed hamsters if you do not have the space. Hamsters can reproduce every 20 days or so.
- Hamster fights are never fun to watch.
- Always remember to have food and water available. Never give too much fresh foods as it can give diarrhea to some hamsters, especially pet shop hamsters that have never eaten any veggie before.
- The bigger the cage or tank, the more comfortable for the hamster.
- Syrians need wheels that are about 8 inches in diameter. Wodent Wheels, Sanko Wheels or Silent Spinners have 8 inch wheels.
- NEVER keep different species in 1 cage or tank together... BIG big trouble there, may have some injuries, deaths... and possibility of mixbreeding Campbells with WW... bad idea.
- Hamsters do not have human emotion, they do not feel Love or have emotional feelings like humans. So there really is no reason to breed or keep them in a male and female pair unless you have a purpose as a true hamster breeder.
==============================================================================
DIET:
Hamsters should have a good quality staple diet that is available for them throughout the day. Grains are important for hamsters to gain protein, minerals and vitamins as well as the good fat that the body needs to stay healthy. The carbohydrates and natural sugars from grains helps in maintaining your hamster's energy and alertness throughout the day. Wrong or unhealthy diets could cause hamsters to gain weight, show no interest in using it's running wheel and does little throughout the day.
QUOTE
Safe food for hamster and some
should not
give to hamster
Safe Veggies
* Asparagus
* Bean Sprouts
* Bok choy
* Broccoli
* Cabbage (in moderation)
* Carrots
* Cauliflower
* Chard
* Chickweed
* Chicory
* Clover
* Corn on the cob
* Cucumbers
* Dandelion leaves
* Endive
* Green beans
* Kale
* Parsnips
* Peas
* Potatoes (cooked)
* Radicchio
* Romaine lettuce
* Spinach
* Squash
* Sweet potatoes
* Sweet bell peppers
* Swiss chard
* Turnip
* Water chestnuts
* Water cress
* Zucchini
Safe Fruits
* Apple (seedless)
* Banana
* Blackberries
* Blueberries
* Raspberries
* Raspberry leaves (helps diarrhea)
* Strawberries
* Cantaloupe
* Cherries
* Cranberries
* Grapes (seedless)
* Lychee
* Mango
* Melon
* Peaches (no stone)
* Plums (no pit)
Safe Grains
* Hay
* Whole grain bread/toast
* Whole wheat pasta (cooked)
* Brown rice (cooked)
* Whole grain cereal (no sugar)
* Alfalfa
* Oatmeal (dry or soaked in skim milk)
Safe Meats/Animal Byproducts
* Chicken (cooked)
* Ground beef (cooked; no grease)
* Turkey (cooked)
* Cod (cooked; no bones; no skin)
* Eggs (cooked; boiled/scrambled)
* Cottage cheese (unsalted; low fat)
* Yogurt (plain; low fat)
* Cheese (mild; in moderation)
Safe Nuts/Seeds
* Pumpkin seeds (unsalted)
* Sunflower seeds (unsalted)
* Plain popcorn (unsalted; no butter)
* Peanuts (unsalted)
* Flax seed (unsalted)
* Walnuts (unsalted)
* Cashews (unsalted)
* Pecans (unsalted)
* Sesame seeds (unsalted)
* Lentils (unsalted)
Foods to Avoid
* Almonds
* Apple seeds
* Canned food
* Chocolate
* Candies
* Chips and junk food
* Pork products
* Potatoes (raw)
* Kidney beans (raw)
* Eggplant
* Fool's parsley
* Grape seeds
* Avocado
* Rhubarb (raw)
* Tomato leaves
* Oranges, tangerines, lemon, or lime (no citrus fruits)
* Watermelon (causes diarrhea)
* Cherry stone
* Peach stone and leaves
* Apricot stone
* Jams and jellies
* Spices
* Garlic
* Onions
* Leeks
* Scallions
* Chives
* Pickles
source : Nur Faizan @ Hamster Malaysia FB group
source info :
Hamster Nutrition
This post has been edited by pandera999: Nov 24 2017, 12:44 PM