Continue from
V1:
http://forum.lowyat.net/topic/269099
V2:
https://forum.lowyat.net/topic/1217166
1) Where & Partial Maps With hotels' Locations in Langkawi (Courtesy of www.malfreemaps.com ):
a) Main maps - All important jetty points & beaches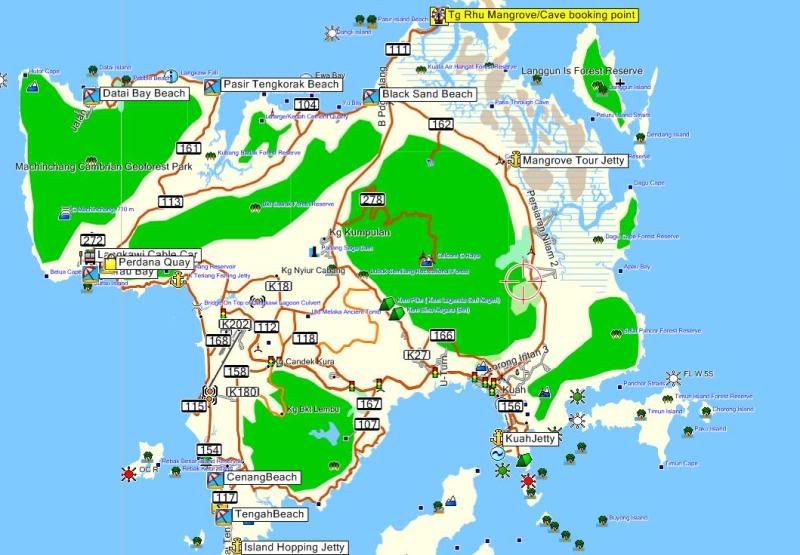 b) Kuah Town prominent hotels:
c) Pantai Cenang Hotels & underwater world:
d) Pantai Tengah (Very quiet beach
)
e) Langkasuka Beach, Pantai Kok & Burau Bay area
2) How to go
a) Via Flight from KLIA (MAS) or LCCT (Air Asia) - Refer to respective Airlines' websites
b) Drive up via North South Expressway & exit at Alor Setar toll. Thereafter to Kuala Kedah jetty. Park at numerous parking operated by locals & probably local residents house as well. Alternative you can drive up to Kuala Perlis which is not recommended because of extra mileage.
c) By Bus:
-To Kuala Kedah - So far no result on express buses to Kuala Kedah, but I have seen lotsa such buses. Do check Puduraya counters (Or any one wth info, do PM me (stimix) for update) Anyway the best so far (By Putraskline) is to Alor Star & thereafter a taxi or local bus from AS to KKedah
http://journeymalaysia.com/ptaalorstar.htm
- To kuala Perlis - Transnational having xpress bus to Kuala Perlis at RM42.80/pax
http://www.transnasional.com.my/destinatio...&cid=5&x=45&y=2
& also Plusliner (By putraskline):
http://www.transnasional.com.my/destinatio...&cid=5&x=45&y=2
d) Ferry Schedule & fare:
http://www.langkawi-ferry.com/schedule.html
(Currently RM23/pax/1way)
3) Normal Car Rental Rate
(Available both at Airport & ferry terminal. No need advance booking. Just goto the counters providing car rental services and during low season, those rental companies will be hawking around!):
a) Off season & non-public Holiday (Car/day)
- Kancil -RM40
- Wira - RM50
- Waja -RM60
- Nissan Sentra /Honda Civic -RM70
- Toyota Altis - RM80
- Van/SUV ~RM100-RM120
for those really kiasu and wanted to book via phone can try this:
http://forum.lowyat.net/index.php?showtopi...dpost&p=9552871
but from those posting, seems like walk-in rate is cheaper than pre-book.
b) Public Holidays & School Holidays - Probably Doubled the above & depending on your bargaining power
c) Bringing your own car - Probably takes up to 2 days, about RM90/way
d) Motor bike renting:
4) Tourist Attractions:
a) Kuah Duty Free Shopping - Go for Cigarette, Liquor, Cooking utensils, Chocolates & perfumes. Forget about Electronics, computers, cameras & etc that are already comes with duty free status even in KL...Those items are more expensive than KL. Similarly the food pricing to is almost similar to KL except the beers in those hawker ctr..
b) Island Hopping - 4 locations (Pulau Payar/Dayang Bunting - Kuah Jetty), South western islands - Jetty near Awana resort; Magrove tour either at the road near Perdana Gallery or Tg Rhu Beach
More info on island hopping:
c) Mat Chincang Cable car & Oriental Village
http://www.langkawi-info.com/attractions/cable-car.htm
d) More sight seeing (Some not really recommended:
http://www.langkawi-info.com/attractions/sightseeing.htm
5) Accomodations
- Refer to the pinned topic in the main Travel & Living Section
http://forum.lowyat.net/topic/258550
http://cuti.com.my/hotel.htm?doit=showhote...Langkawi+Island
http://www.agoda.com/pages/agoda/default/D...archResult.aspx
Good independent review on hi-end hotels in langkawi:
http://www.malaysiahotelreview.com/langkawi.shtml
You can use this to check other than langkawi hotels too
http://www.langkawi-resorts.com/
<<<Recommended by Chester. Pay 10% upfront and the rest pay at hotel upon arrival. Cheaper than cuti.com.my afaik but can compare before making any reservation
e) Apartment renting:
6) Other Websites Link:
http://www.mylangkawi.com/
http://www.langkawi-online.com/
http://www.langkawi-info.com/
http://wikitravel.org/en/Langkawi
7)Holiday suggestions
- just a suggestion if you are wondering what to do in Langkawi
4 days 3 nights (credit to devils)
Chester
» Click to show Spoiler - click again to hide... «
3 days 2 nights (credit to Navilink)
- Chester
» Click to show Spoiler - click again to hide... «
8) More itineraries suggestions from forumers here:
Grengo:
http://forum.lowyat.net/index.php?showtopi...post&p=27321867
Food suggestion (Also by grengo:
http://forum.lowyat.net/index.php?showtopi...post&p=27354949
By siokjinlim:
http://forum.lowyat.net/index.php?showtopi...post&p=27204555
9) Recommended Food & Shoppings by ex-Langkawian:
More list of famous restaurants reviewed & recoomended by ettige:
http://forum.lowyat.net/index.php?showtopi...post&p=33466892