QUOTE(fisherman10 @ Apr 6 2021, 11:41 AM)
I think the limitation is my phone. My phone is only 1x1 antenna. DIR-868L is 3x3 5g antenna. Max link rate of 1300mbps. Real life best speeds usually around 50% of 1300.
So technically it can max out my Unifi 500mbps if my phone/laptop/wifi adapter has 3x3 antenna config.
That is true too.
I remembered that AiMesh router and node is connected at close to 600 Mbps regardless AiMesh or Repeater mode.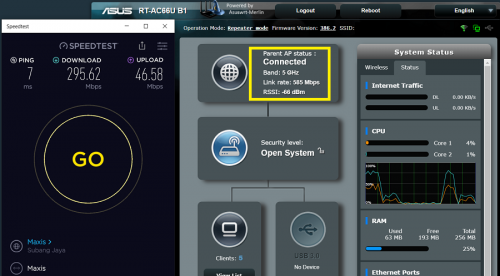 They are connected 3x3 @ 5 GHz channel 36.
But most everyday people are having 1x1 antenna phones.
Those can afford expensive phones surely will not even consider DIR-868L as their router.
We are here in this forum to share our internet hardware experience, good and bad.
Just helping everyday people to get the most performance from their home internet hardware without spending too much money.
Regards,
This post has been edited by misk94: Apr 6 2021, 02:17 PM