QUOTE(kambing69 @ Nov 23 2019, 09:09 PM)
Hi all, Ampang here..
Here my 6 month tank low tech.. Just rescape from a 2 years old tank before..
Anyone have dolphine cf300 before? Or use it.
Can give any comment?
Currently using Dolphine Cf800 atm and i think it abit overkill and the flow are too hard/fast for my Bob the Betta... (It was use for my 2ft tank previously). Gona have new 2.5 ft tank soon. So just use it for now to help the bio bact.
Its a 35L tank btw.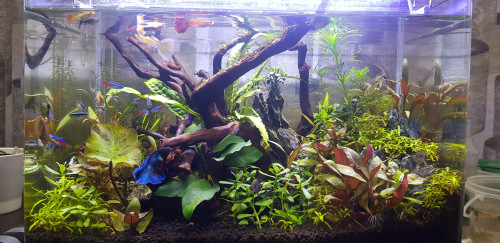 Dont think this hobby "mahal" actually. Well all hobbies are not cheap or cheap depend on what u actually want. Look at gaming, it can be just play game ay phone or have full 10k gaming rack... Well same as here..
You can have Rm50 dollar aquarium/scape or full 5k scape...
How is your betta coping with rest of the tank mates?
they been co-habitating for long? Tetra not giving much issue?
I had like 6 tetra and 2 pink danios.... and after putting the betta in- found the betta fins begins to crack
apprently the darios been the culprit
"Zebra danios are a peaceful fish that get along with most tankmates, however, they will nip fins of certain species of fish. Any fish with long flowing fins, such as angelfish, bettas, and guppies, are potential targets of the active zebra looking for something to do. Good potential tankmates may include barbs, corydoras catfish, similar-sized gouramis, loaches, and swordtails. "
They are colorful fish, and very active too- add a lot of liveliness to the tank.
but i guess i need to separate them now