!!! READ THIS NOTICE FIRST. IMPORTANT RULES !!!!
!!! 1)
laialstein
LYN PROFILE :
Here
!!! 2) He closed his thread
Contact Number used: 012-5610348
Public Bank Account: 4548163308
under name
TAN WOOI MING
Forumer you are complaining against: laialstein
Item being sold/bought: iPhone 4 16GB
Original thread link: He Closed
Date of transaction: 14 NOV 2011
Details of the complaint :
14-11-2011
- He offered to sell Digi Iphone 4 that he bought from Online Digi Store
- He named himself as Mr.Lai from Kampar, Perak so not able to cod with me at PJ
- asked me to bank in rm1k to his public account as deposit then he will ship the item to me and i will pay remaining balance when i received the item.
- he even sent me the proof of receipt of the iphone purchase from digi online store via email
- i was convinced and cash deposited rm1k to his public account
- after that, he sent me a fake poslaju tracking number which is not working
Attached below is the screenshots he sent tried to convince me.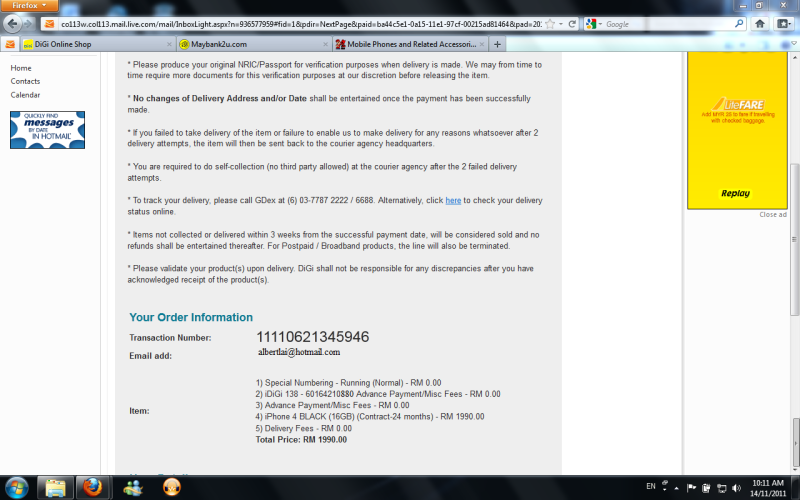 15-11-2011
- i never received any parcel from him
- called his phone number but it was already turned off and directed to voice mailbox
By the time i got to know that i has been conned and never thought of report this as i accepted it as a lesson and my misfortune that encountered this scammer
but until recently, when i noticed that he is still active in the forum and has been asking him for refund. But what is really frustrating is he tried to threaten me! Our PMs as attached below :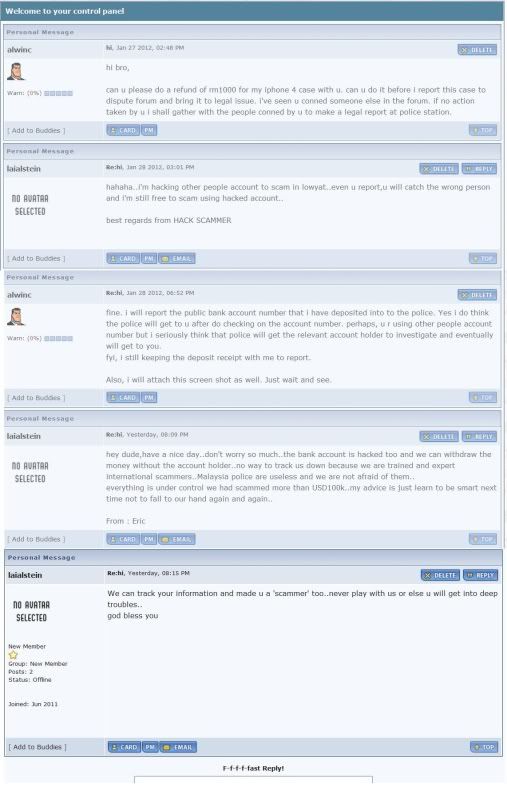 I will squeeze time to report this scam case to the police by this week even though it was late.
To Guys out there, please learn the lesson so wont fall into scammer's traps anymore.
Also, to the Moderators : In case i lose my lowyat.net account one day, i hope this this post can be a proof for me to retrieve it back.
This post has been edited by alwinc: Jan 30 2012, 05:40 PM