This thread is dedicated to the countless clueless people that open threads just to ask about (read topic) and waste time by waaaitinnnng for other experienced people to reply. While waiting, anything could go wrong.
The Ultimate Rule
Now, the ultimate first and foremost thing you should do is
DO NOT TOUCH THE BABIES!
Why? Because the mother might eat them, that's why.

Now 'Why would the mother eat them?' you ask?
-When hamster babies are born, known as pups, they have no scent and the mother recognizes it as her own because of her instincts. If you touch it, they will smell like something else and she will not recognize it as her offspring, but rather as something that's not supposed to be there, or she might mistake it as another female's pup. Being defensive that it may harm her babies, she will attack it and eat it up, brains, limbs organs and all.
If you are using a cage and a pup drops out, don't panic. Use the tissue from the cage or get a piece of tissue, rub it on the bedding, and pick the pup up and put in in the cage. You don't have to open the nest. The mother will hear the squeaks and come, or she will notice it later when she walk around.
Cannibalism is not uncommon for hamsters as it is a form of protection. Though you may have followed the first rule, it doesn't mean all the pups will 100% survive.
If the environment is stressful (Lots of noise, in a busy area, too bright etc), the nutritional requirements are not enough, or even if the mom is just not a good mom, you may lose from one to all your pups.
The First Rule
- Give her as much food as she wants and supplements.
Oh, does that mean give her what she likes? Can I give her only kuaci?
No. Kuaci aka sunflower seeds are not good if she takes a lot. It's empty fats and not enough for her to raise a healthy bunch of babies. Giving only kuaci is like you living on peanuts. BUT, this doesn't mean you shouldn't feed her kuaci at all. Give her small amounts as sunflower seeds have Vitamin E and carbs, but very fattening.
Then what can I feed her?
First off, are you feeding her a good basic diet? No delikate or Bengy please. They not balanced at all and they're cheap because they're very low in quality, meaning very low in nutrition.
Good basic brands are :-
-Harry Hamster
-Prestige
-Sluis
-Xtra Vital
-Hoppel-Mobbel
These brands can be found in Pet Safari, Petsmore and Pet Family.
Supplements are fresh fruits, vegetables, hard boiled egg white, wheatgerm, organic grains such as amaranth, raw peanuts, buckwheat, flaxseeds etc. Mealworms and crickets are great high protein treats to give to a nursing mom.
But if you find crickets or mealies too icky, you can try giving some dog food. Wait! Don't rush to the Supermarket just yet! Be sure to use
GOOD
brands such as California Natural, Nutro, Orijen, Royal Canin etc.
Remember!
Don't use any brands that contain avocado, garlic or onions in them because these ingredients may be harmful to them. No citrus fruits like pineapple and oranges too, it may upset their tummies very badly.
The list of safe food to be fed to hamsters is in the LYN Hamster Thread
here
.
The Second Rule
- Please resist wanting to look and poke at them and don't change the bedding even if it stinks bad.
This will cause the mother to stress and the risk of losing the pups are higher. Wait at least for a week to 10 days after they are born. Use something long and blunt, like the end part of a pencil, rub it in the bedding, then gently pry the bedding to have a look.

'But it smells really bad, is there anyway I can change the bedding?'
- It's not very recommended, but if flooding occurs from a leaking bottle or the bedding is so disgusting until it turns yellow or something, then you can try this method.
1. Take the mother out and put her in a temporary container.
2. Use a spoon and scoop the babies from underneath along with lots of the nest bedding. Put in a separate container.
3. Wash the tray or tank, then put the new bedding.
4. Dig a spot at the corner at where the nest was, put the babies there with the old bedding. Scoop them, don't touch them.
5. Return the mother to the cage/tank.
Once they are a few days old, they'll start to wander around and nibble everything. They will open their eyes at 10 days old and you can start to touch them a little. But please do not overdo it as they are only babies. Do not attempt to grab them either as they will panic and you might drop them. Scoop them up with both your hands, cup them inside and go to a wide soft surface like your bed. Let them roam around your bed and you can stroke them a little bit. Do be careful! Because they are not used to you holding them and will not sit still. They'll look like little peanuts and at this age and wobble when they walk which is very cute.
Play sessions should not take more than a few minutes per pup.
Around 12 to 14 days they will start to nibble on solid food, giving them some fresh fruits, veggies or a piece of dog kibble is good for them as they can eat a little on their own.
When do I separate them from their mom?
Now, once they reach 21 days of age, it's okay to separate them already. Once you've separated them, you should sex them and put all the males in one tank and all the females in another tank.
But if your female seems to be struggling with nursing them and becoming skinny, you can separate them at 18 days, but feed them a little puppy and/or kitten replacement milk you can find in supermarkets or petstores. Soaking some wholewheat bread into the milk make it easier and cleaner to feed the pups. Discard uneaten portion after 24 hours or before that if it starts to smell sour.
Sexing guide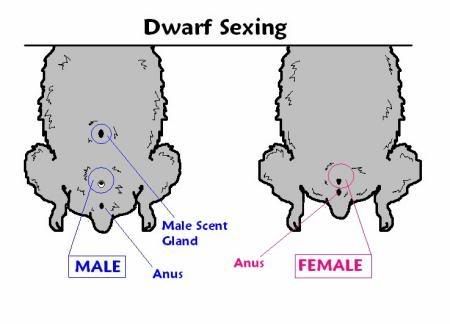 -Illustrations from Hamsterific.com
But since dwarf hamsters seem harder to sex, here are some actual pictures to help.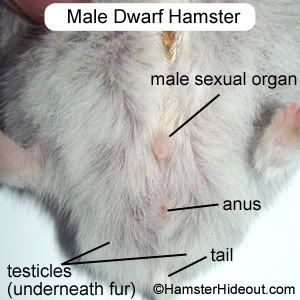 -Pictures from Hamsterhideout.com
Taming and handling the pups.
When starting to handle them, it's important to :-
- Have a place that is soft and wide, a bed top or sofa is ideal.
- Do not try to grab them or lift them with one hand, use two hands to scoop them at all times!
- Be sure to wash your hands before handling them or they may think your hand smells interesting and may nibble a bit too hard.
When scooping your ham, let it smell your hand and then slowly attempt to scoop it. When scooped and cupped in your palms, over the soft surface, let the young hamster run on your palm and rotate with your other palm so it's like a never ending stairs. It will be very active as it's scared and needs to calm down. Keep doing it until it slows down and set it on the bed. Cup your hands and try to stroke it very lightly, it will probably try to run away but let it. Only put your hand in front to stop it when it's about to fall or when it's getting into danger. Try not to move too fast, always be slow and patient. Repeat procedure everyday or every other day. Do not play with each pup for more than 10 minutes initially. You can increase the time once it gets more used to you.
Some tips to help make taming the pups faster and easier but only after 16 days of age.
- ,You can put your hand into the cage to let the pups sniff you. Move very slowly if you want to move your hand or just lie it flat on the bedding. Do it for about 3 to 5 minutes each time.
- Stick some tissue into the hem of your pants and leave it there the whole day. At the end of the day, put the tissue into the tank. This will make them used to your smell faster.
QUOTE(crazymouse_yyh @ Jun 25 2007, 10:37 PM)
Another note:
There are no gay and lesbian hamsters.....
People think that placing males together will make them gays while placing females together makes them lesbians. Putting again, human emotions is really silly.
Another mistake, people think that hamsters are so smart that they know how to tell the difference between sibling and parent. This is wrong coz just like any other animal, they breed with instinct. They do not care if they breed with their siblings or their parent, as long they are able to breed to repopulate.... then they will go right ahead.
TO BE CONTINUED<
This post has been edited by Reanne: Jan 5 2009, 07:38 PM