Wake up tiba-tiba SMS from Digi said subscribe 0.5GB and unlimited calls for 30 days and deduct 5 from prepaid value. (I have checked and the value has been deducted)
Ini macam boleh ke? Not main line.. backup line with prepaid.
You guys kena before?
RM 5.00 has been deducted for your RM5 for 0.5GB + Unlimited Calls (30 days) subscription
Should I
A. change operator.
B. go Digi shop protest.
C. report MCMC with screenshot and all evidence to show dominance.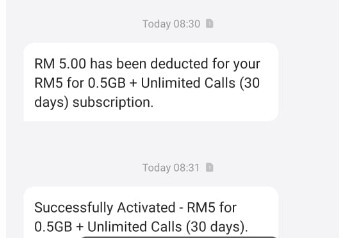 UPDATE :
Found the culprit... a message was sent to me on 23rd Aug asking me if not interested please SMS back?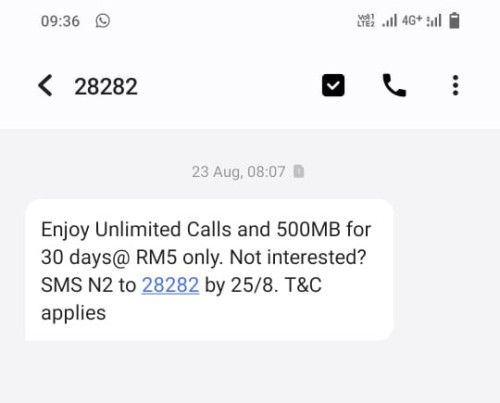 Is this even right? Can they do that by auto subscribe first and then ask us response if not interested? How do I even know it's not a scam message?
UPDATE :
The refund came but... it s a 'RM5 worth of FREE credits promo' that expire in a month's time. I am not gonna be using the RM5 within this month in the first place.
I want the money back not some FREE credits Promo.
Imagine if your bank refund your wrongly deducted RM100 with coupons BUT put an expiry date on your coupons in 30 days.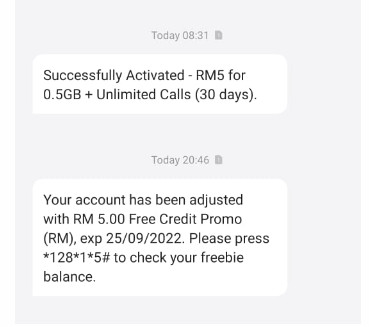 UPDATE :
The refunds are useless... I want the money value back, not some FREE Credits Promo which has an expiry date in 1 months time! Digi seems to be hard headed on keeping the RM 5 and hope no one uses it or wait for it to expire.
It's like stealing your money and give you back coupon that expires in 30 days. It's not the same Digi...
UPDATE 27 Aug at around 7pm.
Confirm .. I just checked, DiGi managed to give back the original RM5 value. No SMS message or indicator.. just check the value in the Digi app.
The coupon is gone.
Thank you but why didn't DiGi do it earlier instead of resorted to the coupon with expiry in the first place? Hmm... anyway case close.
This post has been edited by Capt. Marble: Aug 27 2022, 08:03 PM