I just noticed LYN got this forum section, so i gonna share my progress of weight loss journey just using Ring Fit Adventure and diet.
However I already started 75 days from the day i started my weight loss routine, so i just list down progress from the first day until today below, and will update my next progress until i achieve my target...
About me
- 37 years old and 180cm
- as of 3/10/2020, I was 106.5kg
- previously i was an active runner, joined few HMs and hiked few bukits around KV
Add-on: my first weight loss journey
(2015)
- jogging 3 times a week, walk daily minimum 10k steps
- did daily calorie counting and log in MyFitnessPals
- from 88kg to 73kg in 3 months
Then after i met my gf and married to her on 2018, my weight gradually increasing until last year reached 100kg, and up to October 2020 my weight reached 106kg.
I got no time and no motivation to go out to gym or go jogging at parks as last time, and now CMCO is another reason to hold me from exercising outside.
My health starts deteriorating, always getting headache, hard to sleep, having acid refluxes and sometimes vomit easily.
Since then, i decided to gain back my fitness lifestyle, so i purchased Nintendo Ring Fit Adventure(RFA), to motivate myself to exercise.
Bought it on 3/10/2020, and start working out daily for at least 2 hours per session.
Until today 18/12/2020 together with diet calorie control daily, I can say it progressed well!
My weight goal target is gonna be 80kg, from 106.5 kg so it gonna be 26 kg loss to reach my goal.
About Nintendo's Ring Fit Adventure(RFA)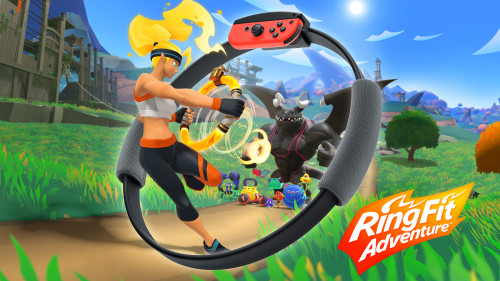 Ring Fit Adventure is an exercising action role-playing game developed and published by Nintendo for the Nintendo Switch. The game comes with two physical components: the Ring-Con, a Pilates ring that the user holds and one Joy-Con slots into, and a Leg Strap, a piece of fabric affixed to the user's leg that holds the other Joy-Con.
Wiki
Trailer
.
Basically, in the game itself have Adventure RPG mode and general workout mode, so I normally start with general workout mode first for warming up, then I continue playing the adventure mode.
Here I detailed down my weekly progress on my weight loss journey, based on what i recorded in my MyFitnessApp:
Progress
3/10/2020: 106.5 kg - 1st day. exploring the game and tried few light workouts.
8/10/2020: 104.8 kg
14/10/2020: 102.5 kg
18/10/2020: 101.8 kg
22/10/2020: 100.6 kg
25/10/2020: 101.8 kg - abit increased since i had family gathering and eat alot, more than recommended daily calorie intake and ate fattening foods
1/11/2020: 99.6 kg
4/11/2020: 98.8 kg
9/11/2020: 98.7 kg
12/11/2020: 98.2 kg - for these past two weeks, i reached my first plateau. it was very difficult for me to go further down, so i changed my RFA workouts to more challenging ones
14/11/2020: 97.7 kg
18/11/2020: 97.2 kg - again, once i lose 1kg, my weight became stagnant again for almost 3 weeks. I googled and try to apply better RFA workout routine that focuses on weight loss
26/11/2020: 96.6 kg
27/11/2020: 95.9 kg - finally i got through my 2nd plateau
10/12/2020: 95.8 kg - my 3rd plateau, been in the same range for two weeks, so instead i jog in the game, i run faster for any part of cardio part in the game to get heartbeat faster; over 140
13/12/2020: 95.2 kg
17/12/2020: 94.6 kg - keeping the same RFA workout routines and keeping my heartbeat over 140++ for at least 10-20 mins per session
18/12/2020: 94.3 kg - up to opening this tered. lost 12.2 kg
21/12/2020: 95.4 kg - *
Update(6/1/2021)
year end, so many event, so many food to eat 😤
24/12/2020: 94.1 kg - managed to go down again
31/12/2020: 94.1 kg - hit another plateau. also blaming myself of no eating control since birthday week
5/1/2021: 93.7 kg - happy new year, happy new weight!
6/1/2021: 93.1 kg - *
Update 2(18/1/2021)
my last exercise before i went for vacation at beaches. i told my wife for this vacation, i gonna eat without control
9/1/2021: 96.0 kg - back from vacation. padan muka tak jaga makan
12/1/2021: 94.6 kg - start to progress back. from this day i'm going to push my heartbeat over 150bpm around few minutes at least twice a week
16/1/2021: 93.1 kg
18/1/2021: 92.6 kg - finally completed the main adventure game. will proceed with extra game world ownwards.
This post has been edited by asphiroth: Jan 18 2021, 01:52 PM