Item(s):Clinic Management SoftwarePackage includes:Free Queue Management System, Free Mykad readerPrice: RM2,800.00 ( Excluding hardware and travelling cost for installation and training )

RM360.00 Annual Maintenance fee per year (Must have own server)
OR
RM720.00 Annual Maintenance fee per year ( Cloud version )

Warranty:Dealing method:Installation by technical team , hardware can be procure by clinic itself or at an additional fee by us

Travelling Fee :

Ipoh : Free
Perak other than Ipoh, Negeri Sembilan :RM100
Pulau Pinang, Penang & Melaka :RM200
Klang Valley & Kedah : RM300
Perlis & Johor : RM400
Sabah & Sarawak : RM1,000Location:Ipoh, Perak
& Pualau Pianag, PenangContact method/details: HQ : [email protected],
Pualu Pinang : [email protected]
Whatapps HQ : 016-2927568
Penang / Pulau Pinang : 017-4270685
---
Item(s) conditions: New Picture:Reason for sale: Marketing Partner
Arbirage Sdn. Bhd
.
( 927246 W )
Clinic Management Software
Values to appreciate :
• Designed by Malaysian Doctors
• Developed by local IT company
• Comprehensive and efficient
• Easy process workflow
• Inexpensive to implement
• No recurring maintenance fee
. • Continuous upgrade at no charge
• Supported by intensive research and development
• Support centralized clinic's data
• Best practice for chain-clinics operation
• Simplified reporting
Our unique business approach
Our Clinic Management SOftware ( CMS ) will cost you a very much lower than the cost incurred by similar product. It is partially sponsored by the advertisement embedded in the software and pay the maintenance for you. Our advertisers are from pharmaceutical companies and they will pay for the advertisement slots. You can enjoy the benefit without have to worry about renewal fee or any maintenance contract fee. We want as many clinics as possible using the software. More usage will increase the advertisement slot's value. Just get your PCs and other equipment ready and call us for the installation.
* Basic Terms & Conditions
1. Installation package is for not more than 3 PCs. Additional PC is chargeable.
2. Including MyKad reader & on-site training & hardcopy User Manual.
3. Installation package price is depends on your location. Kindly contact us for more details.
4. Clinic need to have internet connectivity (used to refresh advertisement files).
5. Free maintenance only for call, email and online support.
6. On-site visit is chargeable (depends on mileage).
7. Other Terms and Conditions apply.
A complete solution for your daily clinical routines that cover patient management, drug inventory management, payment collection, panel billing, payment aging, immunization, antenatal, image viewer, medical checkup, MyKad data retrieval, accounting feature, reporting and much more features.
It is also comes with hand-writing feature which will enable doctors to write on the screen devices (Windows supported) and save it with the image used for of the patient. It is a total paperless solution for a clinic. The workflow is designed in such a way that users will be able to operate it effectively in just a few hours of hands-on.
A local-based system, your operation and data are limited within your clinic only. However, for chain-clinic operation, can be used together with another System to bring all branches data together for centralized billing and reporting for additional cost.
Registration screen
ü Search patient by IC No, MRN, name or by company name
ü Change billing mode easily for every visit – cash, panel or dependent
ü Use MyKad Reader for faster & convenient way of registration
ü Separate "Over the counter" (OTC) for faster process
ü Family tree for easy grouping and identification
Consultation Screen
ü Easy access to previous visit notes
ü Pre-set symptoms, findings and diagnosis for faster process
ü Writing pad features for convenient way of taking notes
ü Graphical BP, Pulse and Temperature figures
ü X-Ray and Lab Test
Writing Tablet
Use any writing-enabled screen devices (Windows supported) and you can easily sketch any notes directly on the screen and save it with the images you choose.
Features highlight :
ü Doctor may opt to use writing tablet and staff may perform the rest by retrieving the writing notes
ü Option to use your own-loaded image
ü You may print it for the patient to keep
Stock Inventory
Your organization's inventory represents a significant investment of financial resources. It takes detailed management and operations report to track and control items you stock and sell.
Features highlight :
ü Stock level alert
ü Expiry date and expiry alert period
ü Price for cash, panel and cost
ü Integrate with supplier and inventory order
ü Can be grouped by drug usage and drug type
ü Stock location
ü Easy searching by name, code, group, etc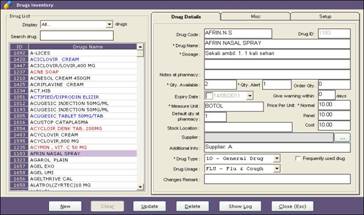 Free Mycard reader
Optional : Label printer with addtional charges
Can issue MC and other document with just few click with ready template
Hardware requirement :
2 to 3 PC with one server ( optional if 3 PC ) one normal printer and network connection. Clinic without existing hardware and Network system can be supply by us with additional price.
Internet Connection:
Streamyx 1MB
or equivalent
Local Area Network (LAN) – networking to connect all PC . Using cabled network. Wireless is not recommended due to instability.
Router to support multiple PC connection.
Report Printer: Any deskjet or laserjet printer.
F. A . Q

1. On how many PC can be installed?
Every package comes with software installation for 3 PCs. You can request to install more than that, but we will charge additional fee for every each PC. Re-installation on the same PC for more than 3 times will be charged too. This software cannot be copied or installed to other clinics without consent of Company. System is protected software product under Malaysian Law.
2. How about my existing on-card patient records?
You have two options to handle this. First, transfer all records from card to system. And clear the file cabinet. But, this is not practical and require a lot of extra unnecessary work.
Second option is to register only those coming to your clinic after you have installed software. This will include new patient and your existing patient. For your existing patient, transfer their information from card to system. And keep this card aside - to be housekeep later. Keep doing this for a period of time, let say 6 months. After that you can decide whether to housekeep all the cards and clear the file cabinet. Your regular patient or those within your vicinity most probably will visit your clinic at least once in this 6 months period.
3. I'm currently using other clinic software. Can you migrate my data?
We normally will be able to perform the data migration by examining your existing data structure and write a separate program to read and transfer it. However, we will tell you what can and can't be migrated and this is a chargeable activity depending on the complexity.
4. Does my clinic data safe? Do you transfer electronically my data?
We do not transfer or copy your clinic data - medical or operational data. Your data is kept at your clinic. Data that automatically transferred is only related to the advertisement such as how many time an advertisement is displayed, and how many users click on it. Please rest assured that we are doing a legal business conduct and will not do any unethical approach to gain profit like selling your clinic data to any interested parties. In fact, you can easily check any kind of outgoing data transfer using a standard internet security program.
5. How about virus and data corruption?
It is possible to happen and not only for this software. To minimize the impact, you need to run the data backup procedure which will copy your data at the end of the day to any external media you specify. A built in function in system will assist you to perform this backup and a reminder will pops up everyday for you to do the backup.
6. How long it will take to setup the system at my clinic?
If nothing is installed at your clinic, we need to setup the networking, buy the PC and install the software. We can do this in 3 days, provided all the cost incurred is agreed before implementation. If you already have the PC and networking, it just take less than 3 hours for installation and training.
7. How about training?
We provide free training for you and your staff on the same day after we do the installation. Apart from that, we will also provide you a hardcopy user manual (English & Malay version) and you can access the softcopy from the system itself. We can also provide you online training at no charge any time you need it. Our training will be conducted by our experience sales and technical consultant.
8. How about technical support?
We provide free call, email and online remote support. This will normally solve 95% of problems occurred if any. On-site visit is also available at a very minimum rate if you need it. Office hour is from Monday to Friday, 9.00am to 5.30pm. We will also give you a contact number to call for urgent case during off-office hour. Our after sales support will be conducted by our experience sales and technical consultant.
This post has been edited by Builder288: Apr 2 2020, 03:44 PM