Updated October 26, 2011
Its official. Searay is now Lumia 800. Nokia also announced Lumia 710 with the same processor. The Wp7.5 devices will cost 420EUR and 270EUR respectively
Lumia 800 specs (420EUR):
1.4GHz Qualcomm MSM8255 Snapdragon processor
512MB of RAM
16GB of storage (and 25GB of SkyDrive storage)
The 3.7-inch, WVGA 800x480 AMOLED display
8-megapixel camera Carl Zeiss optics and a n f2.2 aperture lens.
Lumia 710 specs:
1.4GHz Qualcomm MSM8255 Snapdragon processor
512MB of RAM
8GB of storage
The 3.7-inch display
5-megapixel camera
http://press.nokia.com/2011/10/26/nokia-sh...at-nokia-world/
Available for pre order -
official launch in three weeks time
_____________________________________________________________________
Added June 24
Well there was a big applause by the press audience when Nokia CEO said "this will be Nokia's first WP7 device". Check 2.32mins, the applause went on for more than 10secs and Nokia CEO had to interrupt to stop the applause and get with the press conference
from Endgadget:
QUOTE
Ok, this one's odd. In fact, we didn't believe the images until a video just surfaced showing Nokia CEO, Stephen Elop, foolishly asking a crowd of people to "put away their cameras" for the unveiling of something "super confidential," codenamed "Sea Ray." Naturally, a few people ignored the plea for "no pictures please" and, indeed, someone leaked what appears to be a Nokia-produced video of the unveiling to the blogosphere. What is it? Why, it's Nokia's first Windows Phone. While it looks nearly identical to the just announced N9, the different LED placement on the back (in line with the same 8 megapixel Carl Zeiss lens) confirms it's a new device as does the additional hardware button (for shutter release, we presume) along the side. And the fact that it's running Windows Phone 7 Mango seals the deal. See a few more shots and the full uncut video (and relevant snippet) after the break.
Source and video:
http://www.engadget.com/2011/06/23/nokias-...ages-and-video/
++++++++++++++++++++++++++++++++++++++++++++++++++++++++++++++++++
may look something like this
http://www.engadget.com/2011/02/11/exclusi...ncept-revealed/
i like the blue one
QUOTE
Look what we've found! This is the first image you'll see anywhere of the early fruit of Microsoft and Nokia's budding new partnership. We have it on good authority that the technicolor phones on show are conceptual devices produced by the two companies. You shouldn't, therefore, go jumping to conclusions about retail hardware just yet, but hearts should be warmed by the familiarity of Nokia's new design -- the shape of these handsets is somewhere between its recent N8 and C7 Symbian devices and there is, as usual for Nokia, a choice of sprightly colors. The trio of keys adorning the new concept's bottom give away its Windows Phone 7 ties, but also remind us that the N8 and E7 are highly unlikely to receive any WP7 upgrade love. The best part about this whole discovery, however, might be that it confirms Steve Ballmer's assertion that the engineers of both companies have "spent a lot of time on this already." So, who else is excited about owning an Engadget-blue Microkia device?
______________________
Edited May 26:
http://www.i4u.com/46740/nokia-swamp-2012-windows-phones
It has been already over a half year since the first wave of Windows Phone 7 devices launched. There are actually no signs that there will be new Windows Phones until the release of Windows Phone 7 Mango in early fall. Nokia's VP of Smart Devices Jo Harlow says to change that once Nokia gets started with the first Windows Phone 7. In an interview with PCMag she said that Nokia plans to release new Windows Phones every three months.
That would be good thing for getting traction in the crowded smartphone market space. It feels like there is every other week a new Android phone coming out.
Nokia is rumored to launch the first two Windows Phone 7 devices in Q4. Of course Nokia needs to do more than just release lots of new handsets. Microsoft and Nokia need to get the eco-system for the Windows Phones up to the levels where Apple and Google are.
_______________________
Edited June 17:
Source:
http://smarthouse.com.au/Phones/Industry/E4V5U3C4?page=1
and
apparently "Nokia Windows Phone Will Blow Your Socks Off"
SOURCE -
http://pocketnow.com/windows-phone/nokia-w...-your-socks-off
______________________________________
Updated Oct 2 - purported Nokia Searay WP7.5 launching this month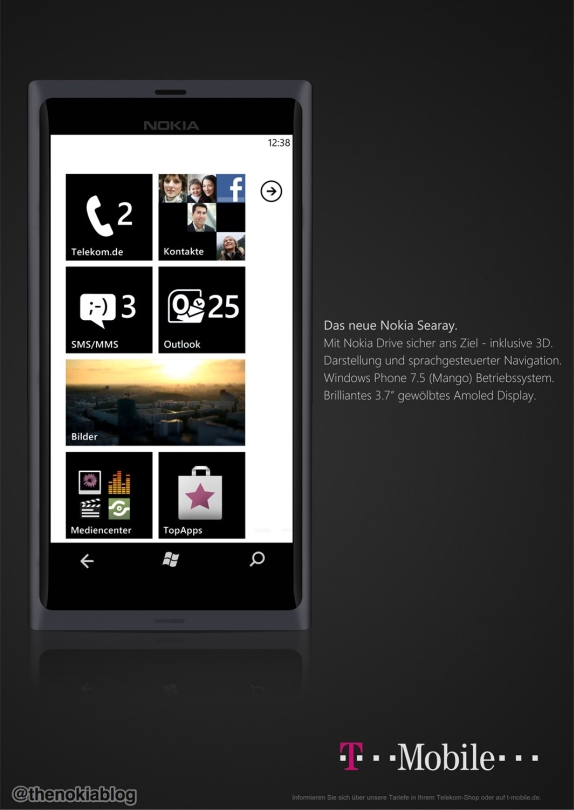 ___________________________
Added Oct 24, 2011
Nokia starts WP7.5 Searay TV ads (teaser) in UK.
Is it just me or that thing will most probably be available immediately during its launch date on Oct 26?
_________________________________________
added 18 Dec 2011
_________________________________________
many thanks to eat cake everyday who alerted this thread that Lumia 800 and 710 are listed as Coming Soon at Nokia Malaysia\s website.
http://www.nokia.com/my-en/products/products/
**************************************************************
added 2/21/2012
***************************************************************
Lumia 610, 719 & 910 to come
Lumia 610
http://www.canwegetone.com/news/nokia-lumi...aked-id-say-no/
Lumia 719
http://www.geeky-gadgets.com/nokia-lumia-7...sig-21-02-2012/
Lumia 910
same as Lumia 900 minus the LTE radio for the US market. 910 is set to launch for Asia and Europe.
This post has been edited by g5sim: Feb 21 2012, 08:13 PM