perancangan menghubungkan ekonomi MALAYSIA-INDONESIA-CHINA-VIETNAM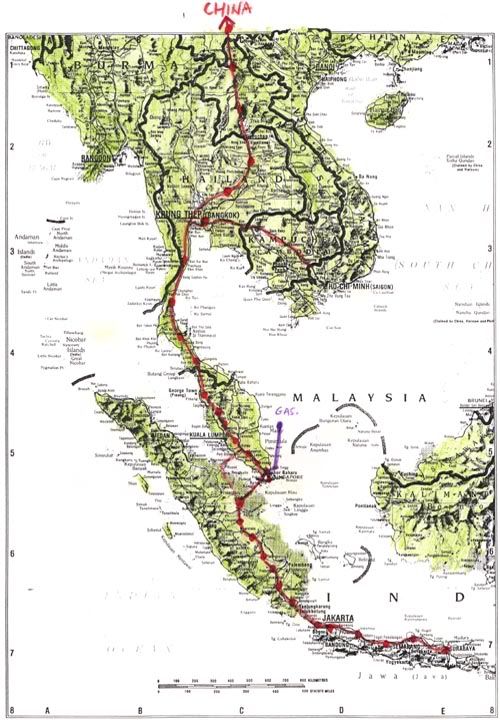 perancangan di sebelah Indonesia
Malaysia akan masuk melabur di Vietnam secara besar-besaran tidak lama lagi..
China dah luluskan pembinaan jambatan Malaysia-Indonesia
MALAYSIA want to invade VIETNAM !, for business opportunities (News)
http://forum.lowyat.net/index.php?showtopic=1279155
usaha untuk membangunkan blok ekonomi Asia nampaknya sedang berjalan dengan lancar
selepas ni kita akan potong laluan Segenting Kra di Selatan Thailand
perancangan SEGENTING KRA.. potong selatan thailand dan semenanjung tanah melayu
<-- kerajaan Thailand akan potong antara 4 lokasi di selatan Thailand, mereka sudah minta pandangan Malaysia dulu
QUOTE(Apakah itu Segenting Kra?)
Terusan Kra atau Terusan Segenting Kra (juga dikenali sebagai Terusan Thai) merupakan sebuah terusan besar yang dirancang untuk membelah semenanjung Tanah Melayu di bahagian Segenting Kra. Seperti projek Terusan Suez dan Terusan Panama, tujuan utamanya ialah untuk menambah baik sistem pengangkutan laut di rantau ini.
Cadangan untuk terusan yang membelah Segenting Kra, bagi memendekkan laluan perkapalan di Asia telah diutarakan semenjak tahun 1677, bila Raja Ayuthia, Narai meminta seorang jurutera Perancis bernama De Lamar untuk membuat kajian bagi pembinaan satu terusan yang menghubungkan Songkhla dan Marid (Myanmar sekarang). Kajian mendapati cadangan ini tidak praktikal dengan kemudahan teknologi yang ada ketika itu. Pada tahun 1793, idea ini kembali diutarakan oleh adik bongsu Raja Chakri (Rama I) untuk memudahkan kapal-kapal perang melindungi pantai barat Siam. Pada awal kurun ke–18, pihak Syarikat Hindia Timur Inggeris juga menunjukkan minat kepada pembinaan terusan ini. Selepas Burma menjadi jajahan British pada tahun 1863 dengan Victoria Point yang bertentangan dengan muara Kra menjadi titik paling selatannya, satu peninjauan telah dilakukan tetapi dengan hasil negatif. Pada tahun 1882, pembina Terusan Suez, Ferdinand de Lesseps telah melawat kawasan ini tetapi dilarang untuk menyelidik lebih dalam atas arahan Raja Siam.
Pada tahun 1897, kerajaan Siam dan Empayar British telah bersetuju untuk tidak membina terusan ini agar kepentingan Pelabuhan Singapura di rantau ini dilindungi.
Lebar segenting Kra di bahagian terkecilnya adalah cuma 44 km, tetapi ketinggian pergunungan di kawasan ini adalah sekitar 75 m di atas aras laut. Untuk perbandingan, panjang Terusan Panama adalah 77 km, tetapi titik tertingginya di Gaillard Cut hanya 64 m di atas paras laut. Terusan Panama melepasi titik ini pada ketinggian 12 m (dasar terusan) dan 26 m (paras air terusan), jadi kapal-kapal perlu memasuki pintu air untuk dibawa naik ke ketinggian 26 m di atas paras laut. Terusan Suez pula panjangnya sehingga 192 km tetapi melalui kawasan yang mendatar.
Panjang terusan Thai yang dicadangkan ini dianggarkan antara 50 dan 100km bergantung kepada laluan yang dipilih.
Pada kurun ke-20, idea tentang terusan ini kembali diperkatakan, tetapi lokasinya berubah ke satu kawasan di selatan Thai, untuk menghubungkan Teluk Bandon berhampiran Surat Thani dengan Phangnga. Pada tahun 1985, terdapat satu rancangan oleh syarikat Jepun untuk membina terusan ini menggunakan lebih 20 peralatan nuklear yang setiap satunya berkekuatan dua kali ganda kuasa bom atom yang dijatuhkan di Hiroshima. Tapak terbaru terusan ini dirancang di sepanjang wilayah Nakhon Si Thammarat dan Trang. Jika disiapkan, terusan ini dijangka bakal memberi ledakan ekonomi di kawasan berhampiran serta seluruh Thailand dan memberi saingan hebat kepada pelabuhan-pelabuhan di Selat Melaka seperti Pelabuhan Klang dan Pelabuhan Singapura.
Pada tahun 2005, satu laporan dalaman yang disediakan oleh Setiausaha Pertahanan Amerika Syarikat, Donald Rumsfeld telah bocor kepada The Washington Times, yang melaporkan China sedang merancang pembinaan terusan di Segenting Kra lengkap dengan pelabuhan dan pusat penapisan minyak milik China, sebagai sebahagian dari strategi "rentetan mutiara" (string of pearls)nya di pangkalan hadapan dan juga keselamatan tenaga. Rancangan China untuk kerja pembinaan dalam masa 10 tahun akan menggunakan tenaga kerja seramai 30,000 orang dan memakan kos antara 20 hingga 25 billion dolar Amerika.
untuk potong Segenting Kra di Selatan Thailand tu, ada permainan politik banyak negara British dan USA tak mahu potong sebab mahu jaga kepentingan mereka di Asia (terutamanya di Singapura), Malaysia, Indonesia, China mahu potong sebab mudahkan perdagangan dan pendekkan laluan... jadi ke tak jadi susah nak kata melainkan kekuatan ketenteraan China sudah sama taraf dengan USA.
Malaysia sudah sedia jika, kerajaan Thailand kata nak potong.. Malaysia sudah mulakan rancangan bina PULAU BUATAN YANG AMAT BESAR DI PERLIS (untuk dijadikan PELABUHAN ANTARABANGSA BERKELAS DUNIA) berdekatan dengan tempat kerajaan Thailand potong laluan di Segenting Kra di Selatan Thailand.. bila dah siap tu dengan serta merta je ekonomi utara Malaysia seperti Perlis, Kelantan dan Terengganu yang sekarang masih mundur akan jadi amat maju, Singapura mau tak mau dia kena masuk jadi wilayah Malaysia la.. harap kat USA dan British lindungi dia, kalau dah ketenteraan negara China kuat masa tu.. kata nak potong gak laluan di selatan Thailand tu.. mampus la juga diaorang nanti..
projek jambatan MALAYSIA-INDONESIA dah on.. Presiden China siap datang lagi nak tengok sendiri di Melaka, boleh ke buat sebab melibatkan duit yang amat besar tapi pulangan dia pun amat besar.. ia bakal merubah ekonomi dunia, jika diteruskan dengan pemotongan Segenting Kra di Selatan Thailand
rekabentuk pulau buatan besar di perlis untuk dijadikan pelabuhan antarabangsa tu tatau lagi tapi agaknya lebih kurang macam ni la..
http://forum.lowyat.net/index.php?showtopic=1226403
<-- PERLIS want to make BIG MAN-MADE ISLAND !, INTERNATIONAL PORT in Perlis (News)
mula-mula dulu rancang nak buat jambatan MALAYSIA-INDONESIA dekat sikit dengan Singapura
tapi sebab Singapura degil (KIASU) dan ada pula masalah politik dalaman.. jadi tukar kepada daerah Melaka-Dumai pula
projek sekarang dah on, negara China pun dah luluskan, Malaysia pun dah luluskan.. tapi masih lagi kedengaran suara sumbang..
mungkin betul dakwaan The Washington Times pada tahun 2005 bahawa ada dalang USA atau British tak suka dengan benda ni rasanya..
boleh kata tiap-tiap hari selatan thailand tu merusuh, ada kes bunuh, aku pernah sembang dengan orang tempatan kat sana, diaorang sendiri kata tak kenal siapa yang buat huru hara kat sana.. ntah mana datang pun tatau..
ok.. kita sambung lagi cerita..
QUOTE(tambahan cerita pasal benda ni)
Segenting Kra adalah satu wilayah atau kawasan yang paling kecil (sempit) daratannya diantara Lautan Andaman dan Teluk Siam. Bagi rakyat Malaysia, Segenting Kra bermaksud kawasan kawasan diantara wilayah Narathiwat, Songkla malah Hadyai.

Kawasan ini adalah antara kawasan paling strategik dari segi ekonomi jika ditadbirkan dengan baik dan aman. Kini Segenting Kra adalah satu kawasan yang agak bergolak dan berbahaya untuk diduduki atas sebab keganasan yang berlaku disana.

Kenapa Segenting Kra menjadi persoalan kita. Tahukah anda semua, bahawa satu masa dahulu kawasan ini adalah milik Kerajaan Kedah Tua dan Kerajaan Kelantan. Namun pihak British telah menggunakannya sebagai satu agenda mereka untuk mengawal kerajaan Malaysia dan Thailand (Siam).

Isu Segenting Kra pernah dibincangkan oleh kerajaan Malaysia, Thailand dan Indonesia satu masa dahulu. Pernah ada cadangan dari pihak Malaysia agar dibuat satu terusan disana (seperti terusan Suez) yang menghubungkan Laut Andaman dan Teluk Siam/Laut China Selatan. Ianya pernah menjadi satu agenda yang kuat pada awal tahun 90′an lagi.

Malah Kerajaan Thailand dan Indonesia amat bersetuju akan perkara ini, seehinggakan satu segitiga ekonomi telah dipersetujui untuk dibangunkan. Ianya dikenali sebagai Segitiga IMT-GT (Indonesia, Malaysia, Thailand – Growth Triangle).

Salah satu pemangkin segitiga ekonomi tersebut adalah ujudnya satu terusan yang membolehkan kapal-kapal kargo dan "tanker" melaluinya. Keujudan terusan ini akan memungkinkan pembangunan industri maritim bagi kawasan Sumatera Utara, Langkawi dan Selatan Thailand. Secara otomatisnya ianya akan menguntungkan ketiga-tiga negara ini dan membolehkan mereka memajukan industri perkapalan secara maksima.

Jika IMT-GT ini terjadi dimana terusan Segenting Kra ini berjaya dilaksanakan, maka secara logiknya mana-mana kapal dagang yang menggunakan Selat Melaka akan menggunakannya demi untuk menjimatkan masa dan kos bahanapi. Secara otomatiknya laluan di Selat Melaka akan berkurang dengan mendadak.

Pelabuhan di Aceh (Sumatera Utara), Langkawi dan Hadyai akan lebih maju dan dimaksimakan penggunaan serta operasinya melangkaui Pelabuhan Keppel di Singapura. Jika ini berlaku, Pelabuhan Keppel di Singapura akan menjadi malap malah operasinya pula hanya melibatkan kapal-kapal dagang berskala kecil serta yang melalui Selat Melaka dalam perjalanan mereka ke Jakarta, Australia atau New Zealand.

Perkara inilah yang paling dirisaukan oleh pihak Singapura. Jika ini berlaku, maka aka berlakulah satu kegawatan ekonomi bagi Singapura. Umum sedia maklum bahawa ekonomi Singapura dijana melalui industri perkapalan sejak sekian lama. Oleh sebab itu Singapura perlu mengambil satu tindakan drastik.

Segenting Kra dijangkakan akan menjadi satu kawasan perdagangan yang maju jika projek IMT-GT dijalankan. Malah ada beberapa pihak yang bersungguh-sungguh cuba untuk menjayakannya. Prasarana perhubungan darat yang baik dikawasan Segenting Kra yang menghubungkan laluan terus ke Bangkok, Alor Star, dan Kota Bharu sememangnya membolehkan kawasan ini dibangunkan.

Malah pihak Indonesia juga bersedia untuk membangunkan kawasan Acheh Utara semata-mata ingin mengambil peluang ekonomi yang semestinya akan meningkat dengan keujudan IMT-GT. Malah Pelabuhan di Langkawi bersedia dipertingkatkan kemudahannya bagi menjayakan IMT-GT.

Pihak Singapura sememangnya agak "cuak" dengan situasi ini. Walaupun Kerajaan Malaysia ada bekerjasama dengan mereka atas projek kawasan pertumbuhan ekonomi SIJORI (Singapore, Johor and Riau), namun dengan ujudnya IMT-GT akan memungkinkan SIJORI hanyalah akan menerima kesan yang agak minima dari segi ekonomi.

SIJORI yang dipelopori penubuhannya pada tahun 1989 oleh pihak Singapura sebagai satu usaha pemangkin ekonomi bagi kawasan serantau. Singapura beranggapan jika SIJORI dapat bergerak dengan berkesan maka keuntungan besar adalah dimiliki olehnya atas sebab pelaburang asing yang berada di Singapura. Pelabuhan Keppel akan menjadi satu daripada pelabuhan tersibuk dunia jika ianya menjadi kenyataan.

Dengan kekuataan dari segi pelaburan asing dan perkhidmatan perbankan bertaraf dunia, Singapura menjangkakan bahawa SIJORI akan boleh memberikan mereka satu kekuatan ekonomi dan akhirnya membolehkannya menjadi peneraju utama dan penentu kuasa ekonomi baru bagi rantau ini.Johor dan Riau (Batam) hanyalah menjadi pembantu dalam memangkinkan ekonomi Singapura. Ini kerana Johor boleh memberikan tanah dan kemudahan simpanan (gudang pada kos murah) bagi pihak Singapura dan Batam boleh menyediakan satu kumpulan tenaga kerja yang murah.

SIJORI pasti tenggelam jika Projek Segenting Kra berjalan dengan lancar dan dijayakan oleh IMT-GT. Jika ini berlaku maka ekonomi Singapura dan idea SIJOR akan musnah. Untuk memastikan bahawa IMT-GT dan Segenting Kra musnah (dari segi teknikal) maka perlulah satu ketidakstabilan diujudkan di Segenting Kra.

Perlu diingatkan bahawa sejak dari dahulu lagi kawasan Segenting Kra ini agak kurang stabil kerana pertembungan dua budaya yang berbeza (Melayu Islam Siam dan Masyarakat Buddha Siam). Memang isu agama boleh mencetuskan mana-mana perbalahan dengan mudah. Namun sejak dari dahulu lagi masyarakat Siam (Thailand) amat menghormati Raja Siam tanpa mengira agama dan suku kaum.

<cakap-cakap orang>
Untuk memastikan berlaku ketegangan sosial di Segenting Kra, maka agen perisikan Singapura dengan kerjasama Agensi Perisikan Pusat Amerika (CIA) yang sememangnya berada disana memulakan satu operasi khusus semata-mata untuk mengujudkan kekacauan kaum disana. Malah beberapa insiden kekacauan disana yang telah dikenalpasti oleh pihak ketenteraan Thailand yang dilakukan oleh orang luar yang berkepentingan.

Malah beberapa cakap-cakap kedengaran dari pihak Singapura yang menuduh Malaysia sebagai lokasi melatih "Mujahidin" yang kononnya membuat kacau di Selatan Thailand (Segenting Kra). Dengan cara ini, adalah mudah untuk melaga-lagakan Malaysia dan Thailand dalam isu setempat sedangkan kita semua sedia maklum bahawa hubungan Malaysia dan Thailand memang amat baik sejak dari dahulu lagi.

Kini ada beberapa usaha yang dilakukan oleh pihak agen dari Singapura yang cuba membekalkan saluran kewangan dan senjata melalui pihak ketiga dari Laos, Myanmar dan Vietnam semata-mata untuk memporak-perandakan kawasan Selatan Thailand. Beberapa penyeludupan telah disekat oleh pihak Thailand dengan kerjasama Malaysia di Laut China Selatan yang bertujuan mengubah geopolitik di Selatan Thailand. Pihak Singapura juga mendapat kerjasama yang baik daripada bekas Perdana Menteri Thailand (Thaksin) dalam usaha mereka mencetuskan ketegangan di Selatan Thailand. <cakap-cakap orang>
sekarang nampaknya macam pihak IMT-GT yang dipelopori oleh Mahathir dari Malaysia menang dengan SIJORI yang dipelopori oleh Singapura (walaupun projek jambatan bengkok kena batal..LOL) , projek MAPHILINDO yang dipelopori oleh Filipina pula cam tenggelam je??

WALL OF TEXT !!!
This post has been edited by hack3line: Jan 2 2010, 04:32 AM