I bought this 20" LCD from ACER for a mere RM490. I did some survey before I bought, and so it seems that most shops do not have this model. TecAsia was selling it at RM429, but it was out of stock.
This LCD comes with all the needed cable to get you started, including DVI, Analog and 3.5mm audio. Other than that, it also comes with the usual power cable. Really simple package, really.
On to the monitor itself. The first thing you would notice is the odd resolution of 1600x900. I would guess that this is for the 16:9 ratio. I was thinking that it would at 1680x1050, as most 20" are at. Anyway, it does have a fast response time of 5ms. Nothing to shout about, as most LCDs these days are less than 10ms anyway. Contrast ratio is at 10000:1, way more than my 740BF, which was at a "mere" 700:1 ! Insane contrast aside, this monitor does deliver.
I did run a HD movie to test it out, and although the movie is "just" 720p, I would say that it looks stunning. The black bars are very small. Almost negligible. Watching HD clips would be a very good idea indeed. My unit did not have any dead pixels to worry of, which means that the panel itself is of high quality. Kudos to Acer for that.
I played Racedriver:GRID, at the native resolution. I would say that GRID is one of those newer games where widescreen gaming is supported. And it does look good. No visible ghosting at all. I maxed out the AA and AF, and it was still chugging along at a minimum 30fps. It was really a sight to be hold. ( Well, not really, when comparing beside a 22" or 30"), but nonetheless, is beautiful.
I would recommend this monitor to those with a low budget and wants to jump onto the widescreen bandwagon.
Pros : -
- Very cheap
- Comes with full set of cables
- 16:9 widescreen
Cons : -
- Not full HD
- No HDMI In
- Long startup time
Pictures added for readers' convenience.
Yup, native resolution of 1600x900. Please ignore the RIVA TNT2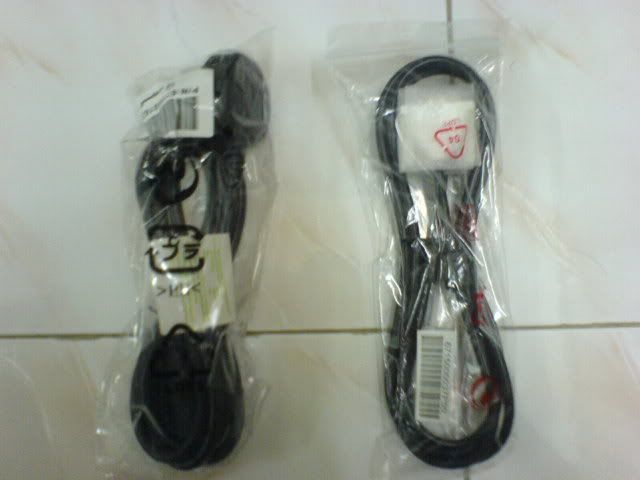 Bundled cables. Analog cable is being used right now.
Some of the X203h's specs. Note the HDCP input.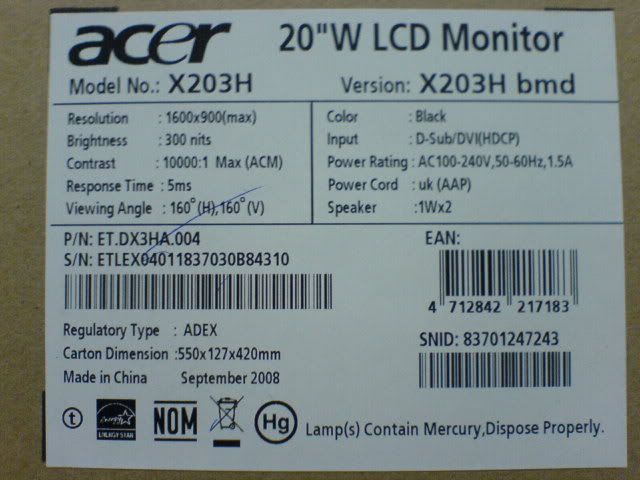 Some more specs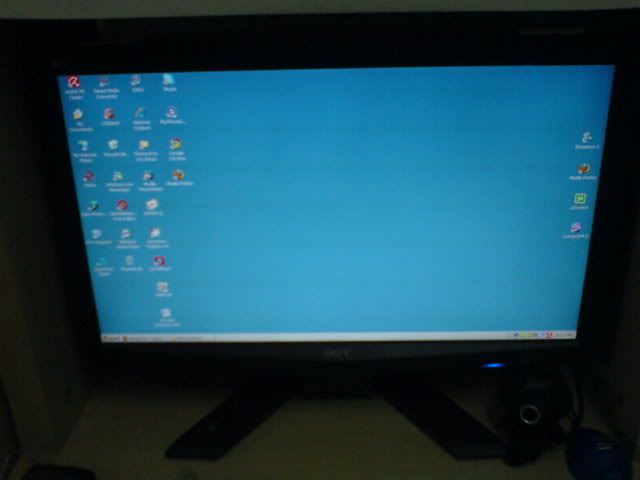 Shot of the LCD itself.
» Click to show Spoiler - click again to hide... «
This post has been edited by ericmaxman: May 6 2009, 08:33 PM