QUOTE
Face masks are no longer required outdoors effective yesterday,

but many Malaysians aren't yet ready to make that leap.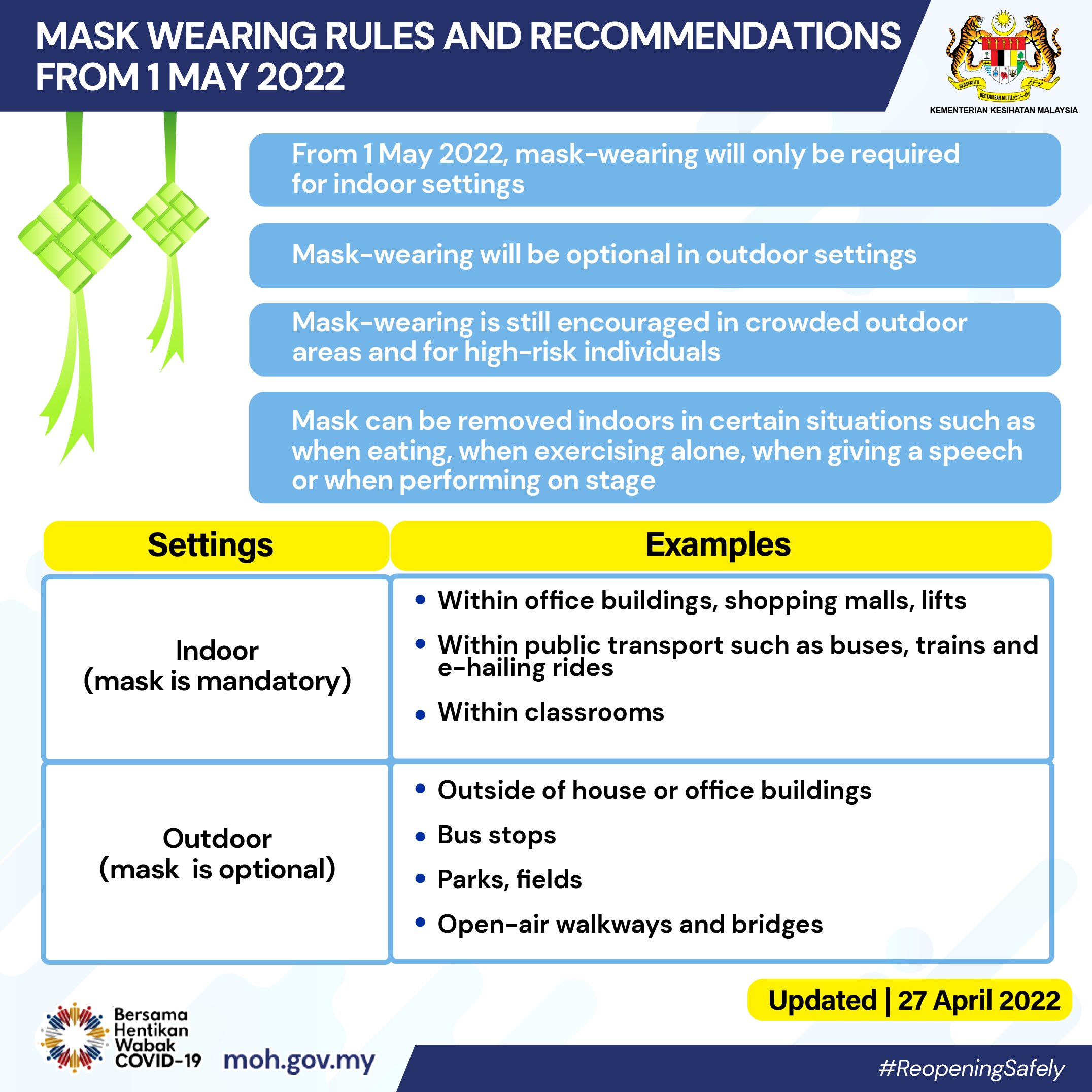 Many are still choosing to err on the side of caution, keeping their face masks firmly on as a safeguard against Covid-19.
Checks by the New Straits Times at KLCC yesterday showed that the majority of visitors had their face masks on, even as they thronged the mall's open-air public park.
While some took off their face masks when taking photos with the iconic Petronas Twin Towers in the background, the face coverings went back on as soon as they were done.
Among them was Mohamad Ashraf Abdul Ghapoor, 29, who was with his family for some last-minute Hari Raya Aidilfitri shopping.
He said
he and his family would continue to wear face masks despite the lifting of restrictions.
Ashraf, who works in the private sector, welcomes the building management's move to maintain security personnel at the mall's entrances to check all visitors' risk status in the MySejahtera app, although check-ins are no longer mandatory from yesterday.
"It feels a bit weird not having to register yourself. So far, malls have been quite strict in checking visitors entering, but maybe it's just the first day.
"To be honest, the guidelines by the government to prevent Covid-19 posed no issues for my family and I, but we are slightly concerned about how the authorities will monitor the movement of cases now.
"We will continue to wear face masks because I have a toddler.
But it's nice to see things are slowly going back to normal."
Another visitor was
banker Kumar Muthu, 52, who said he would continue to wear a face mask as Covid-19 cases were still prevalent.
"To me, the easing of restrictions has its advantages and disadvantages for both the public and the government.
How will the Health Ministry monitor the cases if MySejahtera check-ins are no longer required?
"Using MySejahtera was good because it helps to monitor and prevent a surge in cases," he said.
An employee at one of the shops, Asri, said the lifting of MySejahtera check-ins had allowed more customers to enter the premises freely as visitors' risk statuses were checked only once at the entrances of the mall.
"Previously, we had many impatient customers who had to queue because of the limited number of customers allowed at any one time in the store.
"Having to check-in also meant customers had to wait longer before entering the store.
"As My Sejahtera check-ins are no longer required, I think people are happier now. There's not much of a queue so people are now more relaxed to shop."
A visitor from Singapore, who wanted to be known only as Kevin, was surprised to learn that face masks were no longer required outdoors.
He said he would continue to wear a face mask as he was just travelling for the weekend.
Kevin said it was better to adhere to the previous Covid-19 standard operating procedure, which included wearing face masks and maintaining good personal hygiene as preventive measures when travelling abroad.
"This is my first time travelling outside Singapore so it's best to stick to the earlier guidelines to prevent any untoward incidents.
"I am glad the borders are reopening and that Malaysia is taking proactive measures to return to normalcy, yet at the same time, keep the people safe," he said.
'
Source: Not quite ready to unmask