QUOTE(heLL_bOy @ Mar 2 2021, 11:52 PM)
this id is belong to Oct 2020. guess what after the 2nd reply on Early Dec till now never even bother to reply.
lost faith already
Actually if you really have patience to play around with tm and mcmc.
The problem will be fix and smooth for longer time.
Because few days ago,i search for the similar problem that happens last year about high latency spikes and packet loss to OVH Singapore.
That guy that keep report every 2-3 days to tm and mcmc, finally get contact with tm higher level person and the problem become smaller. (but need patience bcs need few months time to waste with them)
See this link,this guy keep report to tm for forcing TM to fix the problem.
https://amirazman.my/masalah-sambungan-unifi-ke-ovh-hosting/
But of course the problem came back again every night at 9.30-10.30pm for about 5-20min every night.
But I am satisfied for only have short time problem... Better than 2 years ago that time the happens time is very randomly and more serious than now.
This is the OVH smokeping to TM IP by OVH SG DC.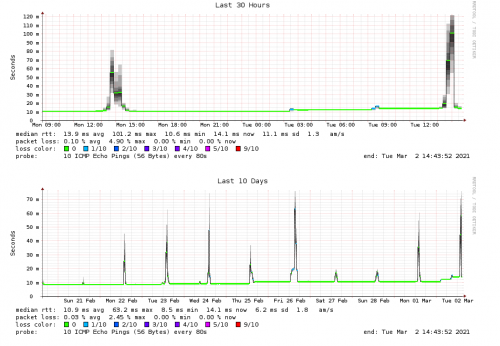 And also u can also report to Amazon Web Services. I don't have service on aws,so cant report..haha
The reason why i suggest to report AWS, is because they are the server provider, they can contact TM to solve the problem easily than us.
They can contact the traffic IX to reduce the problem.
Too many service that hosted on AWS is using US East location,so this is really a big big problem.
This post has been edited by go626201: Mar 3 2021, 01:40 AM