No-fry no-oil quick and easy instant noodle
The motive behind creating this recipe is of course for the ease of convenience just as quick as you would be cooking instant noodle but much healthier, cheaper, and you have endless choice of flavors. Minimal cooking process is needed, if possible. Here are what you'll need:
1) Cintan non-fried broad noodle, 2 noodle cakes about 110g
2) 1 packet of Adabi perencah mee goreng 60g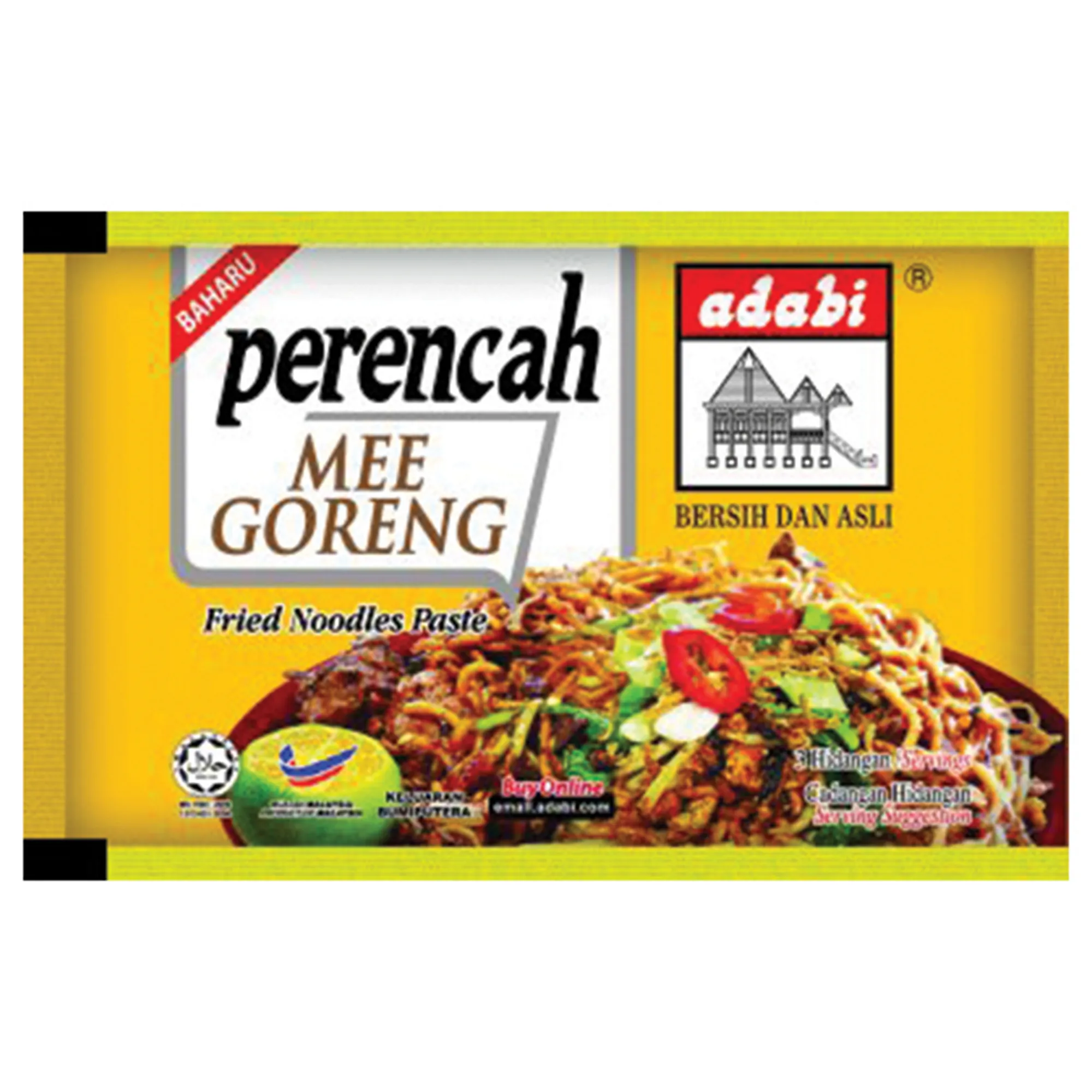 3) enough water for boiling noodles
That's it. Follow the package instruction and boil the noodles for 3 minutes. Discard the water but keep a few spoonfuls for easier mixing. Then, add in the Adabi paste, mix well and serve. Yes, you read it right, just mix it in without having to fry or saute the paste. The paste is already cooked.
You can definitely be creative to garnish the noodles as you like with fried shallots, scallions, cilantro, sunny-side up, meat floss, tuna, cheese or even Furikake (Japanese rice topping). Or better yet, you can also add fishcake, sausage, meatballs, veggies while boiling the noodles.
This recipe is good for 2 servings but if you are super hungry you can also finish all the noodles like i did. It's not really that much, if you can finish up 2 packets of samyang hot chicken noodles in one sitting then it should be no problem. Flavor-wise, as i'm a big fan of samyang hot noodles i find this easy recipe not only a lifesaver but also the taste is a real deal. Yes it obviously tastes like mee goreng but not the same as mamak style mee goreng with a hint of curry, nor the one sold at roadside overly seasoned with sweet soysauce and oil. The noodle taste and texture remind me of chili pan mee more if you asked me, it has a well balanced mild spiciness of sambal and sweetness from soysauce. If you have tried Adabi paste with yellow noodles before then you may like this non-fried noodles version.
Fancy trying out with other easily prepared mixing sauce, why not? I'm also considering Adabi mee bandung paste, beef soup paste, masak merah paste, green curry, red curry, tomyum, carbonara, korean hot sauce with parmesan cheese, kunyit curry paste by One fine shop, Maggi's black pepper mix, fajita with tomato paste, Colman's beef stroganoff and so much more. If memory serves me right i think Adabi has instant noodles range with flavors of bihun goreng, mee goreng, mee bandung etc. Not sure if the paste used in this recipe essentially the same with the instant noodle seasoning paste but i'll just stick to this non-fried noodles anyway.
Last but not least, did i mention this recipe costs less than rm3 to fill your tummy? This recipe is definitely a keeper. Good luck!
👆Look at that goodness of Adabi generously coating the boiled noodles and fishballs.
👆Another flavor that i've tried was Adabi mee bandung paste. It contains dried shrimps so i expected it to taste something like if not similar to the penang prawn mee. It turned out that i was almost right, it's brimming with prawn flavor except that this one has a thicker consistency but surely, it's mee bandung afterall. I whipped out a can of good ol' spicy tuna and called it a day. Will i make this again? Of course, without a second thought.
To prepare this, boil 2 noodle cakes in 1000ml of hot water. When the noodles are 70% done, discard the water but leave about half behind. Put it back on the fire and add 2 packets of Adabi mee bandung paste 40g and stir well. When the noodles are soft or the soup starts to thicken it is ready to serve.
👆Today i used the Adabi beef soup paste. It was aromatic and peppery just like the one commonly served in Malay restaurants except that no beef and veggies were used in my first trial. If you have beef slices or meatballs, onion, carrot and celery handy, please do not hesitate to dump all those in, at least that's what the paste was intended for. These veggies combo or so called the mirepoix really packs a punch to the flavor and bumps up your soup by a few extra notches.
Start off by boiling 2 noodle cakes in 1000ml of hot water, though i would suggest using lesser water like 800-900ml for a denser soup. Empty the content of one packet of Adabi beef soup paste 40g and cook until the noodles are soft. If you plan to add extra ingredients mentioned earlier, you may do so before adding the noodles and paste, as the meat and veggies take longer time to cook.
This post has been edited by babybobby: May 16 2020, 02:55 AM