QUOTE(expendables @ Feb 27 2020, 09:13 AM)
After Umno/PAS (about 60 MPs) withdraw support for Tun on Tuesday (25 Feb) and Tun did not show up to chair PH meeting, Anwar and PH took opportunity to withdrew support for Tun as PM despite supporting him for PM just a day earlier.
Anwar never even go to Tun's office or residence or send him message that they will withdraw support if he does not show up. How is Tun to know that if he does not chair PH meeting they will stop supporting him? Plus he is no longer PPBM chairman and by default no longer PH chairman. What has not chairing PH meeting got to do with their support for him?
This episode proves Anwar is really so power crazy that he is willing to forego immediate return of PH to Govt (since combining with Tun will give PH majority to form Govt) to end the crisis for rakyat so that he can become PM. But Anwar may have fcuked up cos now PH does not have enough seats to form Govt. It is still very highly likely that Tun will join forces with Anwar to form Govt again because both of them will not work with Dark Side (Umno/PAS). But what if something happened to Tun or he is fed up and decide to just walk away. In that scenario, Tun's supporters (PPBM, GPS, Warisan) will all go to the Dark Side and PH then lose and become opposition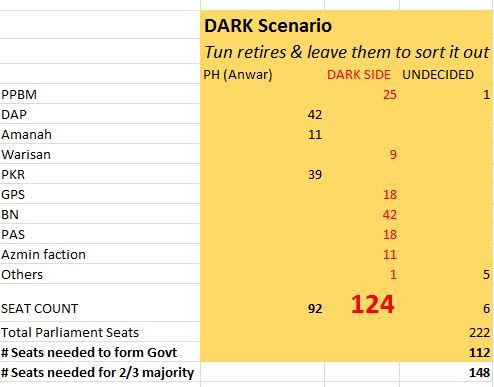 u know oversell can cause back fire ?
that is what happen now.