Hi guys, noticed there a linux forum out here. So want to share my Manjaro boot setup here and please feel free to ask or any sifu can give more suggestions
Photo: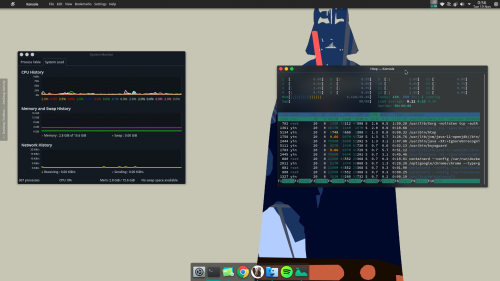 Hardware :
CPU : Ryzen 2700x
MOBO : STRIX X470-F GAMING
GPU : Asus Rog Strix RTX 2070
WIFI :
TP-LINK AC1300 archer T4U v3
HDD : 1TB HDD, Samsung evo 850 250gb (win), samsung evo 860 500gb (manjaro)
PSU : Evga super nova 850
Only difficulties facing during KDE 18.1 installation was my wireless dongle cant detect any open wireless IDD.
In the end found solution through the manjaro community forum after struggling for few hours:
1) use pamac install AUR package
https://aur.archlinux.org/packages/rtl8822bu
or
2) compile and install the firmware files
https://github.com/EntropicEffect/rtl8822bu
For new new users who want try try out Manjaro please note:
* make sure update and use correct linux kernel header, example 419 LTS, 512.
* Kernel version associated with your hardware or device driver compatibility and availability
1) You need time, patient and passion.
-> Find solution via community forum
-> Trial and error
-> Read and dive into details of installation guide/manuals
2) Basic linux files and folder structure & terminal command (like me
)
-> sudo, chmod stuff out here
-> log, systemctl
-> folder structure and environment variable
3) Software package may not up to latest version at AUR when comparing with other platforms (win, osx)
-> Write own PKGBUILD and target to latest source dependencies, recommend if you know how to do and what to do
-> Ask somewhere(forum, github, reddit) is anyone kind to help, higher risk because you have to make sure all dependencies source safe
-> Wait for new package update release via AUR, but still recommend to review the PKGBUILD since is maintain by community
imo, Manjaro is really new user friendly for people who want to try linux distro (based on Arch linux), lot of customization can play around, polished Distro, simple and smooth to use due to well built system, kernal and hardware setting.