Forumer you are complaining against:
addy5215
Phone no: 0164493190 Adrian
Item being sold/bought: Trade of STRIX 1080+rm600 with AMP EXTREME 1080Ti (11month old)
Original thread link:
https://forum.lowyat.net/index.php?showtopic=4709019&hl=
Date of transaction: 28 March 2019
Details of the complaint :
1. Im selling my GTX 1080 Ti AMP EXTREME CORE 11 month old with years warranty RM2,400
2. This guy
addy5215
interested and offer to swap his self-claim
brand new STRIX 1080
from RMA plus topup RM600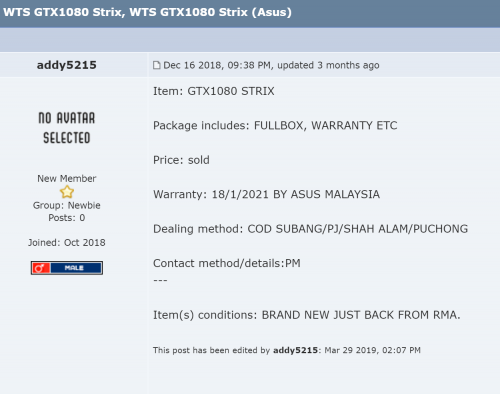 Point on pics
1. Warranty 18/1/2021 means initially bought 18/1/2018 (warranty always activated by original seller not yourself)
2. Brand New from RMA
WHAT I FOUND
*rma date is on november 2018, when cod he himself claim he oc it stable 2.1Ghz (so truth for brand new) but i didnt care about that so just accept that
*Claim warranty still got near 2 years from asus malaysia, he provide RMA receipt which only have serial no, no date of purchase. Later when i want to sell back since downgrading, potential buyer ask about warranty and i told them exactly 18/1/2021 but since i take care of my customer i check with my member from Asus for the warranty date validation. He told me
19/9/2019
check again with Asus Malaysia same answer. I paid RM 1800 for nearly 3 years card old which should priced much less!!!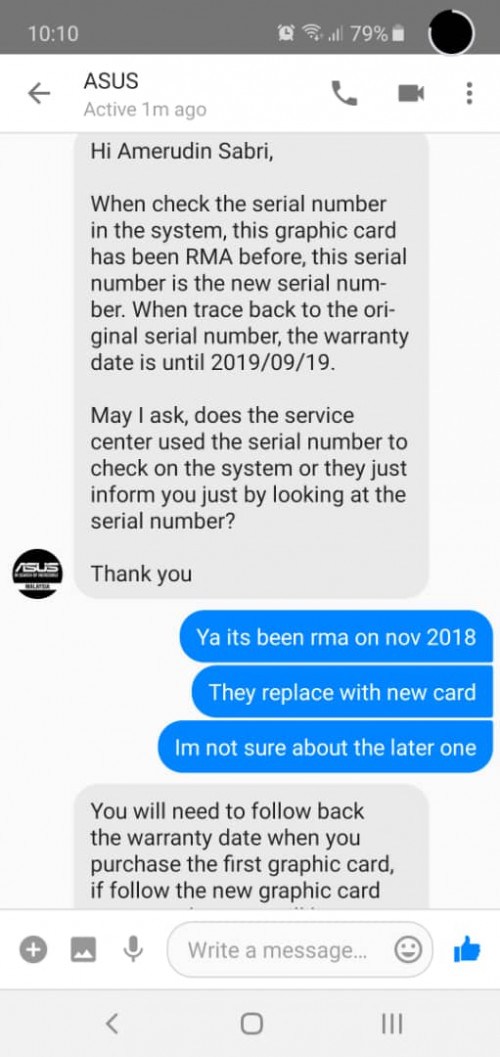 What He respond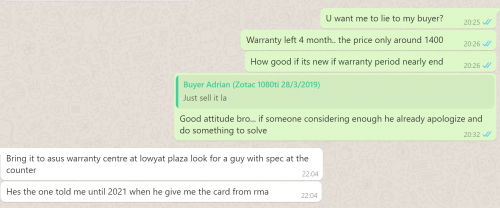 TLDR; seller dont want to take responsible for his mistake and ignorance or even he just pretend to be stupid about this. Everyone knows RMA card even new one will follow original warranty.
He even claim to
buy the card used 1 year plus on nov 2018
which make no sense for the warranty valid jan 2021!!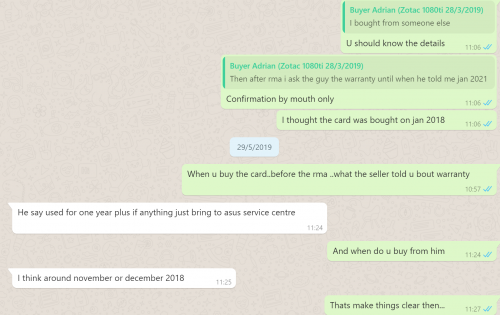 Totally irresponsible and ignorance seller , run away from own mistake and problem
This post has been edited by Ameerzs: Jun 13 2019, 08:05 AM