Item(s):
Double Airflow-Control for vapor regulation. On this occasion, can be used in addition to the vapor regulation placed under the base , as with the Taifun GT, still the Airflow-Control located above the winding. With this it is possible to control the supply of the air and therefore to adjust the steam while more or less air is added.
The Open Draw feeling allows substantially lighter drawing and is ideally suited for direct lung trains.
The base is equipped with 2 clamping screws with which the winding is fastened. To guarantee optimal positioning of the wick material little chambers were planned by the development of the Taifun. By 2 drillings in the chamber-lid which are equipped with other wick material as for example cotton, cotton string, or Mesh (high-grade steel sieve) the Liquid passes unhindered to the coils.
The tank volume of the rebuildable atomizer has grown to impressive 5 ml, the liquid level is visible thanks to the windows from borosilicate glass very well. The high-end atomizer made in Germany has a diameter of 23 mm and a total length of 50 mm (without DripTip). A separately available AFC-Ring rejuvenated from 23 mm to 22 mm the Taifun GSII makes a first-class figure on nearly all battery mods with the 510th thread.
Specifications :
Diameter : 23 mm
Length ( Without Drip Tip) : 50,0 mm
Weight : approx. 90 g
Capacity : approx. 5 ml
Material : Stainless steel (1.4301), Borosilicate glass, PTFE (Polytetrafluorethylen)
Package includes:
1 x Rebuildable Atomizer Taifun® GSII
1 x Info card for authenticity verification
1 x Drip Tip GSII
1 x Sealing rings (spare parts)
2 x PTFE tubes (wick)
1 x Wooden gift box
Never used. AUTHENTIC parts and specifications for best vaping exerience. Pls call Ken 0173767218
Price:
RM300 (Originally RM650)
Warranty:
-
Dealing method:
COD
Location:
PJ/KL
Contact method/details:
Ken 0173767218
WhatsApp me
Item(s) conditions:
New/unused
Picture: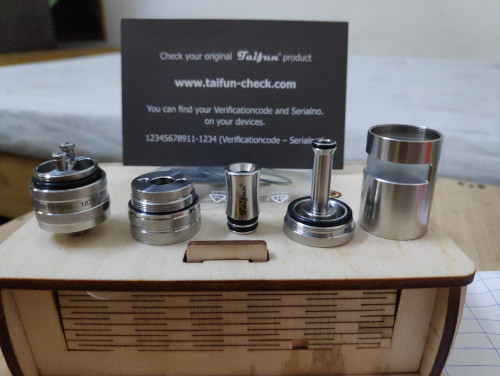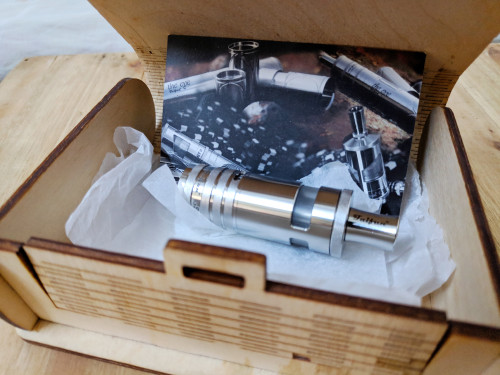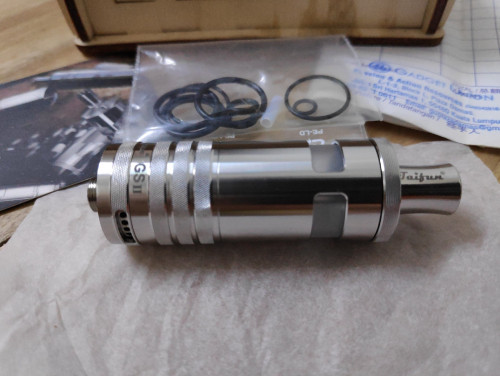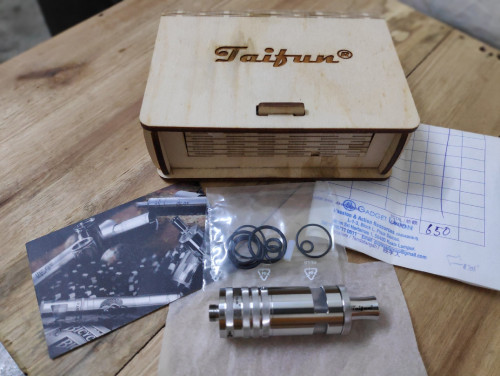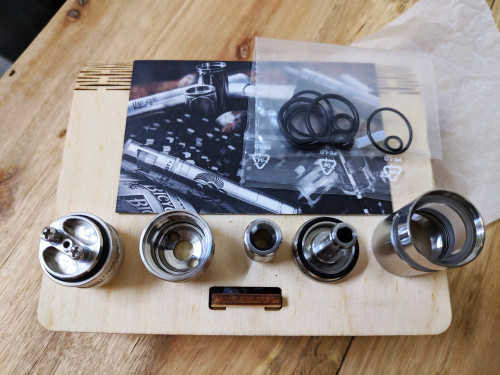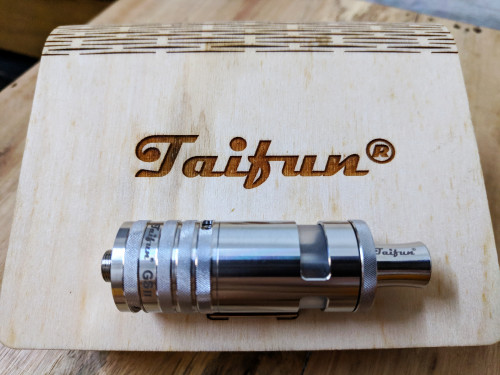 Reason for sale:
Unused
This post has been edited by MrPudujail: Apr 20 2019, 06:24 PM