QUOTE(myownworld @ Oct 9 2020, 11:00 AM)
Hi guys just a post with my experience: Invested since March 2019. Stopped the monthly DCA for about 6 months due to cashflow issues.
I have 2 portfolios, 10% SRI and 36% SRI.
The performance of both portfolios thus far are quite decent, but I feel that the reward for the 36% SRI portfolio is not commensurate with the risk taken compared to the more conservative portfolio. All values and charts quoted below are in USD.
SRI 10%:
TWR: 18.04%
MWR: 17.95%
SRI 36%:
TWR: 21.59%
MWR: 31.07%
Interesting... mine's opposite of yours - the higher risk ones performed so much better than the lower risk portfolio
Portfolio 1:
Test the water from Dec 2018, and consistent DCA from Jul '19 onwards
SRI: 30%
TWR: 31.53% (USD 33.48%)
MWR: 42.16% (USD 46.65%)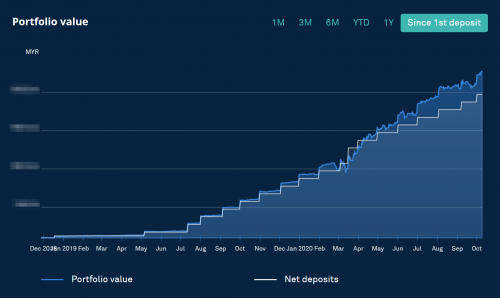 Portfolio 2:
One-off on Dec 2019
SRI: 14%
TWR/MWR: 9.82% (USD 9.55%)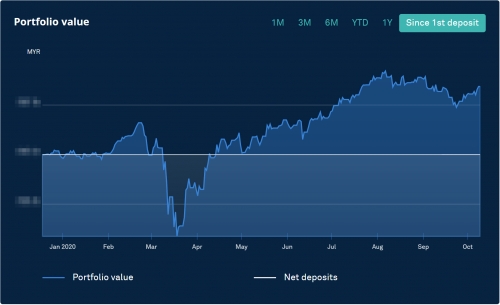 Should've lump sum during the March '20 dip