To all fighters in Malaysia: Here's your opportunity to get qualified for the NGWT2 Global Finals in KOF98 & KOFXIV. Winners will not only get a complete set of converters from Brook Gaming, but also prize money and official merchandise from SNK!
🔥Register now!🔥
https://goo.gl/forms/4pqvv8sPEJgHSrPA2
🔹FV Cup x SEA Major Malaysia
Dates: 23-24 March, 2019
Venue: Lightbox
Location: 29, Jalan LGSB 1/1, Pusat Komersial LGSB,
47000 Sungai Buloh, Selangor, Malaysia
03-6142 6836 (Map:
https://maps.app.goo.gl/wPydf)
🔸More info here:
https://beastapac.com/fvxseam2019ngwt2kl/
Original post can be found in Neogeo World Tour Facebook
https://www.facebook.com/neogeoworldtour/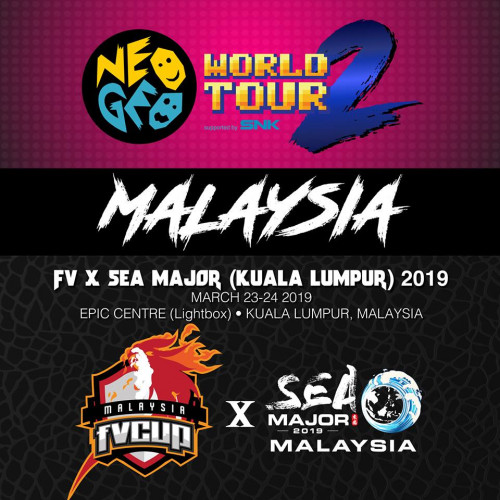 And you guys also can join FV Cup (tournament fee is RM80, Capcom Pro tour need top up USD10)
https://beastapac.com/fvxseam2019kl/?fbclid...0qB-tZ6q57CFinI
There will be Street Fighter 5 (with Capcom Pro Tour score), Ultra Street Fighter 4, Soul Calibur 6, Tekken 7, Dragon Ball Z & Smash Brothers Ultimate.
Currently confirm for SF5 Japan player will be coming to Malaysia FV Cup is
Tokido, Itabashi Zangief and many more.