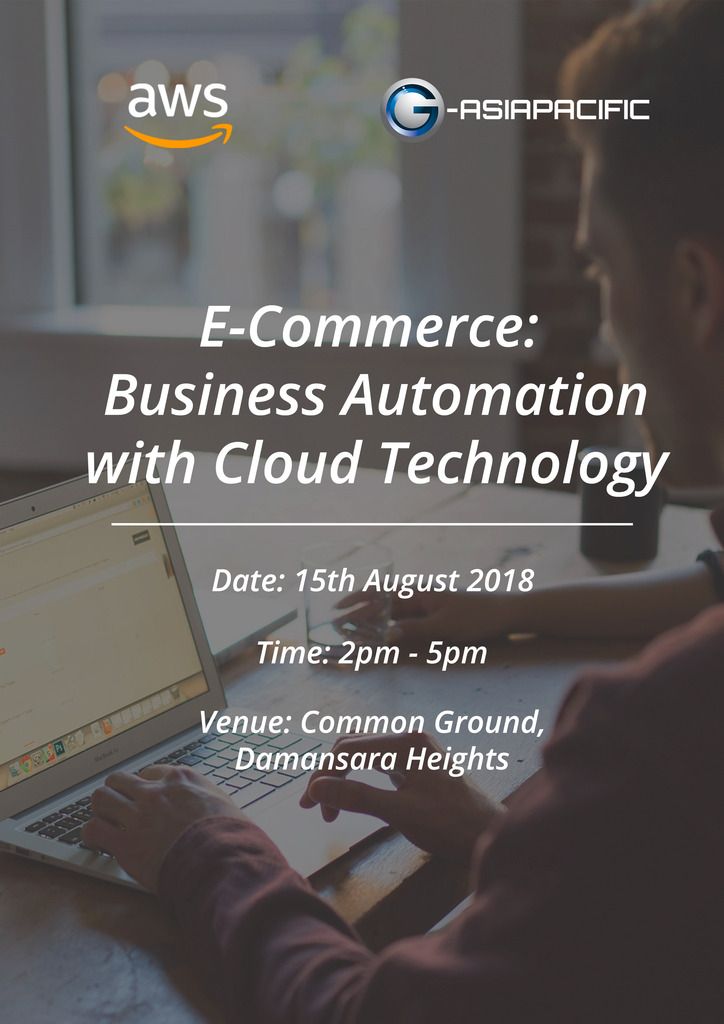 E-Commerce: Business Automation with Cloud Technology
By
G-AsiaPacific Sdn Bhd.
# Limited seats available, so secure yours Today - Free participation.
# Light refreshments will be served as well at the event.
Register link:
http://aws.g-asiapac.com/ecommerceevent
or
https://www.facebook.com/events/2059831804266493/
Event Summary
# How Malaysia is doing in terms of eCommerce
# How digital help in building an automated platform for your business
# Hosting on Cloud vs. hosting on Servers
# AWS: Leveraging on AWS infrastructure platform to go digital
# Case Studies: Our client -- Padini's eCommerce website (padini.com)
In addition to attending the event, we are rolling out eCommerce packages to help you start your digital marketplace, or to further enhance and optimize your eCommerce site.
Two years ago, the eCommerce market in Malaysia was valued at RM7 billion.
Today, the market size is RM24.6 billion.
Who Should Attend?
# Retail business owners who want to venture into eCommerce, increasing competitive advantages
# Decision makers who want to go digital and start an online business
# CFO/ CTO/ IT Managers who want to save technology cost and be agiler
# Start-ups who are still contemplating on going cloud or using physical servers
Parking
What are my transportation/parking options for getting to and from the event?
# 1st option: Grab from your office/location to Common Ground, Damansara Height
# 2nd option: Park at Wisma UOA Damansara II (1st hour - RM4, Subsequent hour - RM3)
Contact Us
Email us at marketing@g-asiapac.com or call us at 03-8084 2300 for more information about the event.
This post has been edited by FouLu: Jul 12 2018, 04:55 PM