QUOTE
KUALA LUMPUR: Menurut sumber, ada sebuah pesawat persendirian yang berpangkalan di Indonesia dijadual mendarat di Lapangan Terbang Antarabangsa Subang.
Sumber tersebut memaklumkan kepada Astro AWANI, nama penumpang yang bakal menaiki pesawat tersebut adalah bekas pemimpin Malaysia serta isterinya.
Pesawat itu dijadual mendarat pukul enam pagi 12 Mei di Subang dan dijadual berlepas ke Lapangan Terbang Halim Perdanakusuma pukul 10 pagi 12 Mei.
Astro AWANI sedang memantau dengan lebih dekat perkembangan tersebut dari masa ke masa melalui www.astroawani.com/live-tv, dan saluran 501.
Awani
QUOTE(damonlbs @ May 11 2018, 11:38 PM)
https://www.malaysiakini.com/news/424391
Source: Najib not fleeing, he'll be back
Najib Abdul Razak will be leaving for Jakarta for a two-day break beginning tomorrow, according to a source close to the ousted prime minister.
The source said this when asked about the veracity viral photograph of a chartered flight manifest which lists Najib and his wife Rosmah Mansor as passengers.
According to the photograph, the flight - with the tail sign PK-RJX - was to depart for from the Subang airport at 10am tomorrow.
The destination is Halim Perdanakusuma International Airport, Jakarta.
This sparked speculation that Najib was about to flee, three days after leading BN to its worst electoral outing ever.
"He wants a rest and so he is going away for two days. He will be back," said the source.
The source dismissed speculation that Najib was about to flee the country.
"Everyone has the flight schedule... So they can go and check if he is fleeing with bags of money and stuff... There is no such thing (as fleeing)," said the source
QUOTE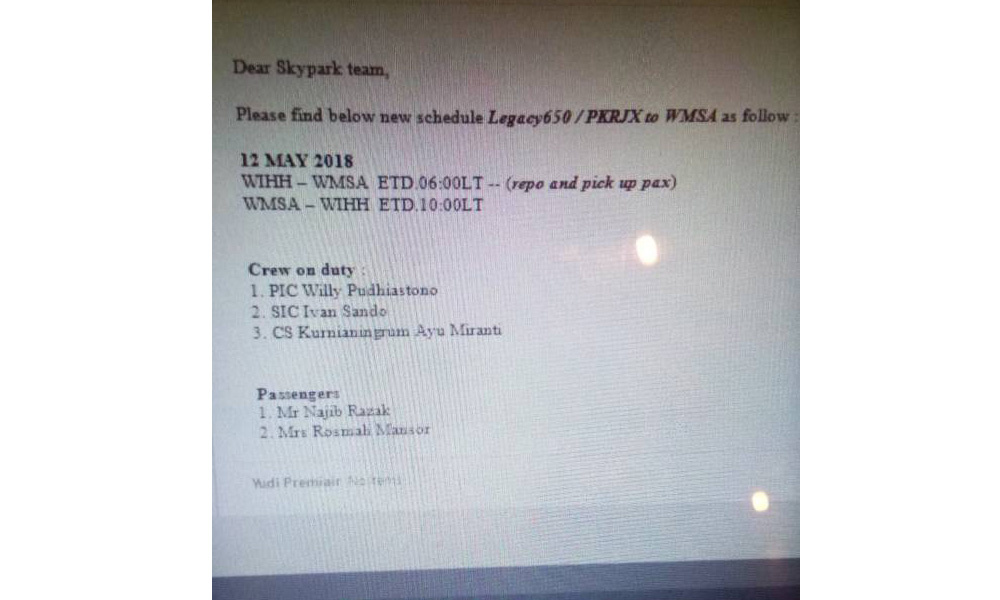 This post has been edited by ivan92: May 11 2018, 11:51 PM