QUOTE(OneXX @ Dec 14 2019, 03:53 PM)
hi guys...i want to ask something...before this my astro subscription is family pack hd+sports+1 mini =RM122.90...but today i got december bill suddenly my bill become s value pack 4 =RM113.40...all my channel remain the same except i got 3 more channel...tayangan hebat thangathirai and celestial movies...im worried because i get more channel and my bill is cheaper...astro never told me anything about this change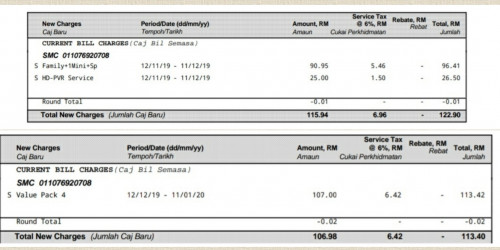 Try ask your family members (according to account holder name), and see if they agreed to any Astro package change recently.
Anyhow, you're paying less than already is. So why worry for paying lesser while getting a few more channels?
Do note that upon changing to package bundles like Value Packs, you'll have 6 months contract.
Meaning you can't cancel or change this Value Pack for the next 6 months, otherwise penalty will be imposed.