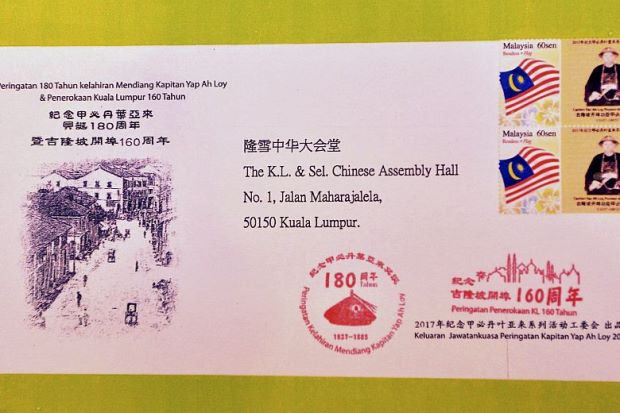 Pos Malaysia and a series of Chinese associations have launched commemorative stamps in honour of the 180th anniversary of Yap Ah Loy's birth, the third "Kapitan Cina" of Kuala Lumpur.
Each of the 2,000 sets of commemorative stamps comes in an envelope with an information pamphlet about Yap Ah Loy and five stamps with his portrait.
Datuk Kevin Lai, chairman of the memorial ceremony organising committee, said the objective was to preserve the history of Yap Ah Loy's contributions to Malaysia.

"We also want to promote his name locally and internationally," Lai said at the stamps' launch ceremony in the Kuala Lumpur and Selangor Chinese Assembly Hall on Wednesday.

Yap Wai Ming, the great-great-grandson of Yap Ah Loy, said that Yap's descendants are happy that the stamps are being launched.

"Many have forgotten the history and contributions of this great man. But when we look at history, we can see that without Yap Ah Loy, there would not be a Kuala Lumpur," he said at the ceremony.
Yap Ah Loy
Yap Ah Loy played an important role in the growth and development of Kuala Lumpur, transforming it from a tin-mining town into a major commercial centre in the 1800s.
Among some of his notable contributions was helping to end the Selangor civil war in 1873, and rebuilding town buildings in what would later become Brickfields, in 1881.
Each commemorative stamp set costs RM20 and can be obtained from the Kuala Lumpur and Selangor Chinese Assembly Hall.
https://www.thestar.com.my/news/nation/2017...sFWc356lMsAK.99