My prediction/calculation for the new RON95/97 price that will come on Saturday 22/2:
Just to share the daily estimated fuel prices for Week 4 Feb 2020
The current RON95 price is RM2.06 and RON97 is RM2.36 which was announced on Friday 14/2.
Calculation and table of estimated price can be found at this link:
https://goo.gl/cpYiBN
If calculating 13/1 to 19/2 cycle (Thursday to Wednesday - weekends are using Friday prices), RON95 should be around RM2.08, and RON97 should be around RM2.38.
My estimate is
both RON95 and RON97 will go up by 2 sen to RM2.08 and RM2.38 (±1 sen) respectively
.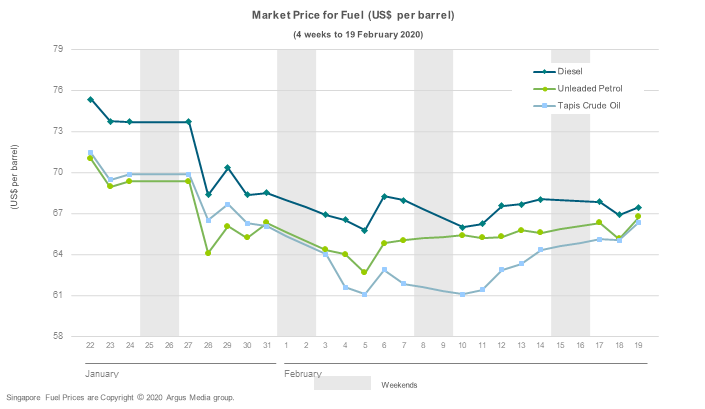 Insider Info:
None yet
https://www.thestar.com.my/news/nation/2018...main-unchanged/
Thx for the support guys!
Frequently Asked Questions:1. Why are we using MOPS/MOGAS to calculate the fuel prices? Why not use Brent/Crude oil prices?
(Credit to Lone Wolf X)
Most probably the same reason why Australia & Singapore uses it.
"The petrol companies use Mean of Platts Singapore ("MOPS") prices, not crude oil prices in their cost accounting and pricing decisions for retail petrol. Crude oil price is the price of unrefined oil while MOPS price is the price at which petrol companies purchase the refined wholesale petrol from the refineries. MOPS price tends to be higher than crude oil price as it includes the cost of refining the crude oil into wholesale petrol." - quoted from the www.ccs.gov.sg below
FYI - MOGAS is one of the product listed under MOPS
Layman term:
You don't eat Paddy, you eat cooked Rice. Same for your car, it doesn't take crude oil, it takes refined fuel - priced using MOPS for our region.
Paddy = Crude Oil Price
Cooked Rice = MOPS Price
REF
Facts About the Australian Retail Fuels Market and Prices
UNDERSTANDING PETROL PRICES IN SINGAPORE.
Interim Findings From CCS's Retail Petrol Study
Symbol reference:
▲◆▼
This post has been edited by isr25: Yesterday, 08:01 AM