Edifier C6XD 5.1 Multimedia Speaker Review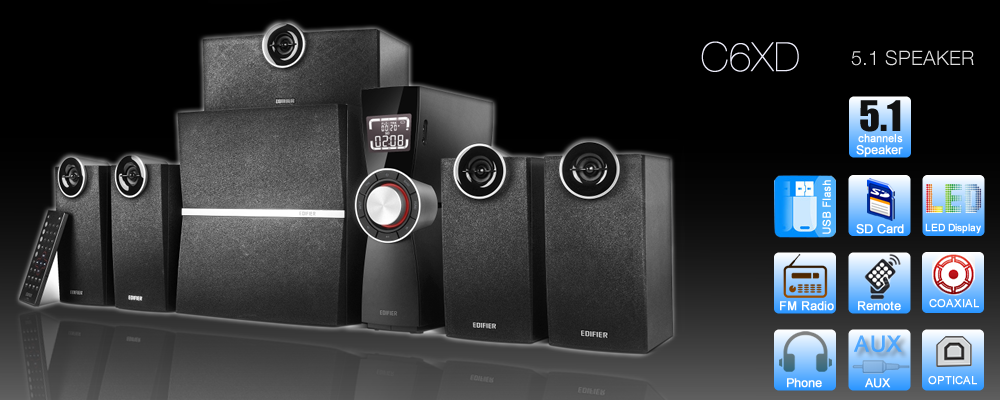 Official Website :
Edifier C6XD
Planning to invest your money on 5.1 speaker setup? Perhaps the C6XD from Edifier might be on your list. However, considering its official price tag of RM699 (as low as RM580 without shipping based on online retailers) , potential buyers are going to be in dilemma, since the well-reviewed Z506 from Logitech and the Inspire T6160 from Creative costs roughly half the price. Let's find out how well the C6XD performs.
Overview
Alongside the speakers and the cables included with the speakers and subwoofer to connect it to the amplifier, there are :
- 3x 3.5mm-dual RCA audio connecting cable (5.1 setup)
- A 3.5mm-3.5mm audio connecting cable (PC/Aux)
- An optical cable
- A wire antenna (FM)
- A remote control
Overall package. Headphone and Aux input are located on the right side of the amplifier
A closer look on the amplifier's back
A view of the display in the dark
Usability
Minor faulty area on the LED digital display for my review unit, but no biggy as you can get a new replacement if this ever occurs to you. Users can easily adjust the bass and treble balance individually, front speakers, center speaker, rear speakers and subwoofer seperately as well from -9 to +9. By default, everything is set to 0. Adjustments can be made through the amplifier or the remote control. It is very convenient to have a wireless remote control, rather than wired ones offered by others. The volume dial is pretty straightforward, subtle tactile feel when adjusting volumes/adjustments. Four tiny rubber feat are attached to the bottom of every satellites including the amplifier to keep the them from moving around. Build quality is average and on par with some cheaper 2.1 speakers, would have preferred a more premium feeling material. The LED digital display is clear with good amount of brightness. Everything is pretty much easy to use, but there are some drawbacks. The remote control does have good range of wireless control, but with limited area. Also, the remote doesn't really function some of the times due to unknown reasons, it might be the battery or the hardware of the remote. Quite a shame that it doesn't support bluetooth, as most speakers right now that costs a third as much have bluetooth option.
Optical input
Basically the easiest and quickest way to test your new setup, since you only need to connect 1 cable from the amplifier to any sources that supports optical output. Through optical, you can switch between 2.1 and 5.1 mode through the remote control. Unfortunately it suffers from intermittent audio dropouts or sound loss. Through my PC, during regular playback of musics/movies, it doesn't have any problems, except for few moments especially during quiet moments or at the beginning of songs, the audio will drop intermittently. The root of this problem is still unknown, it could be due to bad cable, as optical cable are not that durable, or it could be the ports in the amplifier. Except during the beginning of songs, this occurrence is very infrequent. It is noticeable, but depending on your tolerance, this might not even be that big of a deal or could be a major turnoff.
5.1 input
Straightforward installation, RCA input to the amplifier, and 3.5mm output to your audio source. You might have to check your motherboard or sound card ports as they can vary, but as long as it does support 5.1/7.1 speakers, then you're good to go. Connected through my PC, audio quality are the same as with optical input, without the intermittent audio dropouts. Unfortunately, you can't switch to the surround mode. Only supported 5.1 contents (game/movies) will utilize all the speakers, and other contents will only utilize the front speakers and the subwoofer. I'm pretty much in a dilemma since I do prefer the surround mode when listening to musics or watching movies, but I'm stuck with either optical input which does have surround mode, but suffers from audio loss, or 5.1 input that lacks options, but offers perfectly stable audio. It would have been easier for me if they enable 3 options for users, 5.1/2.1/surround mode.
FM/Radio
You can either use something to keep the end of the antenna from moving or just lay it down on the floor if it doesn't affect the signals. 27 presets can be stored, although I doubt we would need any more than 5. There are tons of factors that will affect your signals, even your own position. I would have preferred if the end of the antenna has some kind of magnetic or attachable parts to other surfaces, as it will save some hassle, but its not that big of a deal. Audio came fairy clean depending on where you place the antenna. Not every channels will have a perfectly clean audio, some channels will require different placement of the antenna, but its possible to make every channel have an acceptable amount of cleanliness, but then again, it does depend on your environment
PC/Aux
Basically both functions are identical, and options of 2.1 or surround mode are available. Volumes can be adjusted independently through your smartphone/PC or the amplifier. The aux port will only work through 3.5mm-3.5mm audio cable without any inline remote, but the PC port will work just fine with any audio cable.
SD Card/USB
Through USB port, it works as intended, with almost twice the amount of volume when compared to optical or 5.1 input. Options are available for all different modes such as all repeat, repeat in current folder or single repeat alongside shuffle function. 2.1 or surround mode options are also available. Switching between folders can be done as well. It's quite unfortunate that it doesn't support FLAC or WAV format in SD/USB mode, but not a huge deal anyway.
Sound Quality
(my preferred settings as the default settings are quite dull)
- Bass +2
- Treble +3
- Center +1
- Front Speakers 0
- Rear Speakers +3
- Subwoofer +1
- (My desk position) 1 meter from Front speakers , 3 meters from Rear speakers
- (Movie watching position) 4 meters from Front speakers, 1 meter from Rear speakers
Putting aside the intermittent audio dropouts through optical input, sound quality are identical through every connection except for FM due to interference. I will have to lower my expectations as I can't compare this with my Pioneer home theatre setup that retails for 4-5 times as the C6XD (for obvious reasons). However, I'm quite pleased with the sound quality after adjusting the settings. In 2.1 mode, mids are clearly present with thumping bass and clear highs. Vocals are direct with good amount of presence. There are no clear distinction between male and female vocals, so there won't be any specialty essence with the C6XD. Lows to lower mids are pronounced with good quantity and quality. Highs are just a bit rolled off with my settings just to keep myself from any fatigue from listening. Nonetheless, it's still lively sounding and doesn't sound as dull as the default settings.
In surround mode, you will get a clearer distinction between vocals and instruments, with a much expansive soundstage. It does makes almost everything more enjoyable listening through this mode. There are very little and unnoticeable drop in the clarity of mids and highs, but its worth to trade it with more pronounced vocals and instruments. Bass quantity and quality doesn't actually change, which is a good thing in my opinion.
In games with 5.1 mode, it does depend on your perceptiveness towards directional soundstage, and what kind of games you are playing. I did my testing with L4D2, Black Ops 2/3, and Modern Warfare 3. Personally, in L4D2 and Black ops, it does help you to immerse yourself inside the game, but not very much helpful in pinpointing directions of sounds. However, the MW3 is noticeably easier to hear the direction of your enemy footsteps, gunshot and falling to ground sounds. A little bit of clarity in mids and highs are going to be traded for immersive bass and quantity in the mids and highs, which some people might prefer. However, in both modes, the majority of the bass will be directed to your gut or stomach, rather than to your chest, which is a bit of disappointment when you are sitting on your desk, but not entirely when lying down on your bed while watching movies.
Conclusion
Other than the complaints about usability and the optical/5.1 input, there's nothing much to say about the C6XD. There's always a negative side of every products, but in the end, the C6XD is a solid 5.1 surround speaker that sounds good in everything, just don't set any unrealistic expectations, and you will be pleased with your purchase
PROS :
- Solid build quality
- Above average sound quality
- Easy to use interface
- Variable sources of audio (would prefer bluetooth to be included though)
CONS :
- Intermittent audio dropouts in optical input
- Lack of surround mode in 5.1 input
- Existing competitions from Logitech and Creative
This post has been edited by MuhdYusri: Dec 25 2016, 01:51 PM