by DAP Insider
"I do not understand why my agreement to selling the house to CM has been blown up to such a big national issue when I have no business dealings with the state government."
The above words were in the Statutory Declaration affirmed by Miss Phang Li Koon, the seller of the underpriced Bungalow to Penang CM Lim Guan Eng.
This is an absolute lie
. Phang Li Khoon and her boss for 20 years who also owns KLIDC have had many business relationships with the Penang State Government through many different companies.
One of these companies is Magnificent Emblem Sdn Bhd, which is also involved in property development – which means it is inevitable that it must deal with the state government.
Here is a letter signed by Phang on behalf of Magnificent Emblem where KLIDC owner Tang Yong Chew is the majority shareholder and Phang the minority shareholder.
You can
compare her signature with the one on the SD above
.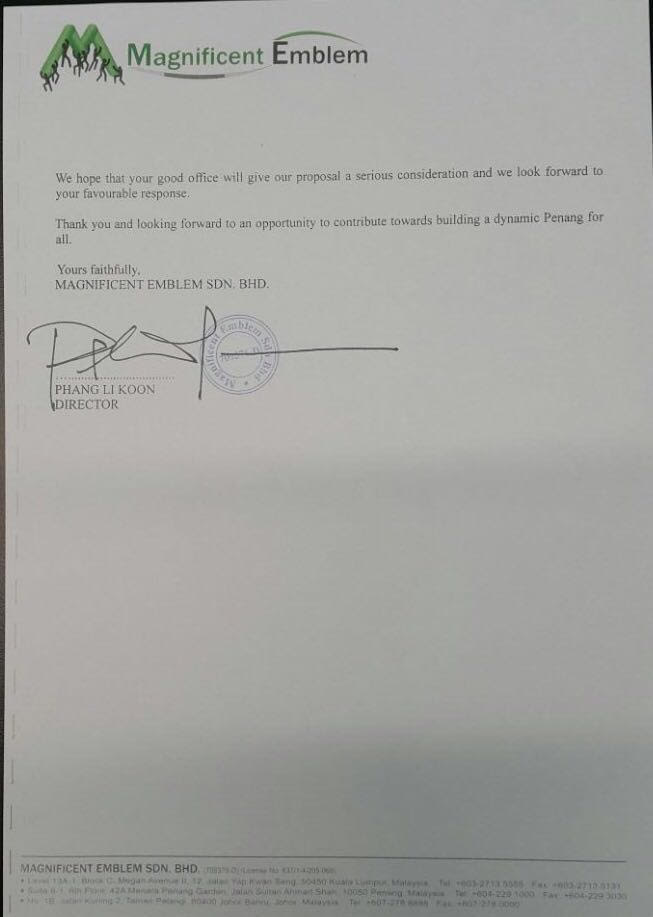 The letter is addressed to the 100% Penang Government-owned Penang Development Corp (PDC). The Chairman of the PDC is also Lim Guan Eng, who is also the head of the PDC tender board.
It is a proposal for a project worth RM25 million to RM30 million.
Initially, the project was awarded to Phang and Tang's Magnificent Emblem and a letter of award/offer issued by PDC to Phang and Tang in April 2014 on the advice of the tender board headed by Lim Guan Eng.
I have heard that this letter of award is now in the possession of the MACC after they had raided the Penang PDC and seized some documents.
After receiving the letter of award, Magnificent Emblem wrote back to change the terms of the award significantly and due to compliance and procurement issues outside of Lim Guan Eng's control, the Letter of Award had to be cancelled.
We are happy that our previous article regarding an internal state memo — which stated that the CM had personally intervened and had scribbled his instructions in improving the land conditions for the KLIDC Taman Manggis land — was confirmed by the Penang EXCO Chow Kon Yeow. Chow, however, said this is a normal practice and does not amount to corruption, although it is a clear case of conflict of interest.
Therefore,
we challenge Chow Kon Yeow to also deny that the above letter from Phang Li Koon is false
and that the PDC in a meeting chaired and decided by Lim Guan Eng did not initially award the first tender to Magnificent Emblem but had to be pulled back due to compliance and technical reasons because of Magnificent Emblem's late request to change the terms.
Many of our fellow DAP members are appalled at the selfish attempt by a certain Penang state EXCO and DAP ADUN to coerce and use Phang to do a SD in a flat-footed attempt to clear the Secretary-General from corruption allegations.
Making a false SD is a serious offence
in Malaysia under Section 199 of the Penal Code.
Using a SD which you know to be false is also a crime under Section 200 of the Penal Code.
This means that
both Phang and the Penang EXCO who read out the SD could be facing a penalty of up to seven years' imprisonment
.
Police reports have been made against Phang for doing a false SD and she was already interviewed by PDRM for more than three hours.
Not only has Phang's SD not cleared Lim Guan Eng of his corruption but it has unnecessarily landed Phang and now another Penang EXCO into deeper trouble for making and using a false SD.
How many more persons have to be
sacrificed to protect one CM
?
Forget about false bravado and chest-thumping over a debate.
Televised debates cannot clear you.
As for Lim Guan Eng's case, the law is very straightforward where Section 165 of the Penal Code on corruption of public officials.
The very fact that a standing Public Servant had purchased an item of value at considerably below market value from a person who has business links or relationship with the state govt is already a very clear offence.
No one sells properties for RM4 million below market value just because he is your friend and you like him.
Phang had also taken a big housing loan and the interest on the loan itself when she bought the house for RM2.5 million along with the legal costs, the renovation/furnishing costs she paid for before renting to Lim Guan Eng at a bargain RM5,000 per month means she has also lost hundreds of thousands when she sold to Lim Guan Eng at RM2.8 million after 7 years.
Phang did not make RM300,000. She lost easily RM500,000 or more. No one buys properties to sell at a loss of RM500,000 and refuse to accept property appreciation value of RM4 million because of bad feng shui.
In ex-Selangor MB Khir Toyo's case, he went to jail for the same crime that the Penang CM is facing now – for
being a public official and buying a property at significantly below market price from a person that does business with the state document.
DAP and Lim Guan Eng should note that in Khir Toyo's case there was not even a need for the public prosecutor to prove whether Khir Toyo had personally intervened to improve land conditions or directly responsible for decisions leading to the award of projects to a related party or directly to the property seller.
In this Penang CM's case, the web of business connections is far more evident and all in black and white.
There was a RM25 million project award to Magnificent Emblem that was forced to be pulled back. And the RM60 million windfall profit from the KLIDC land project that is now worth RM70.6 million – way above the RM11.5 million paid to the state govt.
These days our Penang CM has graduated to the big game and no longer riding on kapcai motorbikes. DAP must return to our socialist roots before it is too late.
Or is it already too late and our upper leaders have already been corrupted by big business tycoons and property developers?
Soso