Civil War Update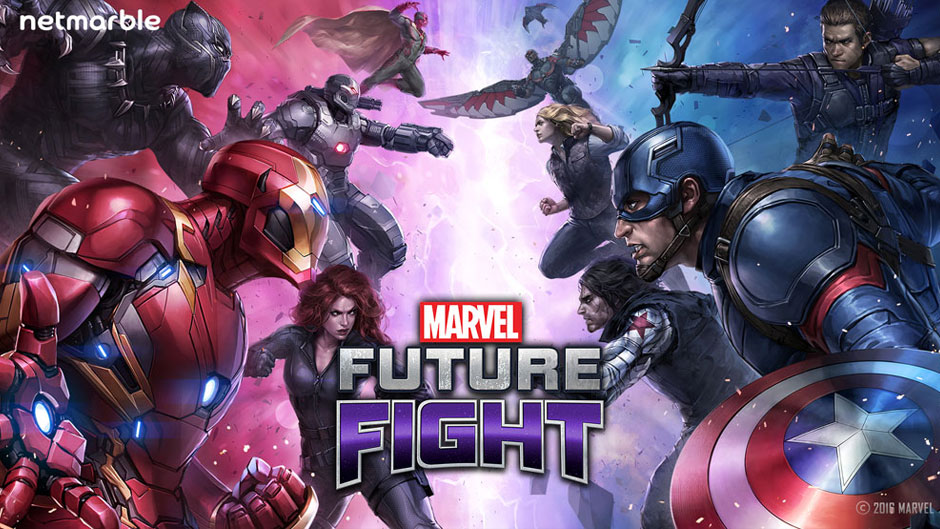 World Bosses Update 2.0 and 2.1
Carnage Update
Amadeus Cho Update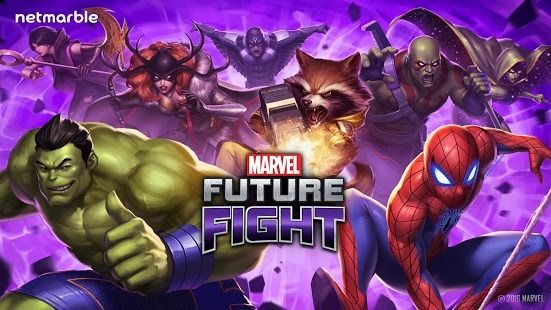 Spider-Verse Update
Jessica Jones and Daredevil Netflix Update
Agents of SHIELD Update
Secret Wars 2099 Update
Antman Update
Guardians of the Galaxy Update
In a near future, various dimensions start collapsing. In the future, a dying Nick Fury sends his robotic aid, Jocasta, to the player, with a message telling the player to get a group of heroes to restore the balance. After obtaining the heroes Captain America, Black Widow, and Iron Man, Ultron attacks Stark Tower. While fighting off the Ultrons, Jocasta remarks that something seems "off" about them, and the heroes strange things, like a War Machine armor Iron Man didn't make, and a hostile Vision. Eventually, the Ultrons leave with not much visible damage, but Jocasta finds out that they kidnapped a Stark Industries employee, Jemma Simmons, who was studying alternate dimensions. The heroes rescue Jemma from AIM. Jemma tells them that they took her research in dimensions. Soon afterward, while trying to locate MODOK, the heroes encounter dimensional alternates of several heroes and villains, and realize that AIM has built a device to send people between dimensions. Eventually, the heroes take down MODOK. After that, SHIELD agents begin to be attacked on the streets by thugs with ISO-8 enhanced weapons, and supposedly secret S.H.I.E.L.D. bases are raided. After defeating Red Skull and Ultron, a large dimension transference device is opened and dimensions begin to collapse.
Gameplay
Marvel: Future Fight has been described as a dungeon crawler. Players have the option to use either virtual joystick and button controls or tap-based controls. During a level, players have the option to both use normal attacks and more powerful skills. However, the skills have cooldowns lasting as long as 10 seconds, depending on the skill. Players travel in a three-man team, with the player able to switch between heroes at will, although if you switch from Hero 1 to Hero 2, you have to wait a bit before being able to switch back to Hero 1. There are multiple kinds of missions: Villain Siege, which is basically like a Boss Battle, Bonus Missions, Daily Missions, and Story Missions. Bonus Missions usually are just battling enemies for more gold, Daily Missions feature mini-storylines that change daily, Story Missions are the main storyline missions. This type of mission will provide items for ranking up your characters gear, matery, and rank. Story Missions allow the use of clear tickets, which instantly grants the players the rewards of the mission without having to play through, but the player's team doesn't gain experience and the chance of getting Biometrics is the same.. There are also two types of Arena Battles so far: Timeline battles, which are PvP battles, and Team-up, a co-op battle. Each mission uses energy to play, with the energy bar recharging every so often. The game has several dozen different characters to play, each with unique skills and sometimes attacks. The player can have a maximum of 5 teams set up. There are also team bonuses, which, if the player has certain members on the team give buffs to the team members. Heroes are obtained and ranked up by obtaining Biometrics, which can be obtained through certain missions and the shop. Heroes can also be leveled up through the use of EXP chips. Players are able to customise heroes to their playstyle, such as upgrading skills, gear, and equipping ISO-8. Upgrading skills makes skills do more damage, upgrading gear upgrades a specific part of the character, like HP or Attack Speed, and equipping ISO-8 provides varying buffs. In the shop, in addition to Biometrics, players can also buy chests, energy, clear tickets, ISO-8, Biometric packages, and other supplies. There is a separate store for uniforms. Uniforms typically grant buffs to the characters, like extra damage to a class. There is also a SHIELD Lab, which has four possible buildings that can be built: an Antimatter generator, a Warping device. Biometric Converter, and a mini-store. The Antimatter generator generates Antimatter used to build, upgrade, and use the other devices. The Warping device allows players to warp three characters on missions, and the characters eventually return with rewards. All characters used are still playable in missions. The mini-store stocks frequently changing items, such as upgrading items, ISO-8, and sometimes even Biometrics. The Biometric converter converts two already owned biometrics to a biometric of a random character in a set of characters that is also frequently rotated.
Tips to navigate the game's menu:
1. a. to know what "best condition" is.. go to "Team" menu.. click on any hero.. on the top right click on the question mark "?" and a number of explanations of Gear, Skills, Rank, Mastery, Enhance ISO8, Combine ISO8, and Best Condition will be explained there. Most of them can be upgraded.. and will become more expensive the higher level they are, yet makes your hero much more stronger after each level.
b. at the "Team" menu, click on the right side "Team Bonus" (yea they're really small doesn't look like a button). It will list which set of heroes will provide extra bonuses during battle. E.g. Iron Man + War Machine will provide a boost to the team. Team bonuses also add a special skill in game where you can trigger a sort of skills assault.. with all members coming out spamming skills at the enemy regardless of skill cooldown. However once used, it will require 100+ seconds to recharge (in that map only - will reset after battle is complete).
2. if you wanna see what a max hero (with max stars) look like.. click on "Team", followed by "Marvel Universe" icon on the left side.. u can simulate a max level hero by increasing all their values (stars, levels etc) to max and see for yourself how insane a 6 star hero can be... any hero can be 6 star with lots of biometrics. Biometrics can be obtained via Elite Missions, Dimension Rifts, and Villain Siege. Also in this page, you can go to a character > Striker screen, press and hold on each and you will see which will appear in your battles when you're attacking/being hit at (at around 10+% chance of appearing). Striker bonus is important too in choosing which 3 to team up. e.g. Doc Octopus and Green Goblin are a good pair. Usually hero and hero help each other and villains are more prone to appearing in another villain's battle.
3. to see which class is better go to "Team" .. then click on the class icon.. then u will see which is better over which.
Red>Green>Blue>Red
Purple is universal, has no strength or weaknesses.
4. As for rewards sometimes it's credited directly into your energy, total credits etc.. Only when your mailbox has a red round circle beside it means there's an item in there that needs redeeming.
5. you can send and receive tokens by adding ppl up. Once have 300 tokens you can exchange it for an item at the store. It is more recommended to use the 500 tokens for 25 energy.. might sound little but with 25 energy x3 times a day u can farm 9 elite missions already. The item box might just give you a cheap gear item which u can easily farm at normal missions.
6. PVP has event that lasts every 7 days. You can check your rankings there. At the end of it players with higher scores will get more crystals. You can collect tokens by winning/revenge too that can be use to buy biometrics/stones at the Arena Store.
7. Autoplay function can be used on any missions if you've unlocked 3 stars for it. This is useful to level up heroes / farm for hero Biometrics to unlock new heroes. Clear tickets are instant farm... yet it does not reward XP, only reward gold and loot drops (biometrics included). 1 star is sufficient during Autoplay to receive the loots. There's also Autoplay++ which u can unlocked in the VIP tier (via donations) - where AI destroys crates as well.
8. Spending money on this game will unlock VIP bonuses. The more u donate the more passive/daily/loot etc bonuses u will receive. Max can go up to Tier 15 VIP - the higher VIP tier you're at the more bonuses.. e.g. heal when tagging heroes, more loot drop, more free crystals, Autoplay++(no idea how good that is yet) etc. You will see all the bonus tiers once you've bought crystals once with real $$ - any amount.
9. To unlock heroes, you either obtain the 1 star hero itself, or biometrics of it. Heroes 1 star can be obtained directly from the Store if you're lucky (could be higher stars but so far highest I got is a 1 star hero). If get biometrics means you have to obtain XX number of such before you can unlock that 1 hero. You can keep using biometrics to level up the "star" of a hero. Red star is mastery, can only be leveled up using XX number of XX type of Norn Stones (Norn Stones of Energy for Blast type heroes for example).
10. Mastery - once a hero unlocks a 'red star' it will have a mastery skill. (using Norn Stones as mentioned previously). You will see the "Leadership" icon in the "Team" menu change to that specific mastery skill once it is activated. Only a leader can use its mastery. E.g. Cap America's Master Combatant mastery - HP +5% (applies to all team members). To equip a hero as a leader you have to put him at the first slot of a roster prior to a Battle. On the menu however, it's the middle hero that is the Leader (with a 'gold eagle' icon on it). To first unlock a mastery, you have to collect enough Norn Stones of a specific type - e.g. Cap America requires Norn Stones of Strength to unlock his mastery. Norn stones can be found on certain missions.
11. To level up an ISO... you need to first level them till x5.. then it can combine with a similar ISO (color) that is x5 to make a higher star ISO. Read explanation at 1.a. in regards to combining ISO more in detail and picture.
12. You can change ISO set bonuses by going into a hero ISO equip page, then click on the 2nd tab "set bonuses".. You can then pay 10k gold (the bottom button) to change the set bonuses into something else (or keep paying till you find one that you like/able to fulfill). When an ISO set bonus requirement is fulfilled it will grant a small boost to your hero. ISO set bonuses can range from requiring 3 ISOs, up to 6 ISOs to make a set.
13. Clear Tickets, Dimension Rifts, and Bonus Missions do not award SHIELD XP (stuffs used to level up your profile and gives you free energy once you reach next level). Participate in them as much as you can right before leveling up so that you do not waste your existing energy!! do not repeat the same mistake as I did! **Arggghhhh! **
14. Autoplay+ is best combined with 1-hand controls. During that mode just press and hold on a spot you want a hero to go to/attack (esp smash-able items - sometimes they contain bios, at a very low drop rate). For manual controls, dual pad is a better option. You can change to either controls at "settings".
15. Battleworld Kiliseum has been recently introduced in the game. Generally if the arena requirements are 4 star heroes, or specific rank heroes then it will be easier, even for newbies to participate. However if the requirements are high, e.g. all heroes, all male/female heroes (free for all style) then just aim for the last tier score (5k to 10k players - 5 biometrics prize), if u can maintain rankings there is very good already. All you can skip entirely and wait your squad to be stronger first.
16. Secret wars uniforms, Iron Patriot, and Falcon All new cap (all limited time uniforms) are very strong. They are worth to buy. (except She Hulk uniform).
17. Special Missions are a great place to get your first rank 6 heroes. Both Giantman and Yellowjacket are highly recommended - easy to farm and very strong.
18. Recommended heroes/villains when new to the game (chosen due to ease of farming / good heroes) - Warmachine, Ironman, Black Widow, Cap America, Spiderman, Giantman, Yellowjacket, Vision, Luke Cage.
19. Pay attention to achievements (recently added many new ones) and try complete the good ones with good rewards. They are mostly easy to do and very worth it!
20. Play manually as much as you can (autoplay+ included, avoid clear tickets) as you'll have a chance to get shifters (free bios!) when u do that. Total of 10 ally shifts and 20 enemy shifts limit a day for Elite missions! (special missions Antman dont have limit to them appearing). When you successfully complete the mission that shifter's +1 bio is yours. Not only that you're contributing 100 alliance points to your alliance each time too (when an alliance levels up you get nice boosts throughout the game).
21. Comic covers are recently added (dont waste your crystals on the chests yet). Farm in rifts when you're near level 50 and try get as many sets as you can (will be frustrating as they consume lots of energy - often duplicate pieces are dropped).
22. Take note of your gifts in Inbox/dev's gifts etc.. they do expire so use/claim them before they're gone.
23. Newly added Multiplay is worth it the higher your VIP level is. It's a free place to farm with nice items for VIP players (a perk for donaters). Participate in a multiplay, win it to see what you can obtain depending on the VIP rank. (this is a very good place to farm rift shards if you're VIP 4 too). This mode requires good teamwork between real-life players, thus explains the lagginess and lag spikes sometimes - It's an online multiplayer!
24. credits to Spade7:
QUOTE
4. Optimize your characters
Once you have alot of gold, have upgraded your characters' gears to at least 17, and have the gold to spare, time to re-roll ISO-8 sets.
This can be an expensive gamble and is why you leave it to the end (when your characters are optimized in other areas).
i.e.: Your Hulkbuster with the uniform doesn't need the Smart Raccoon ISO set. Try re-rolling for a healing set (Stark Backing or I Am Also Groot).
You may not need to optimize every character; just the strong, important ones (look at Trompowsky's character list for World Boss)
Level your characters' gears
Once these strong and important characters are level 60, get more bios to level their gear.
An estimate of how many extra bios you will need:
Gear level 15 - 17 (All): ~30 bios
Gear level 15 - 20 (All): ~300 to 400 bios
When you've done all this, then you'll be ready to take on a World Boss. 
25. -more to be added in future- On the mean time, have fun!


The whole purpose of this game is continue to acquire new heroes, and level them up till you beat all the chapters in this game (wait for new content if you manage to do so). When you've max leveled a hero (e.g. a 2 star max level is 30..) it's advisable to switch to other heroes and start level them up again. Try to have only 1 low level hero + 2 other high level heroes (if possible they are not max level yet) so that the low level hero can gain XP quickly by attempting harder missions - using the 2 other strong heroes to farm will also gain the weak hero XP (even if you ignore the low level hero completely by not deploying him/her.) It will add much freshness to the game as you use other heroes and attempting similar missions again, but with different effect with each unique character. Continue farming for biometrics till you achieve higher stars e.g. 3 stars, 4 stars etc to unlock more levels to level up. Buying up hero chests/bundles etc will speed up the process - however it is sometimes faster by just recharging the elite missions 3/3 entry and refilling energy.IMPORTANT HINT: to conserve phone battery, you can reduce graphic settings & performance settings (at settings options there - "gear" icon on right side).
Official FB Page:
https://www.facebook.com/MarvelFutureFight?fref=ts
FB groups (in case you need friends/ask for help):
https://www.facebook.com/groups/471606509669881/
This post has been edited by Davidtcf: May 20 2016, 03:57 PM