The
rising anti-Chinese sentiment
in Turkey has escalated into protestors attacking Chinese or Chinese-looking tourists on streets. After several incidents of tourists attacked and harassed during anti-Chinese protests in Istanbul, China's embassy in Turkey on Monday issued a travel warning to its citizens traveling to that country. This came as the Chinese and Turkish governments increasingly clashed over the issues of Uyghurs, a predominantly Muslim ethnic group that live in China's far western Xinjiang province.
Anti-Chinese protests broke out in Turkey, East Asian tourists attacked
In a statement on its website, the Chinese embassy told Chinese tourists to be aware of their safety and avoid going out alone. It also advised them not to get close to protesters or to photograph them. At the weekend, there were a series of anti-Chinese protests in Istanbul in support of Uyghurs, during which some demonstrators were seen burning Chinese flags. In one incident, Turkish television showed police intervening on Saturday to stop demonstrators. The demonstrators appeared to be pursuing East Asian tourists. Television footage showed a young woman being led away from the scene insisting in English "I'm not Chinese! I'm Korean!"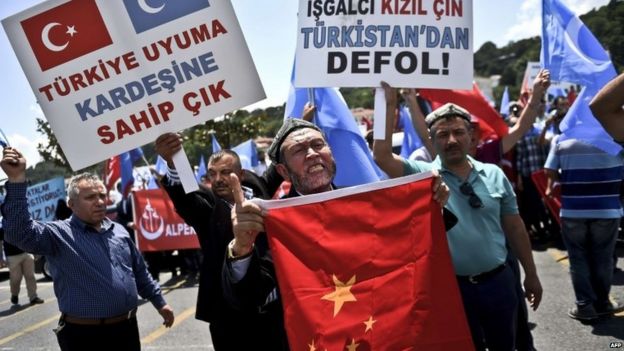 Protesting Turks demand the creation of an independent state in Western China
Last week Turkey sent a diplomatic note to China, expressing concern and sorrow over reports that authorities in Xinjiang had prevented Uyghurs from fasting during the Muslim holy month of Ramadan. Beijing has denied any ban on observing Ramadan, claiming that they are hoaxes and it is practically impossible to prevent one from fasting. In a July 2 statement on the website of China's embassy in Turkey it said: "Muslim residents' religious feelings, needs and customs are fully understood, respected and protected in China."
China to Turkey: You have interfered too deep into our affairs. This is too much
But instructions posted on the websites of a number of city governments and schools in Xinjiang suggest that on a local level, students, public servants and Communist Party members are discouraged from observing Ramadan traditions. For example, the Food and Drug Administration for Xinjiang's Jinghe County instructs employees to sign a statement that includes a "pledge to obey political discipline to firmly ensure that families connected to the atheistic Communist Party and students will not fast and will not participate in any forms of religious activities."
Turkish Islamist President Erdogan seeks Muslim and Turkic solidarity
On Monday, China's state media accused Turkey of seeking to stir up trouble in China. "The Turkish government has already on multiple occasions unreasonably interfered in Chinese internal politics, which indicates "Pan-Turkism" still exists in modern Turkish society," reported state-run newspaper Global Times. "We can see that Turkey has ulterior motives regarding interference in the Xinjiang issue." China's foreign ministry spokeswoman Hua Chunying urged Turkey to "respect China's sovereignty and territorial integrity, and to exercise prudence in its words and actions on relevant issues."
Chinese companies suspend projects and investments in Turkey
Hundreds have died in violent attacks in Xinjiang in recent years. China blames the violence on Islamist terrorist groups but Uighur groups say the unrest is being fuelled by Beijing's repressive policies. On Sunday, protesters at the Chinese consulate were pictured burning the Chinese flag and holding banners, one of which said "Turkey save your Brother - oust China from East Turkestan". The Chinese foreign ministry said several Chinese tourists had been attacked. A group of Korean tourists were also attacked.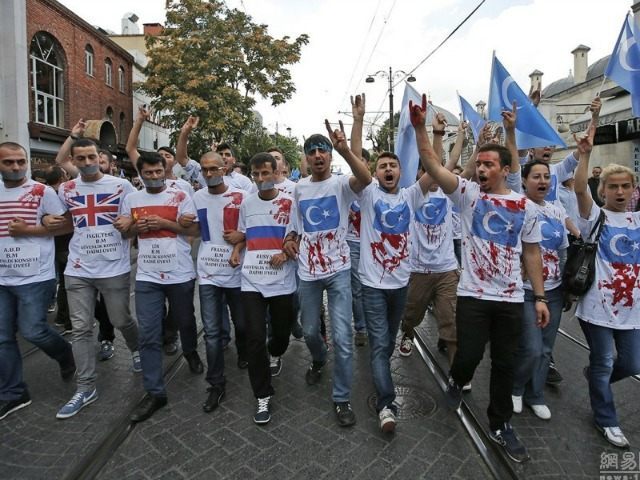 Protestors want Turkey not only to go against China but also France, UK, US and Russia
The souring relations have begun to affect economic ties, with several Chinese companies freezing their investment projects in Turkey. Chinese mining companies and other businessmen were suspending their programs and visits in coming weeks in Turkey. "We should show our protest with common sense and in a democratic manner," said Ali Kahyaoğlu, head of the Istanbul Mineral Exporters' Association (İMİB), who pointed to a steep decline in natural stone exports to China from Turkey. "The Chinese market is of crucial importance for Turkish stone exporters and has become their largest market."
With a weakening economy and currency keeps plunging to new low, Turkish industry leaders question the wisdom of offending China
Leading officials from the Turkish tourism sector expressed concerns over reports of an attack against Korean tourists during a protest in İstanbul on Saturday, reminding of the catastrophic consequences for tourism at a time of sluggishness in the sector due to the decline in numbers of foreign tourists, especially from Russia. Rattled by the incident in which, according to media reports, a group of protesters targeted Korean tourists by mistake, Cappadocia Hoteliers and Administrators Association (KAPTİD) President Yakup Dinler expressed dismay over the disturbance, saying that this kind of action against tourists is unacceptable and unfathomable.
http://edition.cnn.com/2015/07/06/asia/china-turkey-warning/
http://www.scmp.com/comment/blogs/article/...rs-turkey-world
http://www.bbc.com/news/world-asia-china-33405520
http://www.clickondetroit.com/news/china-i...arning/34009026
http://www.aljazeera.com/news/2015/07/chin...6091424395.html
http://www.reuters.com/article/2015/07/05/...N0PF08L20150705