My Story of the Sennheiser Orpheus and Larocco Pocket Reference II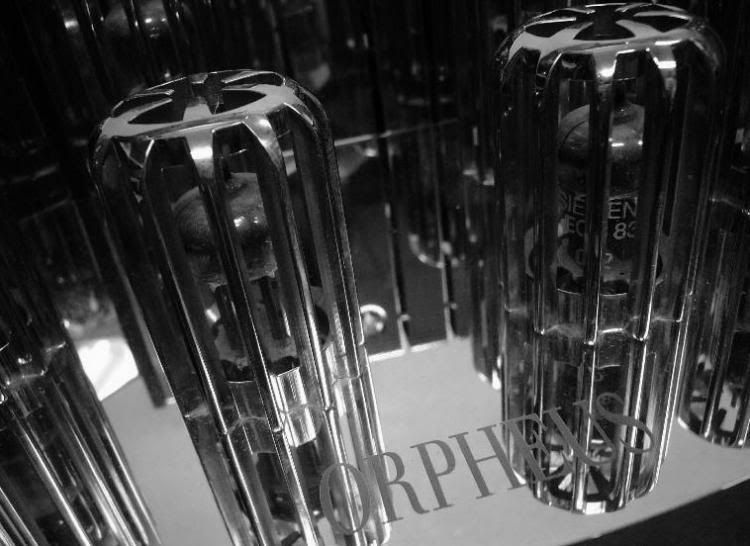 Part I : Orpheus
Courtesy of an old friend, I was also given the golden opportunity to have a go at the Sennheiser Orpheus Electrostatic Headphones.
Amazing.. it's simply amazing!
Instruments such as string and wind instruments sound life-like and immensely enjoyable!
Transients was excellent, and the transparency,
ahhhh...
:yes:
Superbly wonderful! :grin:
Details were quite good, even though the source was just normal non-high end audiophile stuff.
To me, the bass is just right, on par or above the ER4P's bass level.. everything sounded natural and you could feel that the music is
flowing
into your ears with
silky smooth
liquid motion.
Vocals were lush and engaging, and if you closed your eyes and let your imagination run wild.. the ambience is almost like you're present there itself, and Jennifer Warnes stuped me once again with her magical voice.
What can I say?
I didn't lost and arm or a leg, but I certainly lost my grasp on my heart today.
One particular thing that I noticed is that when I was listening to music on the
Orpheus
, I had this feeling of short-breathedness and as if music was flowing
into
my heart, providing warmth and happiness..
This
must
be the magical works of the Orpheus, and it's a lifetime experience that shouldn't be washed away years after.
I love the Orpheus
Part II : Larocco Pocket Reference II
Courtesy of yet another close friend, opportunity dawned upon me and I just couldn't resist the temptation due to it's beautiful solid aluminium enclosure.
On first look, the Larocco is
stunningly
beautiful
. The LED is just nice, not bright yet it is easy to notice. There are 2 knobs, the inner one being the Bass Contour Knob and the rightmost one being the volume knob.
Output is at a standard 1/4" jack, and the inputs are either a 3.5" mini / RCA L/R.
Here I move on about the sound.. this amp is amazing in terms of looks! It's definitely a stunner
Transparent, the pace is fast but it didn't sound too "wowish" enough, maybe because of the opamp used. I'm currently waiting for this close friend of mine to obtain a pair of OPA627s before giving any further comments on the SQ.
In the moment, enjoy the pictures!
Larocco stole my heart away tonight.