QUOTE(kambingkoh @ Jul 22 2020, 12:38 AM)
Usually it will be easier to view with a digital magnifier connected to a TV. If you hold the magnifier yourself, most likely you probably don't know what you are looking at, we'll, at least I don't even know what I am looking at. But I know that if it faces up eye clean to me, has at least a VS quality, don't have certain inclusions such as cavity, no Brown, Green, Milky (BGM), then I am certainly fine. That's how I choose diamonds for my clients.
While seeing inclusions may be complicated, but seeing hearts and arrows are not that complicated, especially the arrows. For a good diamond, make sure the 8 distinct arrows are well-aligned. For the hearts, you can see the Hearts pattern as well, sometimes it may be very good, sometimes each hearts may have some slight variances, such as bending at the tip of the heart, and sometimes, it is simply terrible with inconsistent heart size, some small, some big, or even unrecognisable hearts, which is an indicator of bad cut diamond even if GIA graded it Excellent.
This is a picture of the hearts for one of the diamonds I am selling. See the hearts? It is really not that hard to take with a smartphone with camera, but I am pretty sure you rarely see jewellers provide you with such image. Go figure why.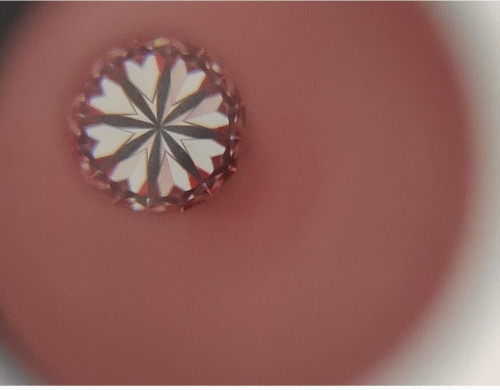 Then of course, we have the proportions. I will usually start with this first to filter out the diamonds I want. If you do this, basically a lot of diamonds can be filtered out. Or you can simply use this tool
https://www.pricescope.com/tools/hca
to find diamonds with a score 2 and below. You can just key in the proportions accordingly. One day can use free for 3 times.
With a set of diamonds with the right set of proportions, I will then check the hearts and arrows to see which one is well-cut. Remember, proportions does not represent a well-cut diamond.
Of course, if you can see the physical stone, shed some light on it and see if you like it! If the store is too bright, try to ask the sales assistant to help you cover the jewelry shop light and use your handphone torch to see how well it performs. Of course, you can also view it under normal office light if they allow you to access to the back office of the jewelry shop.
Then, remember to compare prices. Diamonds price are usually based on a standard set of price list called Rapaport price list, either mark up or mark down can be due to branding or quality of the diamond, respectively.
Thank you for such informative and useful tips!