QUOTE(VvF3nG @ Mar 17 2019, 12:22 AM)
Guys,
how do you guys think about this diamond?
gia report number 7318129932
Considering of getting higher carat diamond i have somehow gave up "cut".(which is extremely important :/)
however it looks shiny for me. Haha
got this at about 2kSGD.
worth it?
i know its late but i wish to know some of the opinion.
Now, this is am interesting one. Have you tried the HCA tool?
https://www.pricescope.com/tools/hca
?, the score is 1.5, and so we can guess that the pavilion and crown angle is working together, which makes sense because the crown angle is sooo steep, and the pavilion angle is sooo shallow. Crown angle and Pavilion angle always work as an inverse of each other - one steep one shallow, whichever also can. The steepness of the crown and the tall crown height will make this diamond to have excellent fire I presume, but that is assuming the light return is not bad, which I am not too sure in this case since the total diamond depth is pretty deep. But since you saw the diamond and like it, i think it meets your requirement.
The reason this diamond is getting a so-called good cut is because the numbers... But this doesn't mean it will be that bad in real life if it is not leaking light or leaking too much light and the relationship is good between the crown and Pavilion angles, which is the case here.
Now, the not-so-good part: The calculated ideal weight is actually between 0.47ct - 0.48ct. In other words, it will look like a ideally cut 0.47ct or 0.48ct. Take a look at this 0.45ct, which has a bigger face-up size than your diamond:
https://enchanteddiamonds.com/diamonds/view...amond-276952094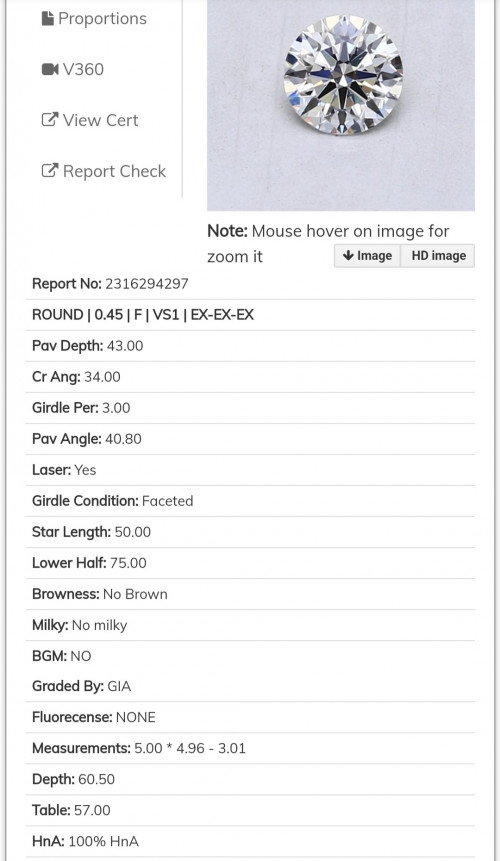 https://www.bluenile.com/diamond-details/LD...s&action=newTab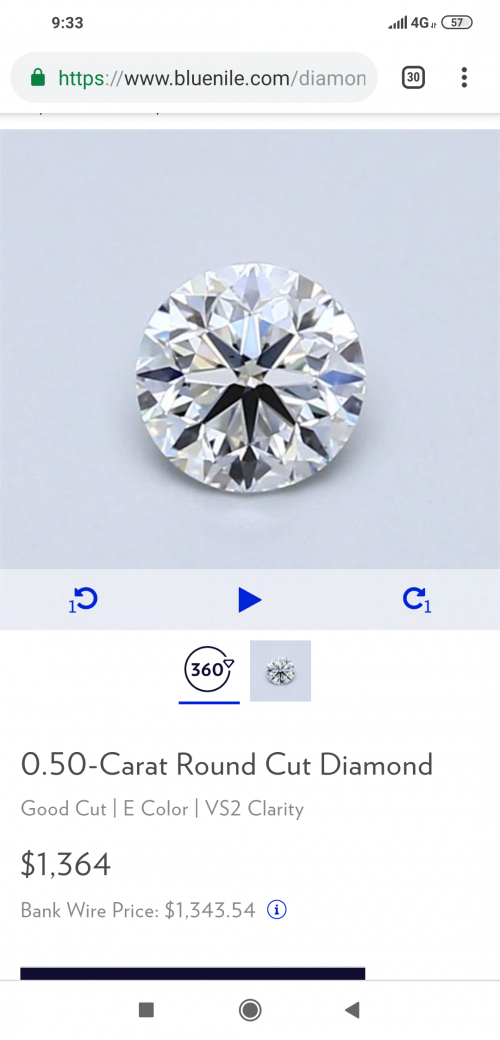 So you might wonder why 0.5ct? This is because the extra carat weight is hidden in the diamond total depth. Meaning all the extra goodness of the carat is hidden from the normal viewing position, which is facing-up, but yet, you are paying something extra for what you cannot see. And why would they cut it to 0.5ct? I can only guess they did it on purpose because 0.5ct is much more tempting than a 0.45ct right, as far as the number sounds. And one of the factors to determine the price is carat weight, not the face-up diameters.
Take a look at BlueNile. This diamond looks pretty good looking overall, but it has the same specs as yours as far as the 4Cs are concerned. Check out the price... So is it overpriced? If compare to BlueNile, I would say the price you paying is pretty fair since SG has taxes. But if compare to the earlier 0.45ct, I would say it has a better overall value than your diamond. This is because the face-up size is bigger, the diamond is 3EX, the overall look is very good-looking, and yet, it is still cheaper. And since this stone is on virtual inventory, other vendors may be able to offer even cheaper price. I would guess you can get it between RM 5300 to RM 5500 for this diamond in Malaysia. This is because you are saving the 7% VAT, so you won't reach RM 6k or SGD 2k.
This post has been edited by kambingkoh: Mar 17 2019, 11:08 AM