QUOTE(Pugbunny @ May 19 2019, 08:18 PM)
Hi gais,
I changed my tint to Raytech MX (dark) series 3 months ago with VLT 30% for all the windows and rear windscreen
Lately I notice that the dark color tint macam Sudah faded and now the MX VLT30% tint now looks like with higher VLT. The cabin used to be very dark when looks from outside especially the rear windows and rear WS.
Is this something abnormal?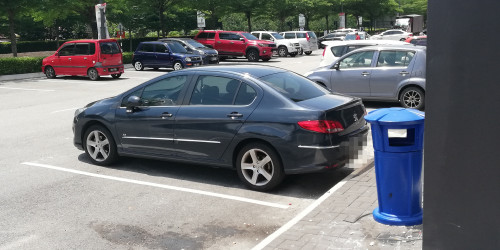 It is difficult to determine the VLT of the windscreen by the naked eye. I presume you can test the VLT of the tint by using a VLT handheld meter where JPJ officers use to check the tint at road blocks. Perhaps the Raytech outlet has the device and can check the VLT for you?
Having said the above, I have had a look at the photo of your vehicle that you posted. My guess is it is in the range of 35% to 40% VLT. Although the VLT may not be 30%, it likely is still below 40% as my vehicle with VLT40% tint looks to be slightly lighter in shade than yours, not as dark.
The blue coloured Kelisa parked at the opposite side of the road (WML 3933?) looked like it has VLT 10% to 20% for all the windscreens, including the front windscreen. The red coloured Kenari also seems to have a dark tint all-round.