Like our FB page here: Creative Outlet, for more products and updates!
[url=https://www.facebook.com/creativeoutlet.my/photos/pb.385413618208394.-2207520000.1416716568./525184414231313/?type=3&theater]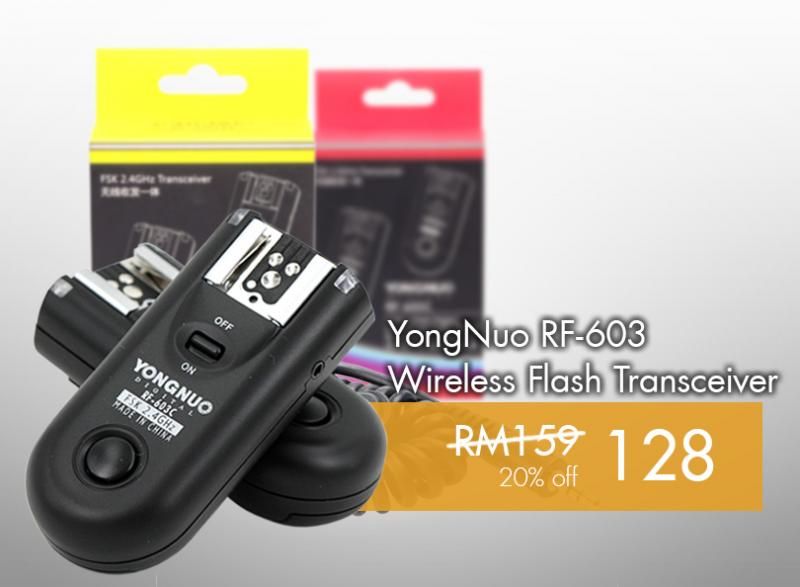 [/url]
Item(s):
YongNuo RF-603 2.4GHz Wireless Flash Transceiver
» Click to show Spoiler - click again to hide... «
Package includes:
2 x YongNuo RF-603 Flash Trigger Transceiver & Camera Shutter Remote Release
1 x YongNuo Cable
Instruction Manual (English + Chinese Language)
Price:RM159 128Warranty:
1 yr
Dealing method:
COD/postage
Location:
penang
Contact method/details:
PM
---
Item(s) conditions:
NEW
Feature:
Can be use as flash trigger and remote shutter release
Flash synchronizing speed: up to 1/320s (depends on camera / flash model)
2.4GHz band/16 selectable operating frequencies for eliminating interference
Triggers both flash units and studio strobes. Multiple flash strobes are supported.
Up to 100 meters remote range
The "Wake Up" function supports Canon/Nikon flashguns with sleep mode
Compatible flashguns:
Nearly all flashes with a standard hot shoe and being released by the middle contact are compatible
Please note that the RF-603 only supports the manual flash mode, not TTL, but it works with TTL flashes
Supports the "sleep mode" or "wake up" mode which some flashes are equipped with
Canon 580EX II, 580EX, 540EZ, 520EZ, 430EZ, 430EX, 420EX, 420EZ, 380EX
Nikon SB-900, SB-800, SB-28, SB-27, SB-26, SB-25, SB-24
Not compatible with Nikon SB-600
Pentax AF-540 FGZ, AF-360 FGZ, AF-400 FT, AF-240 FT
Olympus FL-50, FL36
Fuji Film:S3Pro / S5pro
Metz
Nissin, not complatible with Nissin Di622 Mark 1 Nikon old firmware
Sigma EF-500 DG Super, EF-500 DG ST, EF-430
Sunpak Auto 2000DZ, 622 Pro, 433AF, 433D, 383, 355AFm 344D, 333D
Vivitar 285HV
Yongnuo YN460, YN462, YN465, YN467, YN468, YN560
Not compatible to Sony/Minolta flashes
Specification:
Type: FSK 2.4GHz wireless remote system
Transmitter Distance: 100m
Channel: 15 different channels and all channels
Shutter Release: half-way and full-way press
Shutter Interface: 2.5mm socket
Studio light interface: standard PC socket
Battery: 2 x AAA batteries per transceiver (Not included in the package)
Stand-by time: up to 45 hours (AAA battery)
Size: 37mmx30mmx81.5mm
Weight: 2 x 150g
This post has been edited by BlackG: Nov 23 2014, 12:23 PM