Sekadar berkongsi. Suddenly the urge of becoming an eco warrior has come back to me malam-malam buta ni :/ BTW, don't ask me on the terms and whatnot, sebab most dah tak ingat sangat dah. Nyanyuk LOL. That, or most of what I want to say, I didn't put in here because I encourage the audience to ask more. Sadly, I misplaced the notes for the answer for just-in-case questions. References, kalau rajin, I put in later kay.
Well, this was done by me back when I was sitting in a class of Advanced Aquatic Ecosystem. Feel free to read through and comment on the current issue. As a KL-ites, Klang River, although resembles more like teh tarik than an actual river seen in media, is still a river to me. Do note that this was done for class presentation, so kalau ada yang salah tu, maaf
Roles of River
- Water supply
- Irrigation
- Power generation
- Habitat for flora and fauna
- Recreation
- Transport
- Source of food and income
- Religious functions
- Historical site
Rivers in Malaysia
- Malaysia is blessed with rivers, totaling up to 189 rivers, that are divided of:
* Peninsular Malaysia: 89
* Sarawak: 22
* Sabah: 78
- All of these are of 57, 300 km in length.
- Rivers provide up to 97% of all water use in Malaysia, and the demand for domestic water supply is increasing steadily year by year.
Department of Irrigation and Drainage Malaysia (2006)
Rivers of Selangor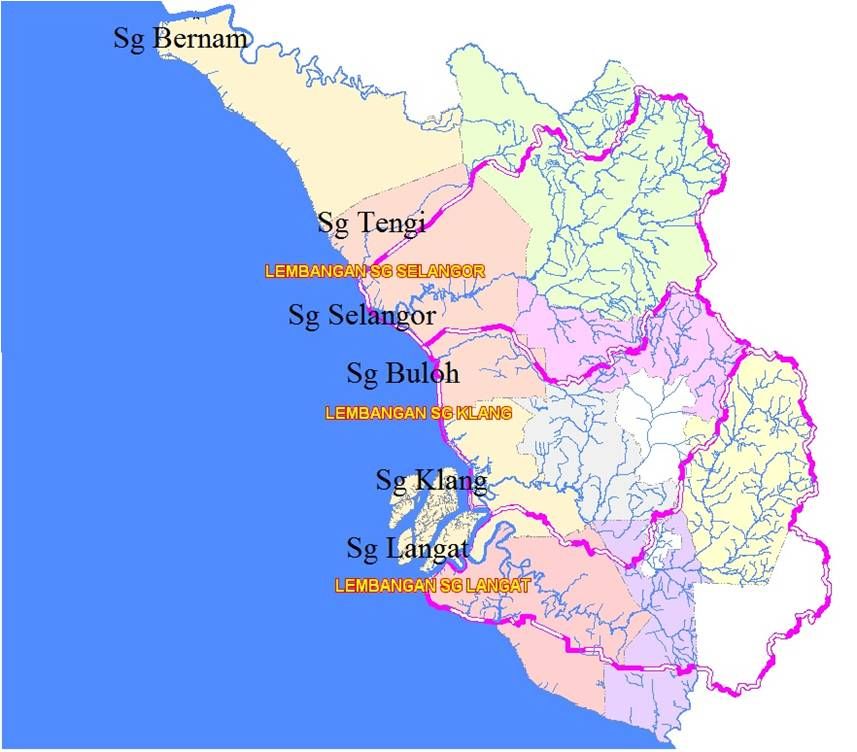 Klang River
- With total area of 1,278 km2, this 120 km long river from Main Range (upper basin) that meanders to south-west passing through Kuala Lumpur and discharge into Straits of Malacca. Average discharge rate is around 50 m3/s.
- Klang River basin falls into two administrations, namely the Federal Territory and the States of Selangor.
- Sections:
* Upper section: Ampang Jaya, Ulu Langat, Gombak
* Middle section: Kuala Lumpur
* Lower section: Petaling Jaya, Subang Jaya, Shah Alam, Kelang
- It is joined by 11 major tributaries. These include Gombak River, Batu River, Kerayong River, Damansara River, Keruh River, Kuyoh River, Penchala River and Ampang River.
- The river's confluence with the Gombak River gave rise to the name of Kuala Lumpur (muddy estuary). It is also thought that Klang town is named after the river.
- Malaysia's biggest sea port, Port Klang, is also situated at the estuary of Klang River.
- Klang River was used to be called Sungai Seleh.
Convergence of Gombak River and Klang River in Kuala Lumpur
- Klang Gates and Batu Dam were constructed in order to ensure continuous water supply and flood migitation purposes.
- Klang Gates capacity is 25,104 million liter. The Bukit Nanas water treatment plant takes raw water from this dam and produces 145 million liters treated water per day.
- The dam is the first reservoir in Malaysia (1958).
- As for Batu Dam, its holding capacity is 30,199 million liter. The Sungai Batu water treatment plant produces 114 million liter per day of treated water.
- Even so, development in Klang River basin has exceeded the carrying capacity of Klang River which is clearly reflected by the pollution of the river itself.
- Even Gombak River and Batu River tributaries are depleted of significant aquatic life.
Issues and problems
- Floods (after heavy rain falls due to impervious ground)
- Sedimentation and silts
- Garbage and trashes (Klang River are used more as drain)
- Deteriorating water quality
- Squatters
- Urbanization
Causes
- Encroachment of river (Dato' Keramat area)
- Squatters
- Landfills (use of river area as elevated railways for LRT)
- Direct discharge
* Food outlets
* Wet markets
* Household waste
* Sewage
Flood Migitation
Rubbish and trashes in Klang River
Graffiti – Arts or vandalism?
Implementation Issues
- Legislative and institutional issues:
* Regarding water: state government jurisdiction
* Fragmentation in the management: many institutions
* Some old laws are in need of reviews
- Enforcement:
* Coordinated approach by each state
* DID and DOE as advisor
* Fine and compound should be more strict
Solid Waste Management
- Between 500-800 tons entered river daily, but only 80 tons are removed by existing trapping and removal mechanism.
- In 2006, Alam Flora cleaned out around 50 000 tons of rubbish from Klang River.
DID worker cleaning Klang River
Discharge
- Back in 1998, only 46% wastewater treatment plants comply to DOE discharge standards.
- In 2005, the expected results are 85% compliance to DOE standards.
Discharge into Klang River
National Hydraulic Research Institute of Malaysia (NAHRIM) (2007)
Ways to reduce
- Construction, maintenance, desilting and beautification
- Relocation of squatters
- Rehabilitation of aquatic life
- Water pollution control
- Enforcement
- Construction of trash booms
- Rubbish removal
- River clean-up programs
- Public awareness
- Some solution involves tapping other river basin to supplement Klang Gates and Batu Dam intake sources.
- As for flood mitigation, the SMART (Stormwater Management and Road Tunnel) project structural measures was carried out but yet the results are quite unsatisfactory, to say the least.
- The state government of Selangor has gazetted the riverbank and no development can take place without its permission.
River Water Quality
- DOE established baselines in 1978 in detecting water quality changes in river and identifying the pollutant sources.
- This is done by collecting samples at regular intervals from designated stations for in-situ and laboratory analysis:
* Manual Water Quality Monitoring (MWQM):
~ 30 MWQM stations around Klang Valley
~ 4-12 times/year/station
* Continuous Water Quality Monitoring (CWQM):
~ 1 CWQM station at Klang River
- As recorded in the Malaysia Environmental Quality Reports of 2000, Water Quality Index (WQI) showed that water quality for Klang River and Gombak River is still polluted (WQI Class III 51.9-76.5) which requires extensive treatment.
- Nevertheless, studies done by Naji and Ismail (2011) showed that the result determined that none of studied metals (Cu and Pb) had high potential risk to fauna and flora of this area.
Statistic of Klang River in 2004
Malaysia Environmental Quality Report 2004
Water Resource Management
- JBA:
* Water supply
- Department of Environment (DOE):
* Water quality
- Department of Drainage and Irrigation (DID):
* Water resource management and hydrology
* Flood management
* Eco-friendly drainage
- Alam Flora:
* Solid waste management
Urban Stormwater Management Manual
- In 2001 DID introduced a new approach in its Urban Stormwater Management Manual (
Manual Saliran Mesra Alam Malaysia
, or MSMA).
- The objective is controlling the quantity and quality of stormwater runoff.
- The concept essentially delays the time it takes for stormwater to reach streams. Stormwater is captured first and then gradually released, so there will be no sudden, excessive water flowing to downstream areas.
Retrofitting Works of Klang River
Integrated Water Resource Management (IWRM)
- Promotes the coordinated development and management of water, land and related resources:
* To maximize the resultant economic and social welfare in an equitable manner
* Without compromising the sustainability of vital ecosystems
Integrated River Basin Management (IRBM)
- Coordinated management of resources in natural environment (air, water, land, flora) based on river basin as a geographical unit.
- Balancing man's need with necessity of conserving resources to ensure their own sustainability.
- An integral part of IWRM:
* IRBM constitute the management unit
* IWRM provides the generic policy
Current use of IWRM
- Provides basic information
* Topography, delineation of river basin
* Flow path
- Analytical
* Identifying flood zones
* Identifying other strategic/critical features and processes
AECOM Project – River of Life
Sayangilah Sungai Kita :3