Following my recent Amplifier Restorations posts (
Arcam Alpha
&
NAD 3020
) comes this Marantz PM7200.
The owner complained that the amp lost one channel and then the other and lastly it refused to come out of protection mode. Was worried that the processor had issues but initial checks showed that the preamp, tone and volume circuitry to be in good order.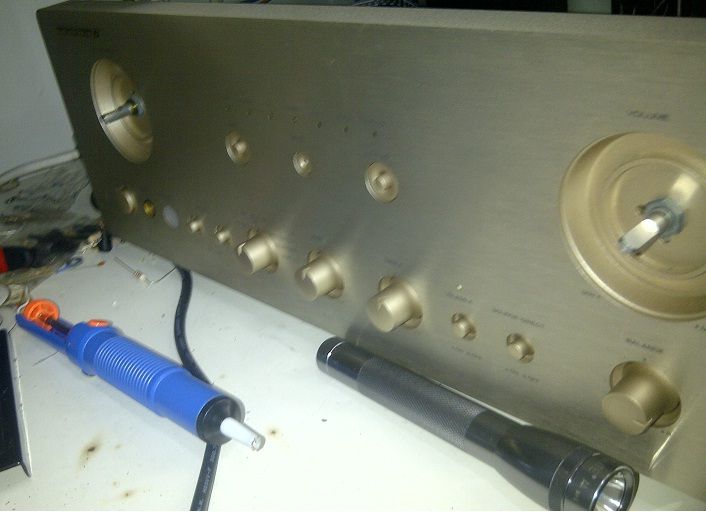 With this amp, if the processor dies then you can be pretty sure that nothing on the front panel lights up and the amp will refuse to turn on. So this just leaves the power amp section. Marantz had installed a small access panel at the bottom of the power amp section but you can't test it without removing the board from the chassis so got the rear panel off, disconnected the preamp and power supply cables from it and removed the power amp board from the chassis.
As can be seen from the image above, the power amp uses 8 transistors hidden behind copper shielding. These were tested individually along with the driver transistors and all seemed to be operating well. So proceeded to check the capacitors, first few that were removed were within tolerance though a bit low but then started noticing that some were well below the 20% allowed tolerance.
Took a closer look at the protection circuitry board which is a little thing at the back near the speaker outputs. Most amps have the protection relays or whatever other form of circuitry placed here. As can be seen from the image below, there were 4 caps on this board and all of them tested well below tolerance.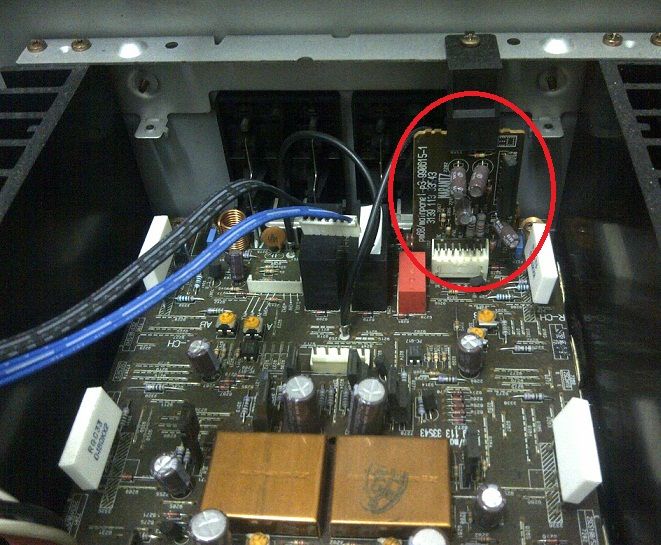 Changed these caps, temporarily installed the power amp board back in the chassis. Powered up the Marantz and the amp came out of protect mode. Ran it for a awhile and noticed that the amp runs a bit hot. Hit the Class A button and it really got hot inside the amp. Things were becoming slightly clearer now. On to the next post...