INTRODUCTION: monochromos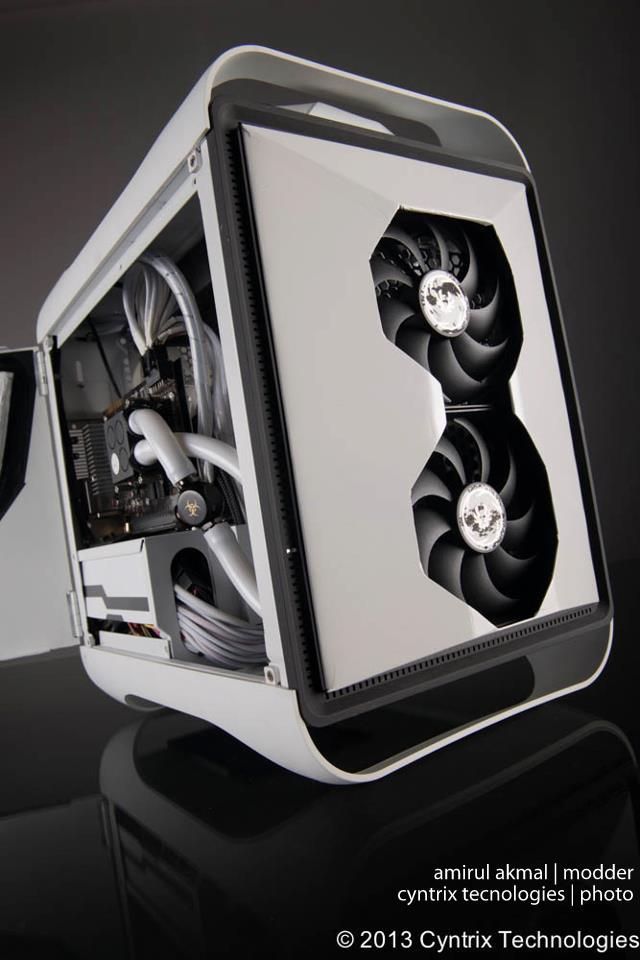 Featured on:
This build was feature at APES.MY during the wc setup
APES.MY : IChuck Cooling Makeover.
Later it is choosen by Derek Smith/ East Coast Mod to be featured in their group page
EastCoastMods FB : Mono Chromos
Thanks to Cyntrix Technologies for the photography session, and featured my rig on their page
Cyntrix FB, Bitfenix prodigy modded by Ichuck
Paul tan had also advise and help me with the initial design of this mod, as he is my inspiration of modding, from the beginning he already asking me for the photos , to be feature on his page.
PaultanDesigns: Featured Rig Monochromnos
Non-Sponsor build
It all started when i need to buy pc for my study purpose which im in architecture field. ive been away from desktop since form 4 which is when i went to boarding school. At first i bought ALIENWARE X-51,
But it sucks so bad, not good enough for me for gaming and also rendering.
here some of the pic from the previous pc and upgrade ive done.
That was my first setup. i5-2320, 8gb ram, gtx 555 1 gb, 1td hdd,
after not satisfied with the cpu temp, i bought this n thinking of modding the side panel. but common for SFF to have heat issue because of the size.
this also the first time i heard about the close loop water cooling, n also the custom watercooling, how noob is that.
and then i bought b&d rtx, for the modding
the disassembly of the X-51
got no pic during the cutting process because never thought i would create a worklog, and that time i also didnt know wht worklog is
the final product of my mod session
added a fan grill, customed made, order from niclasteoh
after some time, which only weeks from the modding day, i bought Palit gtx 660ti, which at first i want to buy 670/680 but the space and power constraint from the x51 made me choose 660ti
later i had good improvement from the previous gtx 555, but i got heat problem because the small case, my gpu easily hit up to 90+, i dont like that at all,
i went to Singapore n found some antec kuhler for 80$ at their mall, which also same like lowyat here in m'sia, i bought it and mount it on my gpu.
saw this method at overclock.net they call it "the mod" or "red mod" for amd. but i didnt use proper custom made bracket only use cable tie.
Without think much about the warranty this what i did,
And now after done with the gpu i need mod the case so that i can add the 120 rad to my X51 which alrdy have one 120mm rad.
i made another hole to fit the rad
cut this 3mm acrylic to mount both of the rad n then mount the acrylic to the side panel
thats how my X51 evolve, but then my pc would only start for some period of time before it automatically turned off,
when im gaming, it only stayed for 4/5 minute before it shut down. i dont know what was the problem, cpu and gpu on full load only hit 50c,
i dont know how to solve this, n dont think if i sent it to shop they will found a solution without tipu me n charge extra money n item i have to buy.
so i think that the problem is heat n not enough power. That is where my Prodigy build start.
This post has been edited by ichuck: Mar 3 2013, 01:22 PM