Item(s):KRISTALL LIQUID SCREEN PROTECTOR FOR ANY SMARTPHONE AND TABLET ( LAPTOP WILL BE AVAILABLE SOON!]Tester/Consumer Price:PROMOTION for smartphone

RM29.90

!!!!(RM38.00 in Lowyat)
for tablet

RM49.90

!!!!(RM68.00 in Lowyat)Trader Price:Much more lower with quantity request, MIN 10pcs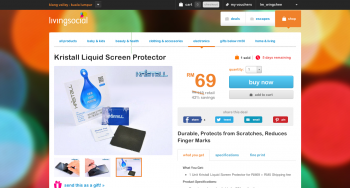 KRISTALL LIQUID SCREEN PROTECTOR
coats every aspect of the device at a nanoscopic level and protects more thoroughly than alternative materials. The result is a truly durable and invisible liquid glass coating that substantially delivering truly outstanding benefits.
BENEFITS & FEATURES:
* Easy to apply and suitable for DIY application
* Protection against abrasion and scratches
* Super hard 9H wearing and durable
* An invisible but glossy finish
* Reduces finger marks and smudges
* Improves clarity and brilliance
* Resistant to both acid and alkaline
* Dirt repellent surface
* Preserves touch screen sensitivity
* 1 Year durability
HOW TO USE ?
http://www.youtube.com/watch?v=uuQGi2yVpj8
FAQ
How many times does KRISTALL need to be applied?
Just once.
Can KRISTALL be applied on Metal or Plastic surface?
KRISTALL works perfectly on glass surface, but we do not recommend applying it on Metal or Plastic surfaces.

How do I know I should reapply KRSITALL again?
It depends on individual usage as the lamination will last for about a year at optimal condition. Reapplying is needed if there is frequent cleaning that caused scratches on the screen. For better result and it's recommended to reapply KRISTALL solution every 6 months.
Will reapplying KRISTALL make the screen protection stronger?
No, but it will just make the Nano coating spread more evenly on the surface.
What should I do before replying KRISTALL, for the second or third times?
Just clean your screen surface with the microfiber cloth, and then follow the instructions accordingly.
Can I apply KRISTALL on Digital Camera Lens?
It is not recommended to apply KRISTALL on Digital Camera Lenses.
If I would like to remove the KRISTALL coating completely, what do I have to do?
There is nothing to be removed as the Nano coating is invisible.
When I reapplied the solutions on the screen surface, streaks appears on the screen, what should I do?
It is normal to see streaks appeared on the screen surface when you applied too much of the solution on the surface. In this case use the Microfiber Cloth, rub at the streaks, this will make the Nano-coating more evenly spread and it won't damage the screen surface.
How effective is the protection with Nano coating compared to the normal glass of the smart-phone screen against scratches?
KRISTALL uses physic concept that enhance the protection so by applying Nano coating to the screen surface, it added another layer of scratch resistance protection.
Dealing method:COD or Postage Location of seller:KLContact method/details:pm me or email wingchee@me.comReason for sale:Trader
This post has been edited by wingchee: Dec 10 2013, 01:20 PM