Item(s):
New EZiBreathe : Scientifically Proven To Relieve Allergic Rhinitis & Sinusitis
Package includes:
-
Price:
RM 45 / bottle FREE POS LAJU PENINSULAR
Warranty:
-
Dealing method:
Pos Laju
Location of seller:
KL
Contact method/details:
WHATSAPP SMS EZI 012 651 6289

Age of item:
Brand New + Sealed Bottle + Sealed Box + Safety Lock Cap
---
Item(s) conditions:
Brand New + Sealed Bottle + Sealed Box + Safety Lock Cap
Picture:
See Below
Reason for sale:
Trading
EZiBreathe : Scientifically Proven To Relieve Allergic Rhinitis & Sinusitis
Why EZiBreathe?

Scientifically proven to relieve Allergic Rhinitis and Acute Sinusitis symptoms such as frequent sneezing, running nose, nasal congestion, itchy nose, eyes, ears and palate, cough, excess phlegm and reduce Asthma complication.

> Fast, Safe and Effective.
> No side effect.
> No drugs.
> Non drowsy.

Natural formulation of Homeopathic micro minerals, will not burden the kidneys and safe to be consumed continuously.

Private laboratory tests have been conducted to prove that EZiBreathe does not contain any toxins or heavy metals which are harmful to human cells and organs.

Suitable for all ages, including children as young as 1 year above and adult, pregnant women (after 3 months), nursing mother and patients with chronic diseases.

In a form of sweet chewable tablets, easy to consume. Kids loved it!

EZiBreathe is manufactured in Malaysia and produced in a GMP (Good Manufacturing Process), under the strict guidelines of the Ministry of Health (MOH), Natural Pharmaceutical Control Bureau (NPCB) and are issued with a "HALAL" certification from JAKIM.

EZiBreathe contents

110 chewable tablets (110gm)



Approved by Ministry Of Health Malaysia : KKM MAL 07081640TC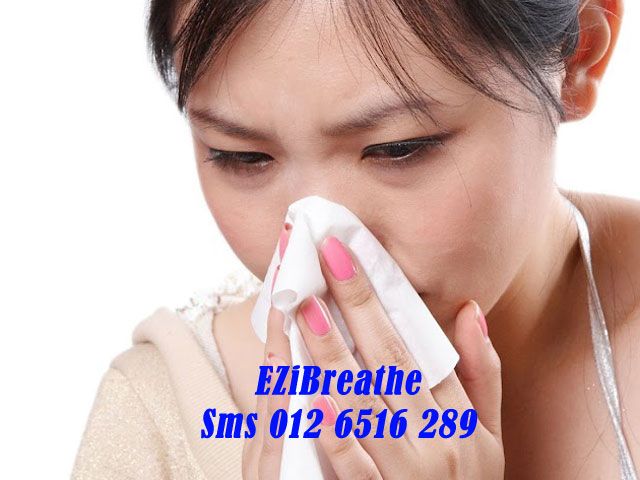 PRICE :
1 BOTTLE RM 45
2 BOTTLES RM 85
FREE Pos Laju Peninsular

1 BOTTLE RM 50
2 BOTTLES RM 95
FREE Pos Laju Sabah Sarawak

CONTACT :
WHATSAPP SMS EZI 012 651 62 89

BANK ACCOUNT :
Zaffril
After bank in please WHATSAPP SMS EZI 012 651 6289 : full name, full address, quantity of ezibreathe, total payment, transaction number & which bank
FAQ:

1.How long do I need to take EZiBreathe to see results?
It depends on our individual body's immune system. Normally, results show after 2 to 3 weeks. Also, EZiBreathe is a dietary supplement, so its reaction may take a while. There are cases after 2 to 3 bottles

2.When is the best time to consume EZiBreathe?
During the time, our mouths and tongues are free of food. The best time is after waking up and before going to bed.

3.Can I take EziBreathe on an empty stomach?
Yes! Because EZiBreathe is treated like food by our bodies.

4.How many tablets should I take in a day?
Take as directed on the label. Maximum 5 tablets per day for children and 10 tablets per day for adults

5.Can I continuously consume EZiBreathe, even though my sinusitis or nose allergy problem has gone?
Yes! Because you are still at risk and exposed to factors and agents that cause these problems. Taking EZiBreathe continuously can help prevent these problems from reoccurring.

6.Does EZiBreathe cause any side effects?
EZiBreathe has no side effects. On the other hand, EZiBreathe may sometimes appear to make a patient's symptoms temporarily worse as part of the healing process. This temporary aggravation of the symptoms is an indication that the remedy is effectively stimulating the patient's body to heal itself. Depending on individual, the temporary symptoms may be extended by 1 to 3 weeks.

7.Can I take EziBreathe with my current medication(s)?
Yes! Just distance the time 1 to 2 hours.

8.Can I or my child take EZiBreathe if we have Asthma?
Yes, but only consume 1 tablet a day, alternate day for a month, then continue as directed on the label.

9.What is forbidden when taking EZiBreathe?
There are no rules or restrictions. You may enjoy your favourite food as usual.

10.Can I take EziBreathe when I am pregnant?
Yes! because EziBreathe is purely minerals and does not contains steroids. However, you may seek your doctor's advice.

11.Can I take EziBreathe if I m allergic to seafood?
Yes! Take 1 tablet ½ hour before and 1 tablet ½ hour after consuming seafood.

IMPORTANT NOTES!
To conserve the effectiveness of EZiBreathe, please store it away from any electrical appliances, wave devices such as radios and hand phones and hot temperature places like in a car parked under the sun.

Testimonial
Zul Zainuhal
"saya mengalami masalah resdung hampir 4 tahun...hidung saya setiap hari tersumbat dan kerap kali bersin sehinggakan saya sakit kepala....memang rimas dan tidak selesa...berbagai-bagai saya mencuba ubat herba mahupun pil selsema....namun tiada apa-apa kesan terhadap saya...setelah saya melayari internet..saya telah mencuba ezibreath...kesannya amat ketara sehingga saya bebas dari resdung...tq ezibreath.
Pn Kasma, Sg Buluh
Suami saya dah lama mengalami masalah resdung, sampaikan nafas dia berbau hanyir dan tekaknya banyak kahak. Selepas mengambil ezibreathe 2 bulan, alhamdullilah kahaknya dah takde, hidungnya tak tersumbat lagi dan nafasnya pun dah kurang berbau hanyir.
Zulika, TTDI Jaya
Anak-anak saya 4 tahun dan 9 tahun selalu selesema dan bersin. Mereka juga ada asma. Bila kawan rekomen cuba ezibreathe untuk anak-anak saya, mula-mula saya was was juga, maklumlah nak bagi kat anak-anak dan anak-anak pun ada asma. So saya bawa botol ezibreathe jumpa doktor untuk mendapatkan pengesahkan. Doktor kata boleh bagi anak makan kerana kandungannya hanya gula dan garam galian, takde dadah merbahaya. Sekarang dah hampir 6 bulan anak saya makan ezibreathe, alhamdullilah serangan asmanya dah takde, selsema dan bersinnya pun dah kurang sangat. Terimakasih ezibreathe.
En. Abdul Rashid, Permatang Pauh, Pulau Pinang
Kami anak beranak memang resdung teruk. Alhamdullilah, walaupun lambat nampak kesannya, bila dah berterusan ambil ezibreathe nampak sangat lah kurang selesema, batuk dan bersinnya.
Lina, KL
Dear Rosmawati, thank you for recomended acclear for my acne. I have seen a lot of improvement now after taking it for 2 bottles. My acne and the redness has reduces. If before this, i m depending on antibiotic, not now anymore....
Zaiti, Melaka
Terimakasih Pn Rosmawati. Bengkak dalam hidung anak saya dah susut banyak, hidung nya pun dah tak berdarah lagi. Selesemanya pun dah kurang. Insaallah, saya akan perkenalkan ezibreathe pada kawan-kawan saya.
Tan, Setiawangsa.
Thank you ezibreathe and acclear. It does helps improves my sinus infection and acne problem..thank you again.
Wawa, Sandakan.
Saya nak ucapkan terimakasih pada Puan Rosmawati yang sudi menjawab sms saya yang tak henti-henti dengan pertanyaan. Nasib baik saya tak give up ambil ezibreathe. Selepas ambil 2 botol tak nampak perubahan pada bengkak dalam hidung, saya risau juga, tapi bila puan suruh cuba lagi 2 botol dan tinggi kan dosnya, selepas 4 botol baru kecut bengkak dalam hidung saya. Terimakasih.

WANT TO BUY EZIBREATHE :
WHATSAPP SMS EZI 012 651 62 89
This post has been edited by zack2terer: Aug 9 2017, 11:31 PM