Item(s):
Revolutionary Stainless Steel Blades
Improved Fuel Efficiency
Instant Increase In Engine Power
Reduction In Carbon Accumulation
Minimised Air Pollution
Enhanced Throttle Response & Acceleration
Easy To Install
High Precision Propeller Design
Aluminium Alloy Hull
Polished Inner Surface
Silicone Coupler
SIMOTA Super spiral turbo ventilator .
Fit for:55-64mm,65-70mm,71-78mm.
Reliable quality from our OEM manufacturer of professional experience; Customers are welcome to the real test and compare our product with a well-known brands: Regardless of design, materials, process, or the actual use of results.
We believe that: Good quality can also have its pretty price.
Product Features :
1. Primary Material : aluminium alloy;
2. Finishing : electroplating/polishing/Painting .
Price:
RM36
Warranty:
NA
Dealing method:
Pos Laju
Location of seller:
Johor
Contact method/details:
012-7745546 (Wechat / Whatsapp / SMS)
Age of item:
New
---
Picture: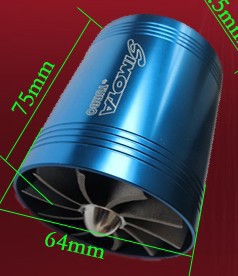 This post has been edited by rishidave: Jul 3 2015, 11:08 PM