RAZER SPEAKER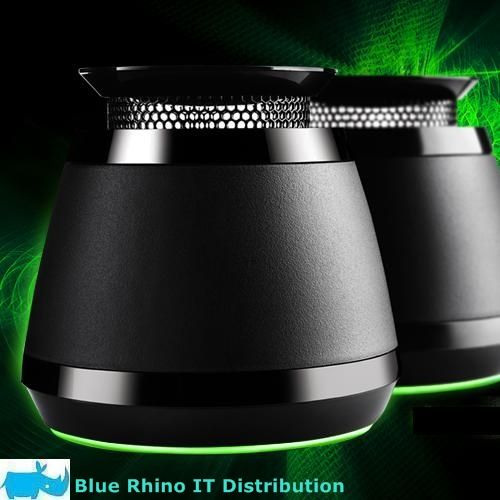 Razer Ferox = RM209.00
1 Year Limited Warranty
*Above is only suggested-retail-price, welcome to ask for our best price.
Click here to learn more about Razer Ferox
Company Profile
- Blue Rhino IT Distribution (001829347-W)
- Started as online SOHO business on 2009, selling in both offline & online platforms.
- Warranty claim drop-by centre at Subang Jaya & Petaling Jaya (see below - "How To Claim Warranty").
- Authorized Malaysia Dealer for (see below - "Welcome Supplier").
- Welcome to contact us via
[email protected]
or PM.
- We are focusing on what we do best - fast distribution & up-and-running warranty claim.
Payment Method
A) MAYBANK
B) PUBLIC BANK
C) OCBC
Dealing Method
A) Courier Delivery
- Fastest method & serve most buyers.
- POSLAJU or SKYNET
B) COD Meet Up
- PJ Amcorp Mall/ Taman Jaya LRT Station (Monday~Friday 3.00PM~7.00PM)
- Deposit needed at least 1 day in advanced.
Things To Know Before Placing Order
- We do not keep stock at all. Every order, we help you to purchase from Distributor Warehouse.
- We do not provide telephone support. Online communication is essential.
- Distributor Warehouse stock is based on first-come-first-serve basis.
- We will suggest one of below options before you make payment (depends on product type),
If there is no more stock when the time you make payment, we will:
Option A) wait for next shipment to arrive, usually takes around 7~21 days.
Option B) refund you right away.
- No changes shall be made after payment is received.
- Please allow 1~2 working days for Distributor Warehouse to process your order after payment confirmation.
- Interbank transfer (different bank transfer) might take extra 1~2 working days for the transaction to complete.
- For courier method, buyer takes full responsibility on dealing with your chosen courier company.
- We accept no responsibility for any losses or damages during courier delivery.
How To Claim Warranty (For The Entire Warranty Period)
- Send it back to us, we will help you through the entire RMA process. *** Strongly Recommend
- Office Hour (Monday~Friday 9.30AM~5.30PM)
- Station #1 - Subang Jaya Office
Blue Rhino IT Distribution (001829347-W)
A-5-10 Empire Tower, SS16/1,
Subang Jaya, 47500, Selangor.
- Station #2 - Petaling Jaya Office
Strong LGT Distribution (002149265-T)
Suite 1208, Level 12, Amcorp Tower,
Amcorp Trade Centre,
No 18, Persiaran Barat,
Petaling Jaya, 46050, Selangor.
- For courier method, you need to bear the delivery fees (both ways).
- Or you can choose to visit the Distributor Office yourself.
- Please send in the entire box (user guide, manual, cable, receipt, etc... whatever you have). Incomplete parcel might be rejected during RMA process.
- That is why it is very important to keep the receipt & all the original content.
Welcome Supplier
- Distributors are welcome to contact us if you think our marketing network is helpful for your products.
- We market your products via online (forums, blogs, online shopping malls, social media etc...)
& offline (retail shops, corporate offices, small resellers etc...)
- We are now authorized Malaysia dealer for Armaggeddon, Kingston, Logitech, Razer, Toshiba, Transcend, Western Digital.
This post has been edited by bluerhinoit: Feb 25 2014, 04:01 AM