Smart Anti-Burglary Alarm System
- CHUANGO CG-8800
Basic System Price: RM300.00 (package content as shown in picture above)

Buyer to pay the Shipping and Handling as following:

West Malaysia: RM12.00
East Malaysia: RM20.00
We have several models of Wireless Alarm Systems to cater for various budget, needs and situation, please check out our other listings or contact us for further information
The following video shows how easily you can place your loved ones and properties under guard with this alarm system:
The second video demonstrate the key functions and features of this system:
Most alarm systems in the market are rather similar from outside, what is hiden under the casings could be of vast difference. The photo below shows the top quality circuit board, circuitary design and electronics components that make up of this alarm system.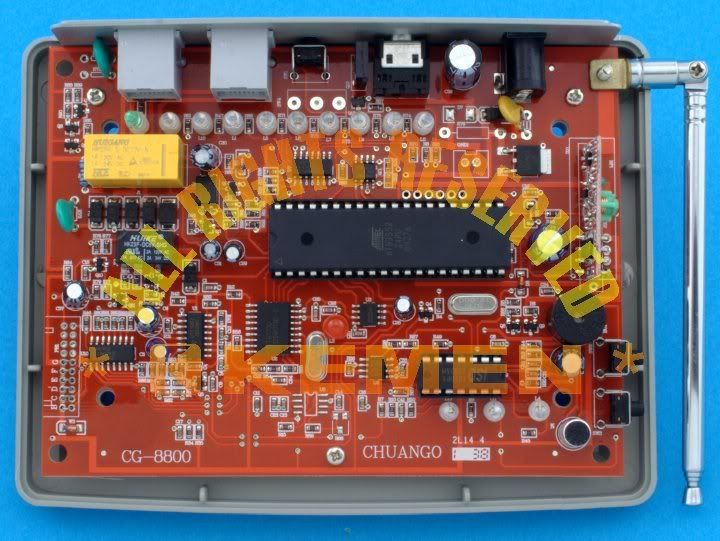 This alarm system offer an efficient and convenient way to protect your home/office. It uses ATMEL microcomputer processor and has 1,000,000 inlet RF pin sets, thus it maintains very high reliability and safety. As automatic RF recording technology is adopted, users can easily add various RF accessories (up to 60 accessories, include the remote controllers) to the system by DIY.
Why Chuango alarm system is different from others in the market:
Great quality and finishing, produced by reputable manufacturer with top-notch facilities
Illustrative and comprehensive user manual in proper English
Well thought-out implementation of integrated security features and functions
Ease of use: You can set it up within minutes, and perform various functions effortlessly
example 1: If you ever need to add new wireless sensors/remote contollers to the system later on your own, what need to be done is just press the "learning" button on the alarm host, and trigger once the new sensor, whereas most of the competitors' systems need you to tediously juggle with small jumpers.
example 2: If you want to mute the siren cue tone when arming or disarming the system (maybe your baby is sleeping at the time), what you need to do is just press the "bell" button before pressing the arm/disarm button (both are on the remote controller), the loud siren won't make noise with this procedure, but you will still get the soft cue tone from the alarm host telling you whether you have sucessfully armed or disarmed the system.
Some FAQs:
Q: Am I capable of setting up the alarm myself ?
A: If you are not the type of person who is "afraid of technology" and have some experiences in operating electronics like tuning a TV, setting up a computers etc, with the help of the comprehensive user manual included in this package, you should have no problem in setting up the system. As we have done up all the pairing during QC process before shipment, upon receiving the shipment, a typical "basic installation" only involved placing the sensors at your various intended locations, and input the sets of telephone numbers into the host that you want it to call, and if you want to, record a brief message to be read out to the persons who will receive the alarm calls. Of course, you can contact us if you need assistance, but our statistic shows less than 1% of buyers had contacted us for set-up assistance.
Q: The alarm has only 6 zones, does it means I can only connect it to 6 sensors ?
A: The alarm host can be connected up to 60 wireless accessories (sensors and remote controllers). Zone is referring to detection areas, it is defined by the jumper setting on the sensors, in each and every zone, you can have more than 1 sensor, as long as the total system wireless accessories within the limit of 60.
Q: There are models which has more that 6 zone in the market, are those better?
A: Zoning concept is for the purpose of speedy intrusion-area detection, it is about how effective the system carry out the implementation and for human mind to process the information received efficiently. Reputable manufacturer like Chuango believe 6-zone is an optimum number for both the system and human mind. In fact, for typical apartment or terrace house, you can even safely go for a non-zone system, you won't miss out anything, as zoning is not so relevant in monitoring a relatively smaller area.
Q: How do I define Zones ?
A: There are 2 customs: Most people like to define it by physical areas, e.g. living hall, master bedroom, kitchen etc... every area defined as a separate zone; some prefer to define zones by sensor type, e.g. magnetic sensors as zone 1, vibration sensors as zone 2, PIR as zone 3 etc. You just need to set the zone jumpers to same setting for all sensors in the same zone.
Q: How far can the sensor reach ?
A: Typically 100M line-of-sight (i.e. open area with no RF interference), thus, under most circumstances, the actual operating distance is more than enough for typical size home/office.
Q: I am still waiting for my telephone line installation, can I use this system as a normal alarm system, without a telephone line ?
A: Yes you can. Just disable the telephone line-cut feature (so that the siren won't trigger due to the absence of a live telephone line), you can use all its features, except the calling function.
Q: I do not see a keypad on the alarm host, how do I do the relevant programming?
A: The programming is done via a standard telephone set's keypad that connecting to the alarm host. The telephone set also function as a normal telephone extension, i.e. can make and receive calls.
WHAT THIS ALARM SYSTEM CAN DO FOR YOU:
CALL YOU (and other 7 sets of telephone number - total 8 sets of number) when being triggered, you can record a message which will be played to the person who receive the call, for example your name and address so that your relatives whom you have set as one of the alert recipient can take necessary actions, you can check which zone is being intruded when receive the alert calls, listen through the phone if any unusual noise at the guarded venue, and perform various other actions through you phone/hand phone when being called;
You will be able to ARM THE ALARM REMOTELY THROUGH TELEPHONE if you forget to do so before leaving house/office;
ALARM WILL BE TRIGGERED WHEN TELEPHONE WIRE IS BEING CUT,
and a host of other functions....
Detailed Product Description
100% wireless configuration, installation by DIY
Convenient operation by remote control
10,000,00 inlet RF pin sets maintains high reliability
Simple accessory expansion by automatic recoding
Late-night mute remote control
Remote control realizes detection by areas
On-site high-loudness deterring alarm
Automatic dialing of 8 pre-set phone numbers
Alarming detection area cue tone for remote monitoring by telephone
Digital high-fidelity voice message recording, automatic replaying
Phone line cut and damage alarming
Remote Detection On/Detection Off setup or siren triggering by telephone
Active or passive remote monitoring of the site via telephone
E2PROM information protection, power cut will not affect data
Automatic switch between AC and DC ensures uninterrupted operation of the system (if UPS adapter is being used)
Expandable RF relay module enables the activation of other RF accessories after alarming
Standard cable alarming signal interface
Compatible with computerized community alarm processing center, smart community alarming network can be established
Specifications:
Wireless Coverage Range: approximate 100M line-of-sight
Main unit power supply: DC 12V/400mA
Standby current: 50mA
Alarming current: 400mA
Service conditions: Temperature: -10oC ~ 50oC; Humidity: <80%
Radio Frequency: 315MHz +-75K
RF pin set: 1,000,000 non-repetitive pin set
Number of expandable RF accessories: 60 (including the remote RF controller)
Loudness of siren: 105dB
Basic System Package Content:
Main unit (alarm host) x 1
Slide-cover RF remote controller x 2
Micro RF remote controller x 1
RF Portal Magnetic Sensor x 2
RF IR Sensor x 1
Power Adapter x 1
High-loudness 6-tone siren x 1
Phone cable x 1
User manual x 1
Optional Additional Sensors/Accessories:
The following are a host of additional sensors/accessories that you can add to the alarm system, kindly contact us for further details.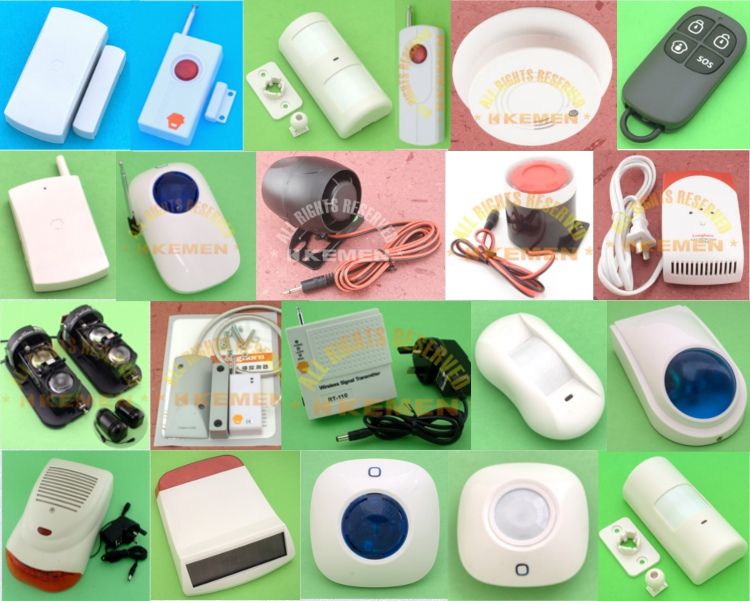 Note: Under normal circumstances, no additional shipping charges will be levied for additional sensors and accessories purchases, but we reserve the right to impose nominal additional shipping fees should the quantity/weight of the extra purchases go beyond our allowance level (i.e. total shipment weight exceed 2kg). Hope for your kind understanding.
This post has been edited by casey: Feb 18 2013, 01:25 PM