Item(s):
Deka Baby G Celing Fan
Price:
RM277
Dealing method:
1. Local Delivery: Poslaju, Airpak, Pos Malaysia Register Mail
2. International Delivery: UPS, TNT, Pos Malaysia Air Parcel
3. PM
Location of seller:
11A, Jalan 6/9, Pandan Indah Komersial Park, 55100, Kuala Lumpur
Contact method/details:
+6016-2690217,
+603-42960470
Item(s) conditions:
New
Picture: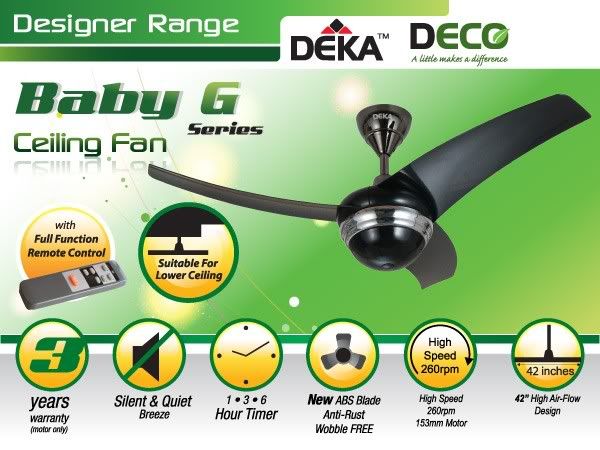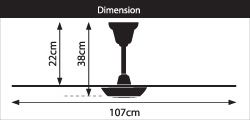 New Deka Baby G series will make a difference for your lovely family. Smaller blade fan will cools people effectively.
Baby G series ceiling fan comes with full function of remote control. It's suitable for lower ceiling and Baby G series ceiling fan comes with features such as silent & quiet, hour timer, new ABS blade, high speed up to 260 R.P.M, 3 speed remote control & 42" inches (107cm) Diameter. With 3 years warranty. Available color only white & gun metal
Baby G series ceiling fan are designed for family are not just fun and decorative. So these fans are useful not just in completing the décor in your room but also in making sure that family stay in a perfectly safe environment.
* Installation services is available in Klang Valley. Please contact us to inquire quotation.
This post has been edited by Aysia: Sep 1 2015, 05:16 PM