Item(s):
Dakimakura (hug pillow) bodies
only sized in 150cm x 50cm, white color, filled with polyester fiber
Package includes:
Dakimakura body including its filling (so yes it'll be rather big)
To further clarify: this
ONLY includes the dakimakura (hug pillow) BODY
, does
NOT
include 2D waifu/hasubando
Price:
RM110 firm (can discuss discount if you're going to buy in bulk, say 5 and above)
» Click to show Spoiler - click again to hide... «
Warranty:
No warranty as it'll... work? i guess lol. Just apply common sense and dont be too rough to your 2D girl (or guy! lol)
Dealing method:
COD preferred, however can do shipping too, cost of shipping (or risk, if any) buyer bears it.
do note that since the bodies are rather huge and being lightweight, most shipping company will charge based on metric volume and that means very expensive shipping cost so COD is highly recommended (even if you're driving over from other state so long you're also driving over for other reasons as well).
the volumetric weight calculation is different between poslaju and TNT where by its L x W x H (cm) / 6000 for poslaju while its / 5000 for TNT
the end weight (volumetric) is between 15-20kg (using roughly 25cm x 50cm x 75cm dimensions).
for poslaju its:
rm 86 for 15 kg and rm111 for 20kg
for TNT its:
rm103 for 15kg and rm133 for 20kg
if you want to add box to ship it, its rm20 as i have to buy from the postage/courier centers since i dont have my own boxes. that said, the daki body is already wrapped in plastic so you can ship it as is. though having a box may further shrink its dimensions (which means cheaper shipping) as you just squeeze it into the box.
the only good news is that city link was quoted to be around RM30, however they cannot provide an exact quote since im not boxing it up on the spot, and the charges are prepaid
. (not exactly sure what they meant, but they say it may be more expensive than rm30 when i am actually shipping)
forget about it, shipping charges similar to poslaju and TNT anyways (seriously, i doubt city link would be cheaper than our pos laju? lol)
box price and courier quotations are from:
http://www.mbe.com.my/
again, i highly recommend COD for reasons above.Location of seller:
KL or Selayang
Contact method/details:
pm me on LYN or
http://www.quazacolt.com/aboutcontact-me/
Age of item:
Brand new unopened. Wrapped in a layer of plastic.
---
Item(s) conditions:
Brand new unopened. Wrapped in a layer of plastic.
Reason for sale:
Everyone kept asking, so i might as well start an official business and just point everyone to this thread
Picture: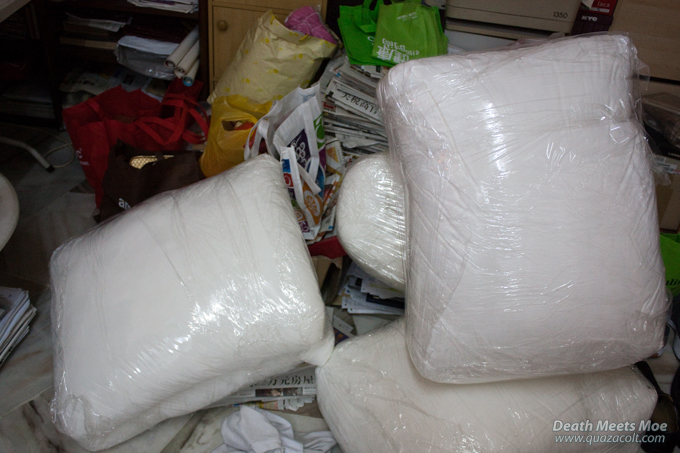 note: it is folded in half to ease transporting it.
if you need further details on what is a dakimakura, or on its "usage", refer this:
http://www.quazacolt.com/personally-quazac...-level-goes-up/
http://www.quazacolt.com/japanese-figures/...d-2d-affection/
oh apparently, it can be a health product too! and by health i mean pregnant women using these for... actually i dont know. im no health guy. just read the below link lol:
http://www.tenderbabycare.com/pregnancy-co...nant-women.html
This post has been edited by Quazacolt: May 1 2014, 07:38 PM