__________________________________________
.:INTRODUCTION & OVERVIEW:.
H
ello and welcome to This is a Lamp's first review! Although I joined Lowyat recently, I'm quite active on Notebookreview.com. Anyway, enough of the introductions.
T
oday, we are looking at the Sager NP8150 or the Clevo P150HM. Clevo is a Taiwanese company, acting as suppliers in the background for many of the consumer laptop brands today. However, it is also safe to say that Clevo pride themselves in making robust solutions for laptops; powerhouse in gaming, cooling and performance. While I know many Malaysians do prefer the looks of other fancy gaming laptops, e.g. Alienware and Asus, Sager/Clevo offers the business limousine rather than a crowd pleasing F1 car. Many do not know Sager/Clevo. And I'm quite saddened sometimes about this. They are lacking in marketing strategies, but sometimes appear in magazines. However, those who have owned or know about this brand, they're one of the best high performance custom solutions on the market, with the best cooling systems in a laptop. You may argue that Alienware has the best cooling, but you haven't seen what Sagers can do.
With this, I am based in Australia. So I am poised to deal with an Australian Clevo Reseller, namely Logical Blue One. They are very friendly, prompt in answering questions. They also update me with my order when necessary. And best of all, they reply in weekends and on Facebook! Now, who would go out of their way in the weekends to reply to work related email?
(
Logical Blue One
)
I have dealt with XoticPC and LPC Digital (USA Sager Resellers) in the past, with XoticPC processing my older 1st generation, Sager NP8690 with GTX 280m. They are top notch, well organised and not robots. LPC Digital gave me a good price for the NP8150, but I turned it down due to the Intel recalls that affect my current whereabouts and travels. Had a very quick refund process, with the sales representative even emailing me during his visit to the bank! I am deeply sorry for not dealing with a Malaysian/Singapore Reseller, as I am away from Malaysia.
(
XoticPC
&
LPC-Digital
)
The resellers are an important factor in choosing a Sager/Clevo laptop; they play a huge part in your purchase and warranty issues and most importantly, your first impression. As other consumer brands are answering machines and less technical when it comes to support, the Sager/Clevo resellers are people, and offer quick, adaptive technical knowledge to their customers, be it with jargon (technical words) or not. Most of these resellers are forum representatives in Notebookreview.com, and you can specifically ask them about questions and cheaper quotes. Even here in Lowyat, Mucro SG, a Singaporean reseller, has a forum rep lurking and answering questions. But do not order directly from Sager, because they are quite horrible with patrons and just about as bad as the answering machine brands.
Then comes the laptops themselves. They can come with no OS, saving you a lot. Not only that, since they are barebones directly from Clevo, the individual chassis can be modified. If you don't want a webcam, take it off! If you don't want your fingerprint reader, say no! Sager/Clevo does not ship their laptops with bloatware, spyware, random programs. They treat their laptops as BRAND new, not used.
Since the chassis is manufactured by them, you are free to ask specific options for your Clevo. Even down to the brand of RAM or HDD you are using, without the need to cancel your current order. Just ask, they will change.
Without further ado, the Sager/Clevo Horize NP8150 (P150HM).
________________________________
.:SPECIFICATIONS:.
S
o, what is inside this thing anyway? Many of you will wonder this.
The NP8150 (I shall refer it to this now), is equipped with Intel's new line of processors, the delayed SandyBridge processors up to the 2920XM. Not only that, the motherboard supports 16GB DDR3 1333 RAMs (max), and also the elusive DDR3 1600 RAMs. These DDR3 1600Mhz are confirmed to be only on two out of the four SO-DIMMS slots, noted on the just released service manual. Although it comes with one drive bay, you can take the DVD drive out to make way for a secondary hard drive. And to top it all off, it has the fastest GPU currently on the mobile market; the NVIDIA GTX 485m, the main star of today. Yes, Clevo outsmarts its competitors.
But will it perform well? And can it cool it well? Will this laptop able to surpass the need for gamers/enthusiasts?
Anyway, here are the specs of my laptop:
- 15.6" 1920x1080 FHD+ Matte, 95% Colour Gamut.
- Dimensions: 376mm (w) * 256mm (d) * 35 - 43mm (h)
- Intel® Core™ i7-2720QM 2.2Ghz Quad Core Processor (Sandy Bridge)
- 8GB DDR3 1333 MHz. (4GB to be added later)
- Crucial C300 64GB (Firmware rev 0007) + 750GB 7200RPM Seagate Momentus + A-DATA 32GB SDHC Card Class 10
- NVIDIA GTX 485m 2GB GDDR5 w/ DX11 support (Drivers Forceware 270.28)
- Intel Centrino Wireless-N Advanced 6230 with Bluetooth.
- 2x USB 3.0, 2x USB 2.0, E-SATA, HDMI out, DVI out, Firewire, 3in1 card reader slots.
- THX TruStudio Pro Surround Sound & 3W Subwoofer.
- 8 Cell Battery 76.96Wh (capable of 2 – 4 hours life) with 180W, 19V 9.47A Power adaptor.
- Windows 7 Ultimate 64-bit
Well, I couldn't get hold of DDR3 1600 RAMs because it's barely out yet! At least for laptops. My reseller has options for those, but it was quite expensive…
The laptop costs $2125.95 (RM6463.64) with upgrades from Glossy to Matte, Intel 6230 Wireless and 8GB RAM. I opted for no OS, default warranty and no HDD. The SSD, HDD and 4GB RAM are parts I already have prior to purchase. Logical Blue One's NP8150 comes straight with the 2720QM and the GTX 485m, unlike other resellers with choices from 2630QM and the GTX 460m. In preparation for my laptop, I spent maybe ~RM1,500 for new parts and accessories, haha.
BIOS, Drivers and Firmware updates are plenty from Clevo and are not tied to one manufacturer (e.g. Sony's Drivers); the NP8150 is new so won't have these so soon. In the future though, this laptop would have support for AMD ATi 6970m and possibly the GTX 580m. Currently it supports GTX 460m and GTX 485m. I have throttling issues with the laptop, but this is due to the fact that I'm using a secondary monitor. The laptop isn't audible when not connected to a secondary monitor.
UPDATE: As of this moment, the laptop is running 1.01.11 BIOS and 1.00.11 Firmware/EC, and the Corsair Force F60 replaced with a Crucial C300 64GB SSD. This is due to the Corsair's incompatibility with these laptops...unfortunately (failure to be detected on POST/Boot).
As you may have known, Intel had recalls of their SandyBridge processors. This laptop was wayyyy overdue, since December/January. And finally, it is here.
____________________________
.:PACKAGING:.
T
he packaging came with a solid brown cardboard box strapped with another cardboard box that contains the free carry case. These are taped with black tape with the words
"Horize"
written which is the name given to the laptop models sold at Logical Blue One. Strong tape it is. Easy to cut.
Free bag: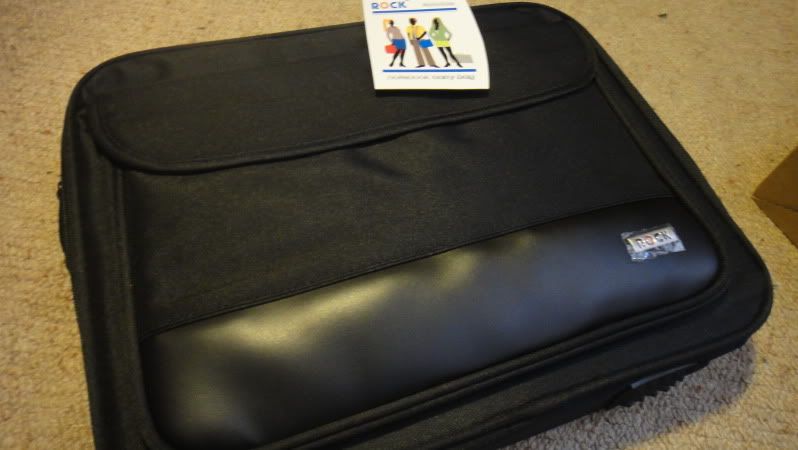 Inside, we have the laptop in Styrofoam, power adapter in Styrofoam and driver CDs/manuals. Nothing special, except the inclusion of a small bag labelled
"HDD Screws"
but contains 3 chocolate eggs…how nice! Tastes good too!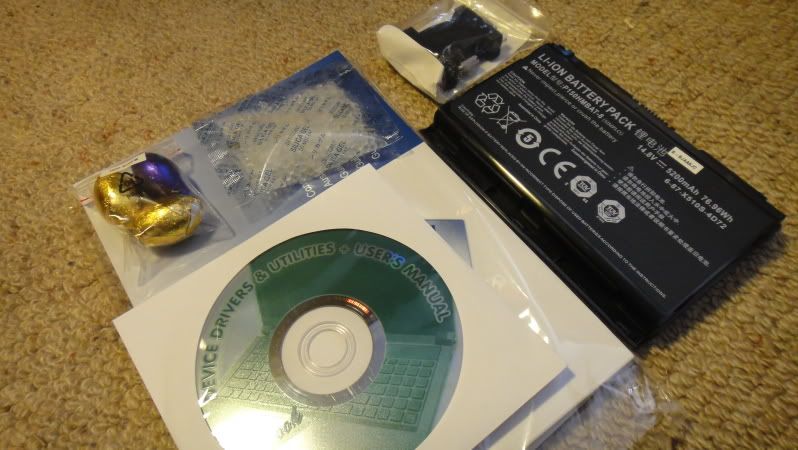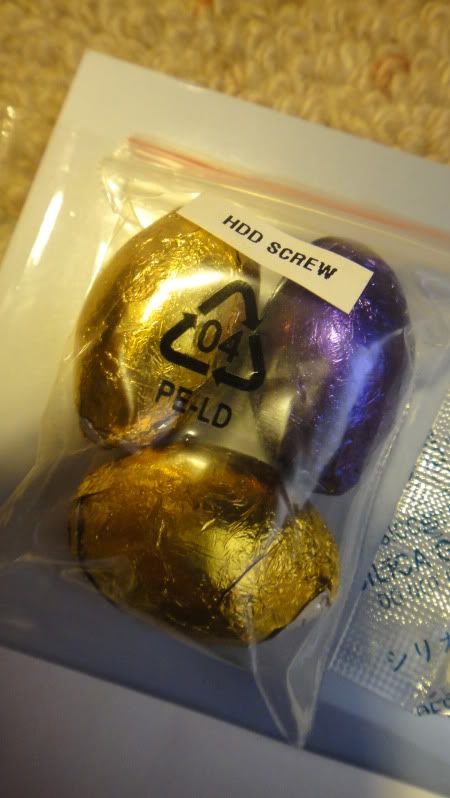 ________________________________
.:VISUAL & BUILD:.
S
o, while you may think right now it is very plain looking, squarish, not fancy; it's actually built pretty sturdy. The surface is of a rubberised greyish finish, non-standard in today's laptops. This however, contributes to the collection of dust that lingers around. Although easily wiped off, it might be a bit of a pain doing so every time. On the contrary though, the rubberised finish is quite capable of withstanding decent amount of punishment. The aura it emits doesn't suggest that it is fragile and weak, more so that it is very sleek. But please, do not ask me to bash my laptop into a wall or something haha.
So here we have my very overused, full of fingerprints, ASUS EEE PC 1018P, 10" Netbook in comparison with the NP8150. The NP8150 has no signs of any Sager or Clevo logo. From this, you can tell that your reseller is a Clevo reseller, not a Sager rebrander. Top view: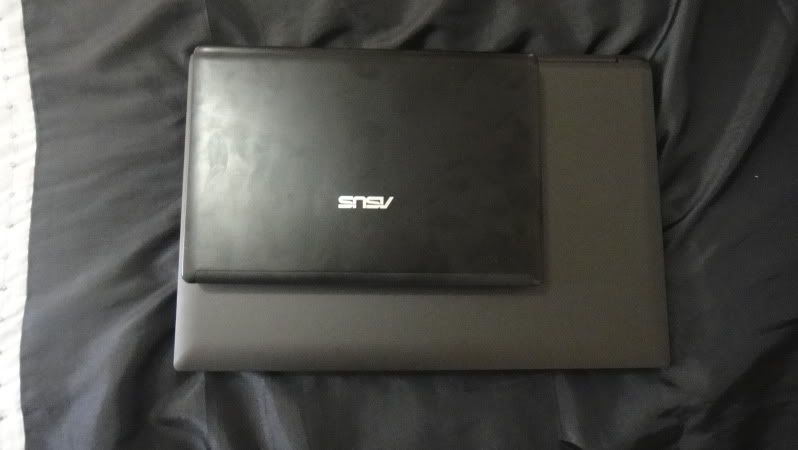 Side view, with a text book on the bottom: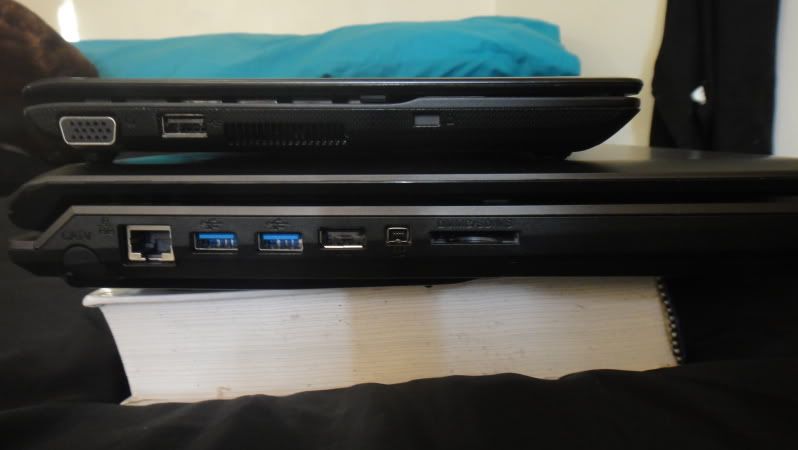 The adapter is HUGE. I said it a couple of times in forums; this thing can kill someone if you throw it at his/her face.
This post has been edited by This is a Lamp: Aug 13 2011, 07:42 AM