QUOTE
The animal kingdom has gained a new record holder after scientists declared a species of cricket to possess the largest known testes of any creature in relation to its body mass.

Delicate measurements of the tuberous bush cricket, Platycleis affinis, showed that its testes accounted for 14% of the insect's body weight. If the same proportion were applied to a man, his testicles would weigh the equivalent of six bags of sugar each.

Scientist at the universities of Cambridge and Derby examined the testes of 21 species of bush cricket as part of an investigation into the evolutionary consequences of the insects' sexual habits.

"These really are quite phenomenal testes. They take up nearly the whole of the bush cricket's abdomen. It just shows how competitive reproduction is for some species. If you can't spread your genes, that's it in terms of evolution," said Dr Karim Vehad, a behavioural ecologist at Derby, who led the study.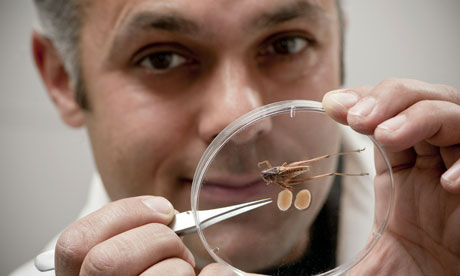 Sos Testes