Afaik, all volume controls, Alps, Noble, TVC etc have mechanical wipers, switches and mechanical contacts that the signal has to pass through. These things cause distortion and noise. Enter the LDR or Light Dependent Resistor. It's a variable resistor that changes in value according to the light shining on it. So, in a voltage divider volume control arrangement, by changing the power to the light, we change the resistance of the series and shunt and hence we change the volume. All the signal sees is one soldered resistor in its path! So how does it sound? Is this the ultimate volume control that at least one manufacturer used in some usd20k hi-end preamp?
To find out I built one.
The Lighter Note is more sophisticated than the better-known Lightspeed. It refines on that design.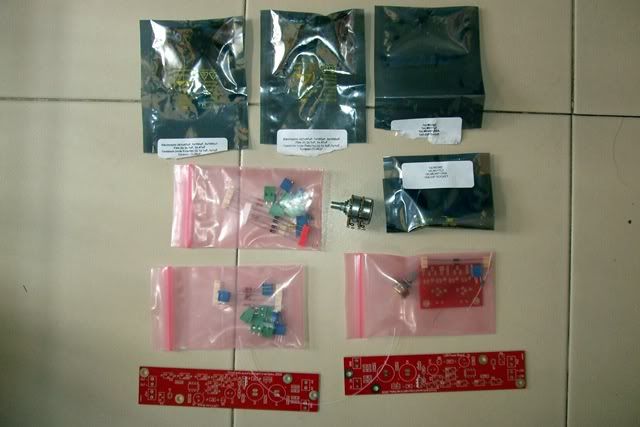 The diy kit - all that to replace 1 pot, crazy?!!
Assembled and being calibrated. Yes it needs extensive tuning to select impedance, max and min resistance and even profile! Just the ticket for perfectly matching impedance between source and amp!
I use two boards for the LDRs instead of one so I have option to mount the LDR board into each one of my monoblocks. Torroid is mounted in external box that now also powers the B1 buffer.
In other thread I built the Pass B1 buffer. The Lighter Note was originally meant to replace its muddling early 20th Century pot. This is how they would look together - their red 'undies' totally match even to their thickness!
But no! the LN is really too good to be stuck with the B1 and deserves its own box
See those black blobs marked SR2 near the RCAs? That'll be the Silonex LDRs.
A little more complicated than the B1 preamp to build!
Still in the mood for sexy see-throughs, here's the LN with its own acrylic box
The B1 hasn't been forgotten, this box is designed for stacking with it, with matched footprints.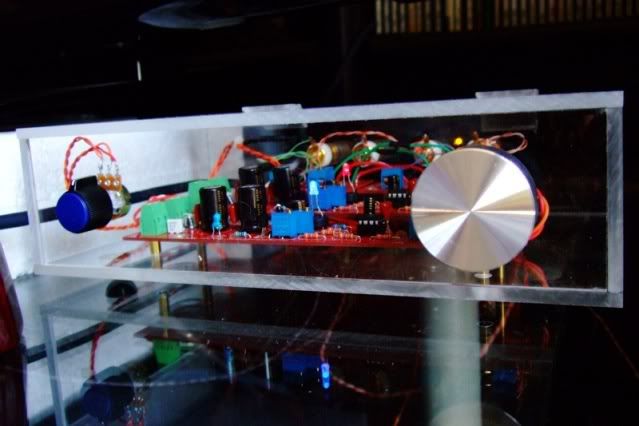 What's with that offbeat blue knob? It's the balance control, and happens to be the only knob I had on hand lah. Will look for something matching later.
So does it work? Yes. All those parts - two pots, 8 trimmers, 6 ICs, two power supplies, etc to replace just one pot, it better!
But how does it sound? Let me just say I'm still picking my jaw from the floor
Seriously. But I'm going to listen over the next few days before trying to describe the sound for which I was not prepared. This way I'll avoid initial over-enthusiasm and report more objectively. It will be used as passive preamp and compared against the B1 and Yaqin CD3 buffer preamps.
This post has been edited by Bernie7: Oct 4 2010, 11:13 AM